News > Idaho
'Moose' auction all about kids
Mon., Sept. 27, 2004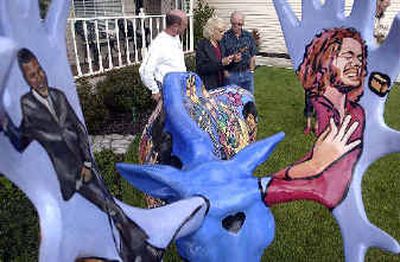 Coeur d'Alene's summer love affair with its visiting moose came to the best possible end Saturday night as the EXCEL Foundation, a nonprofit organization, earned approximately $366,500 in the gala auction that capped off the "No Moose Left Behind" public art project.
Throughout the summer, 26 life-size or "majestic moose" and 39 tabletop moose, or "machetes," have graced Coeur d'Alene. The moose were created by a variety of artists to be auctioned off to benefit EXCEL (Extras to Create Excellence in Learning), which supports educational innovation above and beyond what school funding can provide.
The first majestic moose on the auction block was "Z'Moosterpiece" by well-known artist Terry Lee. It was also the highest-seller of the evening, selling for a cool $30,000 to Paige Hagadone, the daughter of Coeur d'Alene Resort owner Duane Hagadone. They plan to display it in front of their summer cabin on Lake Coeur d'Alene. "Moose Ends" by Rann Haight got the second-highest winning bid at $22,500, followed by "Moose Along Cassidy-Nature Guide" by Kay O'Rourke at $20,000 and "Hiding in Plain Sight" by Stephen Charles Shortridge, which sold for $18,500.
Every bay of the Coeur d'Alene Resort Conference area was in use for the sold-out $110-a-plate dinner and auction as artists, sponsors, EXCEL board members, teachers, local dignitaries and community members turned out. The machetes were on display in three different lots outside the main hall, and the majestic moose were on a 72-foot runway with special lighting cast on each one when its time came to be in the spotlight.
Board member and technical co-chair of the event Darrell Dlouhy earlier said it already was a success before the auction due to the reception by the community. "There's not a lot of expense," Dlouhy said. "It should all be profit tonight."
Jack Riggs picked up "First Man on the Moose," created by his daughter Jennifer Riggs. He was the technical co-chair with Dlouhy.
Lauri Armon, chair of the silent auction for the machetes, said the day started out well. There was a moose-walk from 10 a.m. until noon Saturday.
Potential bidders could view the moose and place an absentee bid. When she arrived for the gala, she had a 2-inch stack of absentee bids on machetes. Pam Lugar, who was assisting Armon, was amazed at how high the bids were going. "Moose For All Seasons" by artist Karren Vitt commanded $6,000 in the silent auction, followed by Judy Minter's "Learn From Past Moostakes," which sold for $5,000. These two sales combined with the others brought in just over $50,000 on the machetes.
Artists seemed anxious to see what their moose would go for. Denise Bartlett, the creator of "Tribal Tattoose Moose," said she absolutely had "no idea" what her moose would go for. It ended up selling for $13,000.
The live auction was conducted by professional entertainers, auctioneers and twin sisters Annie and Amy Smith, natives of Wyoming. They kicked things off with a song, "do it for the children, do it for the teachers," then as one of the sisters worked the room, the other did the calling from the stage. They moved quickly in their matching evening gowns, one in lavender and the other in a pale green, and always had their eyes open for the next highest bidder.
Although there were bidders calling in from as far away as San Francisco, Las Vegas and Seattle, it seems like a lot of the moose will be staying right here.
Joe Morris, the CEO for Kootenai Medical Center, was the winning bidder on the "Bloomin' Moose," by Georgianna Hylton, which has been in front of the hospital all summer. The hospital employees became attached to it, so they lobbied him to buy it back.
John Beutler purchased "Coeur d'Moose" by Maria Ryan, which he plans to put in front of his real estate office for a while to show support for the community.
Jim Denning, a 14-year Hayden resident, purchased the "Precious Metals Moose" by Laurie Schafer and is taking it to his 10-acre spread in Hayden.
Nancy Mueller, a third-grade teacher at Winton Elementary, said that she has received five or six grants from EXCEL.
"This is one of the best organizations this community has," Mueller said.
Steve Masterson, who manages the EXCEL endowment fund, and his wife, Kim, have three children in Coeur d'Alene schools and were "excited for the kids."
After all, it was all about the kids.
Local journalism is essential.
Give directly to The Spokesman-Review's Northwest Passages community forums series -- which helps to offset the costs of several reporter and editor positions at the newspaper -- by using the easy options below. Gifts processed in this system are not tax deductible, but are predominately used to help meet the local financial requirements needed to receive national matching-grant funds.
Subscribe now to get breaking news alerts in your email inbox
Get breaking news delivered to your inbox as it happens.
---