News > Spokane
Man convicted in tax auditor's killing dies
Thu., Sept. 30, 2004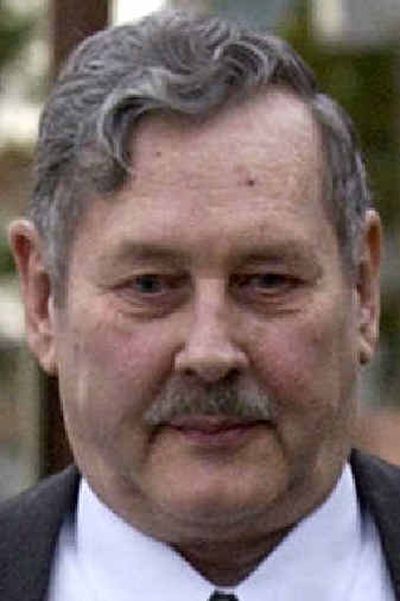 Ralph Howard Benson, convicted of killing a state fuel tax auditor in 2002 and suspected in the mysterious 1988 disappearance in Spokane of an Illinois truck driver, died last week in a state prison, apparently of natural causes.
The 64-year-old murderer died Sept. 22 at the Monroe State Reformatory, Dennis Trettel, master investigator for the Snohomish County Medical Examiner's Office, confirmed Wednesday.
An autopsy was conducted the following day, but a formal cause of death has not been established, Trettel said.
Benson's body was released to relatives in Arizona, Trettel said.
The cause of death won't be listed on Benson's death certificate until blood toxicology test results are returned, probably in about two months, the medical examiner investigator said.
"There was no foul play or suspicious activity associated with his death," said Veltry Johnson, a spokesman at the state Department of Corrections headquarters in Olympia.
Johnson and Nancy Watts, a public information officer at the Monroe Reformatory, couldn't provide additional details surrounding Benson's death.
Benson was convicted last Nov. 13 by a jury in Lincoln County Superior Court of the shooting and dismemberment of Roger Erdman, a state Department of Licensing fuel tax auditor from Spokane.
The long-haul truck driver was sentenced to serve almost 32 years in prison when he was sentenced Dec. 11 by Lincoln County Superior Court Judge Philip Borst. The judge said Benson "should never again see the light of day."
Earlier this year, the judge denied a defense request for a new trial. An appeal was filed with the State Court of Appeals, but that is now moot.
Benson testified in his own defense and spoke again at sentencing, disavowing any knowledge of or involvement in Erdman's bloody murder.
The state employee was shot in the back of the head and his body dismembered inside the sprawling underground concrete silo, lead Washington State Patrol Detective Ron Snowden and other prosecution witnesses testified during a month-long trial last fall in Davenport.
A tiny specimen of DNA evidence, found on a spent .380-caliber slug that passed through Erdman's body, was a key piece of prosecution evidence showing the state employee was shot in Benson's junk-cluttered former missile silo home south of Davenport.
The spent slug was found by detectives in a cardboard box of trucking records during a detailed, inch-by-inch search of the dark, 15,000-square-foot underground missile silo where Benson lived when he was not on the road.
Spokane Police detectives initially went to the missile silo and found blood splatters after Erdman failed to return to Spokane on June 12, 2002. The investigation later was turned over to WSP detectives, who spent more than 2,000 hours on the case.
Erdman had gone to Benson's home, south of Davenport, Wash., to audit business records and determine if the independent truck driver owed any taxes.
Benson earlier had filed bankruptcy and was losing another home in Arizona to foreclosure when the state of Washington decided to audit his trucking logs to see if he was delinquent in paying fuel taxes.
Benson's dismembered body, minus the upper torso, was found June 22, 2002, on Depot Springs Road, south of Cheney, about 40 miles east of Benson's home.
No bullet slugs were found in the head or other body parts. Investigators theorized the victim's upper torso may have been buried or burned because it may have contained bullet fragments.
Benson was initially questioned in Nevada during a road trip, then arrested June 24, 2002, in Seattle.
He was a suspect, but never charged with the Dec. 30, 1988, disappearance of truck driver John Warren Deetz, of Fulton, Ill. He and his new $100,000 tractor-trailer rig vanished from a Spokane Valley truck stop.
Deetz's body was never found, although he was declared legally dead.
Less than two years later, Benson was spotted driving the missing trucker's International tractor, which had been repainted. Investigators found the stolen tractor in 1991 in a lot near Los Angeles owned by Benson.
The shiny, new license plate from Deetz's rig was found in January 1991 when Spokane County detectives searched Benson's missile silo home, partially flooded with groundwater and cluttered with machinery, tools and junk.
Local journalism is essential.
Give directly to The Spokesman-Review's Northwest Passages community forums series -- which helps to offset the costs of several reporter and editor positions at the newspaper -- by using the easy options below. Gifts processed in this system are not tax deductible, but are predominately used to help meet the local financial requirements needed to receive national matching-grant funds.
Subscribe to the Coronavirus newsletter
Get the day's latest Coronavirus news delivered to your inbox by subscribing to our newsletter.
---