News > Nation/World
Bolton defends U.N. comments
Tue., April 12, 2005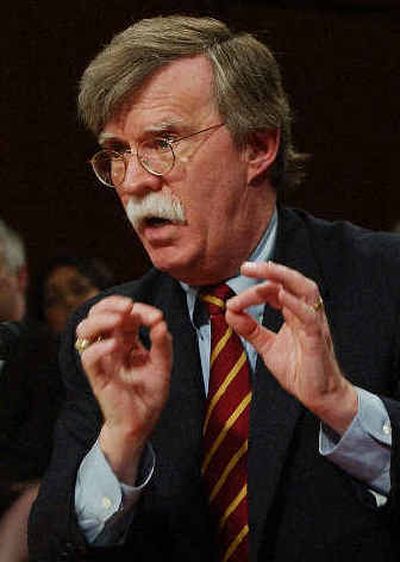 WASHINGTON – President Bush's nominee to be U.N. ambassador told senators Monday that his caustic criticism of the United Nations in a speech a decade ago was designed to get his audience's attention and said "the United States is committed to the success" of the international body.
In a daylong hearing, John Bolton repeatedly played down his previous jabs at the United Nations and pledged "to forge a stronger relationship between the United States and the world body, which depends critically on American leadership." Alluding to scandals and political stands that he and others have attacked, Bolton said, "We can take important steps to restore confidence in the United Nations."
Bolton spent much of the day defending his own controversial statements, parrying sharp questions from Democrats on the Senate Foreign Relations Committee, several of whom said he is the wrong person for the job. Although Democrats complained that his answers often were evasive, Bolton appeared to survive the hearing with minor damage.
Sen. Lincoln Chafee, R.I., the panel's only Republican who was seen as a possible vote against Bolton, said he was inclined to support the nomination and send it to the full Senate, where the GOP holds a 55-45 edge. While he would have preferred another nominee, Chafee told reporters, "I don't think the Democrats have made as strong a case (against Bolton) as I might have expected."
It wasn't for lack of trying. Democrats repeatedly pressed Bolton, 56, to explain his past criticisms of the United Nations, including those from a fiery speech about 10 years ago to the World Federalists. Sen. Barbara Boxer, D-Calif., played a three-minute video clip in which Bolton said that "there's no such thing as the United Nations" and if 10 floors of the 38-story U.N. headquarters building were eliminated, "it wouldn't make a bit of difference."
Bolton told Boxer that "what I was trying to do at that audience of World Federalists was get their attention. And the comment about the 10 stories was a way of saying there's not a bureaucracy in the world that can't be made leaner and more efficient."
"Well, that isn't what you said," Boxer replied. She told the committee, "I'm bewildered by this nomination."
Democrats also pressed Bolton to explain a 2002 incident involving a speech about Cuba. Bolton, who at the time held his current job as undersecretary of state for arms control, planned to announce that Cuba had a secret bioweapons program, although several intelligence officials considered the evidence ambiguous. Christian Westermann, the State Department's chief bioweapons analyst, refused to approve the language and recommended changes. Bolton berated him and tried to have him removed from his post.
Democrats Monday said Bolton wrongly tried to fire Westermann for refusing to back a questionable claim that Bolton wanted to make. Bolton said he merely wanted the official to work elsewhere because Westermann had inappropriately shared his concerns about the speech with others, and therefore, "I'd lost trust and confidence in him."
Democrats said the episode carries echoes of failed U.S. intelligence reports regarding Iraq and weapons of mass destruction. Overstating unverified security concerns "is one of the things that got us in trouble in Iraq," Sen. Bill Nelson, D-Fla., told Bolton.
Bolton said Westermann's superior – Thomas Fingar, now the head of the State Department's bureau of Intelligence and Research – sent Bolton an e-mail at the time saying Westermann's behavior had been "entirely inappropriate," and "we screwed up." But Sen. Christopher Dodd, D-Conn., said committee staffers recently interviewed Fingar about the incident, and Fingar said Westermann had not acted improperly or been disciplined. Dodd quoted Fingar as saying, "I knew I was dealing with somebody (Bolton) who was very upset. I was trying to get the incident closed."
Local journalism is essential.
Give directly to The Spokesman-Review's Northwest Passages community forums series -- which helps to offset the costs of several reporter and editor positions at the newspaper -- by using the easy options below. Gifts processed in this system are not tax deductible, but are predominately used to help meet the local financial requirements needed to receive national matching-grant funds.
Subscribe now to get breaking news alerts in your email inbox
Get breaking news delivered to your inbox as it happens.
---