Sports
Mariners muscle up on K.C.
Tue., April 12, 2005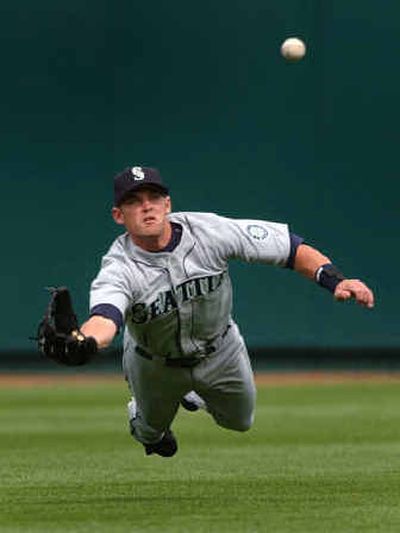 KANSAS CITY – Ryan Franklin's masterful start on Monday brought to mind a name that was rarely invoked last year as he was struggling to a 4-16 record.
Maddux.
OK, maybe Mike Maddux was mentioned a few times after Franklin gave up 33 homers in 2004 and lost 11 in a row in one stretch from June to September.
But in Seattle's 8-2 win over the Royals on Monday at Kauffman Stadium that featured Adrian Beltre's first Seattle homer, Franklin followed the patented game plan of Mike's celebrated younger brother, Greg, in his heyday.
He threw strikes at an astonishing rate – 16 in a row to start the game, 28 out of 33 first pitches, and 64 of the 83 pitches he threw overall.
And he was astonishingly efficient, using only 70 pitches through eight innings to blank the Royals to that point on three hits. By comparison, Matt Thornton had thrown 68 pitches Sunday in 3 1/3 innings, while Gil Meche needed 89 pitches to get through 3 2/3 innings in the same game.
"Seventy pitches for eight innings – that's crazy," Franklin said. "That's a first. It was fun."
Franklin had 11 ground-ball outs, shattered numerous bats and, from the fourth through the ninth, retired 15 straight batters to dim the spirits of the sellout crowd of 41,575 that came for the Royals' home opener.
"Don Baylor (Mariners hitting coach) was saying that it looked just like Greg Maddux," said Bryan Price, the Mariners' pitching coach. "It was the best effort I've ever seen from him. I saw him throw two no-hitters in the minors, and he's thrown complete-game shutouts in the majors, but as far as quality of his pitches, I've never seen him throw better than today."
Franklin lost his shutout and complete game with two outs in the ninth, but not before restoring a much more optimistic tint to the Mariners' rotation – and his future in it.
Franklin, who felt strongly all along he should have been starting, had been pulled out of the bullpen to replace injured Bobby Madritsch.
"I think he earned another start," deadpanned Mariners manager Mike Hargrove. "I think he'll get a couple more starts at the very least, and if he keeps pitching like this, we'll have to look at the very real possibility of him getting a whole lot more starts.
"That was as good a pitching performance as you're going to see."
Franklin was making no claims about his status, but said, "I feel like I should be a starter. I feel I belong there. Until they take me out, I'll go every fifth day and pitch."
Franklin didn't throw his first ball until the first pitch of the third inning, to the No.9 hitter, Tony Graffanino.
"To throw the first 16 pitches for strikes, that's fun, when you're dialed in like that," he said.
Local journalism is essential.
Give directly to The Spokesman-Review's Northwest Passages community forums series -- which helps to offset the costs of several reporter and editor positions at the newspaper -- by using the easy options below. Gifts processed in this system are not tax deductible, but are predominately used to help meet the local financial requirements needed to receive national matching-grant funds.
Subscribe to the sports newsletter
Get the day's top sports headlines and breaking news delivered to your inbox by subscribing here.
---