News > Features
New freedom
Tue., April 12, 2005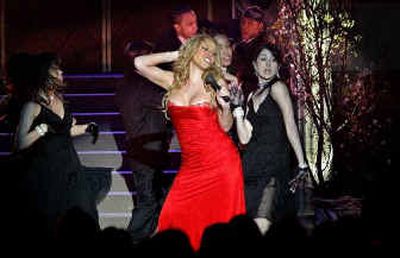 Old habits die hard.
And so it is that Mariah Carey finds herself at a downtown recording studio well past midnight, rehearsing with her band for shows promoting the release of her new album, "The Emancipation of Mimi."
Carey's well-known workaholism hasn't changed. But what has, she says, is her approach to her work.
It's no longer all-consuming, the most important thing in her life – and it no longer defines who she is.
"I'm kind of at the point where as long as I can make music, I'm not absorbed by it," says Carey, kicking off her stiletto heels and stretching out on a black leather couch before her late-night session begins.
"There's a way bigger world, and a way bigger picture than just living for that and getting knots in your stomach every time you're worried about what's your chart position," she adds.
"It's not that deep. I know who I am as a person, I know who I am as an artist, and I know who my fans are."
Reclaiming Mariah the person is the whole basis of "The Emancipation of Mimi," which hits stores today. Carey is trying to redefine her image, which has yet to fully recover from the kind of fall from grace that seems to inevitably bewitch most pop superstars.
In 2001, she was at her peak, signing a reported $80 million deal with Virgin Records after a chart-busting run at Sony, which was then headed by her former husband and mentor, Tommy Mottola.
Later that year, however, she was hospitalized twice for physical and emotional breakdowns close to the release of her movie debut, the much-derided "Glitter." That led to her being painted as an unstable diva, and Virgin bought out her contract for nearly $30 million.
Another poor-selling album, 2002's "Charmbracelet" (on a new label, Island Def Jam), added to her commercial malaise. Many questioned whether she could return to the breathtaking success that defined most of her 15-year career – when every album was a multiplatinum success and No. 1 singles flowed as smoothly as her multioctave voice.
Carey, 35, calls the hoopla over her troubles overblown and remains frustrated that it's still a topic of discussion.
"I feel like that's over, and anybody that deals with that is kind of like living in four-years-ago land," she says, calling it a "blip of my moment in my career, which has spanned almost half of my life."
Carey doesn't avoid talking about that "blip" – she's candid when discussing the troubled times. But she clearly doesn't like revisiting it and regrets her label's insistence that she do so on "Charmbracelet" with the album's first single, "Through the Rain."
"Everybody wanted me to be like, 'Let's have that moment. Let's sit and cry with Oprah. Let's just have tearful moments of like, "I've overcome this." ' (But) I think I was still overcoming it," she says, noting her father had died of cancer a month before that album's release.
"It was like, I don't wanna go through this again. This was so sensationalized and it was so overdramatized, the whole breakdown moment, which was like literally something that lasted like a two-day moment."
Perhaps more damaging to her psyche was her five-year marriage to Mottola, 18 years her senior. He signed her when she was just a teen to Columbia Records and shaped her blockbuster career in its early years.
They divorced in 1998; she describes it as an "abusive relationship."
After she wriggled out of the marriage, she reveled in her freedom, which explains her move toward hip-hop and revealing outfits.
"I think everybody was shocked," she says. "I don't think anything I've ever done has ever been in poor taste, or too sexual … (but) I did push the envelope for me, a little bit out of rebelliousness. Like, I could do whatever I want.
"For years, I wasn't allowed to wear anything but a turtleneck and a full-length coat and a boot. After a while, it's like, 'I can have fun and be sexy in a video, too.' "
While she's still looking quite sexy – she arrives for the rehearsal in a tight tank top, tight jeans, her long blond locks in perfect place – she's no longer dressing to out-Britney Britney Spears.
"Yes, there has like an image change – a slight image change, because it's still me," she says. "I didn't come out with like, auburn hair and a turtleneck up to here," she says, gesturing to her neck.
And while she still coos with rappers and can sing circles around the competition, she's more into soulful nuances than the high-pitched vocal gymnastics that have defined some of her other songs.
"I think for the last couple of times, the direction of her records has been decided by somebody else, so when she comes to the studio in the past, she comes with a lot of different ideas," says superproducer Jermaine Dupri, a longtime collaborator and friend (Carey, as always, co-wrote and produced most of the new album).
This time, Dupri says, "She knew what kind of record she wanted: a feel-good record."
Still, she's hardly guaranteed of the No. 1 spot anymore on the charts, especially since newer divas – Alicia Keys and Beyonce among them – have ruled in her absence.
But Island Def Jam Chairman Antonio "L.A." Reid, who arrived at the label after "Charmbracelet" was released, says Carey need not worry.
"There's only a few people who sing. She's one of the few singers and very few really great singers … and the beauty of Mariah is if you really take a snapshot of her career, she's always had the support of the youth," he says.
So far, the buzz on "Mimi" has been positive.
"If this record gets her back on track, I think people are going to be raving about her musically again," says Rick Krim, executive vice president of music talent at VH1, where her video has been strongly received.
Carey, though, professes not to care. She's more interested in true emancipation of Mimi – that's her nickname – from the pressures of fame.
As she sits on the couch, she notes that the interview is taking place in the very room where she got her big break, auditioning to be a backup singer for Brenda K. Starr – a room Carey had not entered in years. That teenage girl is who Carey identifies with, and she wants to keep some of that inside her.
"I feel like the journey that I've gone on was a blessing, because it brought me back closer to the person that I was (who) first stepped into this room," she says. "I was a scared kid who just loved music and wanted to sing and had the desire to sing."
"So, no, I don't feel like I have to prove anything on this record. I'm just thankful for the record.
"I'm in a really good place right now in my life, and I'm grateful to God for everything that I have."
Local journalism is essential.
Give directly to The Spokesman-Review's Northwest Passages community forums series -- which helps to offset the costs of several reporter and editor positions at the newspaper -- by using the easy options below. Gifts processed in this system are not tax deductible, but are predominately used to help meet the local financial requirements needed to receive national matching-grant funds.
Subscribe now to get breaking news alerts in your email inbox
Get breaking news delivered to your inbox as it happens.
---