News > Features
Practicing prevention
Tue., April 12, 2005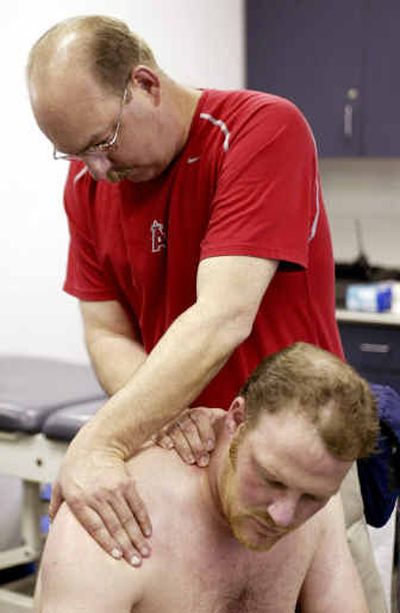 TEMPE, Ariz. – Los Angeles Angel pitcher Matt Hensley comes off the field after throwing a few innings in a spring training game and heads for the training room. There he's put through a methodical rotator cuff exercise, gets a soft tissue massage and has his shoulder packed in ice. The treatment isn't pitcher pampering; it's part of a comprehensive program geared to one thing: sports injury prevention.
Most people will never make it to the major leagues, but weekend warriors and other adults who exercise may share one thing with pro athletes: suffering the pain and frustration of an injury. For the dedicated runner, the enthusiastic softball player or the occasional golfer, sports injuries can mean anything from sore muscles to a torn ligament that requires surgery. And although millions of dollars aren't at stake for most of us, as with the baseball pitcher who is sidelined for months with an injury, getting hurt can greatly affect one's quality of life.
Doctor visits, repeated physical therapy treatments, surgery and persistent pain can lead to depression and frustration, especially if exercise is an important part of one's life.
Jenna Ainsworth, a 21-year-old senior at Pepperdine University, suffered a ligament tear during her sophomore year while playing soccer. The injury required surgery and several months of recuperation.
"You definitely notice a difference when you can't work out," she says. "Your mood is definitely affected. I realized how much I enjoyed running, doing the elliptical trainer, hiking, all sorts of things."
The fear of serious injury is why many pro athletes are often looked after like prizewinning thoroughbreds, and why the average person can benefit from aspects of their meticulous training. Pro athletes' conditioning has been modified over the years by trainers and doctors, some basing their programs on research showing how sports-specific training can greatly reduce the risk of injury. Some sports medicine specialists have worked with college and pro teams and can pass along their knowledge of injury prevention to their patients, from proper ways to warm up to sports-specific strength training.
The big mistake most people make is not progressing slowly in their exercise routine, says Dr. William O. Roberts, president of the American College of Sports Medicine. When couch potatoes hit the gym or softball field, they often do too much too fast, he says.
"They're thinking back to when they were in shape and really could do it," he says. "And they think they can do these things without that gradual introduction."
Roberts and other experts recommend year-round activity and a regular routine of cardiovascular exercise and strength training. This is especially important for those in sedentary lifestyles whose underused and under-stretched muscles and joints are vulnerable to injury.
"People don't necessarily have to be in playing shape, but in living shape," Roberts says.
The Angels, like other teams, are strongly encouraged to exercise off-season. Team members are given individually designed workouts before they head home at the end of the season.
Pitcher Kelvim Escobar credits year-round training with his relative lack of serious injuries in 12 years of playing professionally.
"If you ask guys who have been around a long time," he says, "they say the key is working hard, keeping yourself in shape and strong, and being able to go out there and compete. A lot of the guys here are ready, and if you're not ready, they're going to kick your butt."
Escobar towels off his face as he speaks, standing in the Angels' training room, where he's just finished a short but intense leg workout led by Brian Grapes, the Angels' strength and conditioning coach.
The Angels' training room in Tempe is stocked with an elliptical trainer, two treadmills, two recumbent and two upright stationary bikes, one stair climber and one VersaClimber. For core work (strengthening muscles that surround the trunk) there are eight large stability balls, and strength training is done on weight machines and with free weights.
The space is large enough for several players to work out at once, but small enough that the athletic trainers can survey the room. too rapidly and reminds him to slow down.
Tailoring workouts to a sport is how the pros try to prevent injuries. Baseball players tend to suffer overuse injuries, such as tendinitis and bursitis, and rotator cuff disorders from throwing. Preemptive treatments focus on stretching the upper and lower body, core strengthening, and weight and resistance exercises.
Football players are prone to traumatic injuries such as bone breaks and fractures, torn ligaments and concussions. Their training stresses agility, strength and core work. Runners, at risk of hip and knee injuries, shinsplints, ankle sprains and Achilles' heel problems, should stretch leg muscles and hip flexors and do exercises to strengthen the knee, leg and hip muscles.
Those who want expert advice on how to reduce the chance of injuries should seek the advice of a sports medicine physician, experienced personal trainer or physical therapist who can evaluate their needs and devise a program tailored to their activity that's designed to reduce injuries. Workout books and videos offering conditioning programs for various sports can also be helpful.
Athletic trainers take all the guesswork out of players' workouts, from spring training on through the end of the season. Cardio and strength-training routines are developed for each player and carefully monitored so athletes don't overtrain before the season ends. Players are continually assessed, asked questions about their eating habits, hydration and any aches or pains.
Because players don't always like to divulge their injuries, trainers and coaches are constantly observing them during play and practice, monitoring how they move.
The rest of us aren't looked after so vigilantly. Ignoring injuries can lead to further problems in what fitness experts call the kinetic chain, or a chain of motion that occurs when one part of the body compensates for another. A tennis player who has a shoulder injury might rely more on the elbow or wrist, resulting in further damage.
Having a strong core, it's believed, can better help the body handle the transfer of motion – the swing of a tennis racket, the dunking of a basketball – and good core strength is recommended for practically every sport and activity. Stability balls, balance boards and foam balance blocks help train the core, as do yoga and Pilates.
Fernando Montes, director of strength and conditioning for the Texas Rangers baseball team, began recommending Pilates about 10 years ago when he was with the Cleveland Indians. Montes says it helped players like the Rangers' Sandy Alomar (formerly with the Indians) strengthen their cores while "limiting the amount of stress on the joints. It gave them greater range of motion, and exposed some of their weaknesses," such as imbalances from pushing off from the same foot.
Despite Montes' belief in Pilates, most teams haven't formally included it in their training. So it still makes news when a player like Chicago Cubs pitcher Kerry Wood reveals that he has practiced Pilates for recurring back problems.
But the physical aspect of sports injuries is just one component of the healing process; there are psychological ramifications as well, which can be similar for pro athletes and average exercisers.
"For a baseball player who hasn't played in six months, he's got to compare himself to where he was before he was injured," says Ken Ravizza, a sports psychologist and professor at California State University, Fullerton who has also worked with the Angels. "We compare ourselves to where we were before too, and when we see how far we have to go, it can be overwhelming."
Taking small steps to increase strength and endurance is important, adds Ravizza, as is properly valuing one's accomplishments: "The thing I always tell athletes is to be in the present and be into the process and be as positive as you can with what you've got. If you have 60 percent of what you had, focus on that, don't dwell on the 40 percent that isn't there. Coming back gradually requires that you be aware. Listen to your body."
Local journalism is essential.
Give directly to The Spokesman-Review's Northwest Passages community forums series -- which helps to offset the costs of several reporter and editor positions at the newspaper -- by using the easy options below. Gifts processed in this system are not tax deductible, but are predominately used to help meet the local financial requirements needed to receive national matching-grant funds.
Subscribe now to get breaking news alerts in your email inbox
Get breaking news delivered to your inbox as it happens.
---