Sports
Running discouraged
Tue., April 12, 2005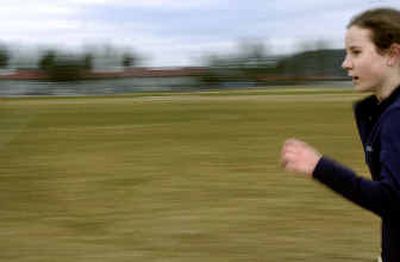 A careful look at the Bloomsday field in recent years reveals a glaring omission. The fastest young runners from Spokane-area high schools rarely enter, even though the race is famous for being one of the largest and most prestigious timed runs in America.
"We don't really say they can't run Bloomsday, and some kids walk or jog with their families, but our top runners know it wouldn't be good to race it," said Dori Robertson, girls track coach at Mead High School.
"These kids are focusing on the 800, mile and two-mile. They don't want to subject themselves to racing seven miles at this point in their track season."
Cailyn Torpie, a Mead freshman runner, was well aware last year that she would soon have to curb her Bloomsday habit.
"I've known for a long time because my older sister, Ryan, had to stop running Bloomsday when she got into high school track," Torpie said. "It's sad because Bloomsday is really fun and my dad and I have a tradition of running it together.
"But I understand with our meet schedule and the time it takes to recover from Bloomsday. You have to make a commitment to being a track athlete."
So Torpie, who was one of the city's top middle school tracksters, made the most of her last shot at Bloomsday last year as a 13-year-old. She finished the 7.46-mile course in 56 minutes and took home a medal for second place in her age group.
Her father, Scott, was a step behind her.
"Bloomsday is a big deal to me and I knew that would be the last year running with my dad," she said, noting she started walking and jogging the event with her parents when she was in first or second grade.
"It's been so much fun," said Scott Torpie, waxing nostalgic at the fate of not being able to run with either of his daughters this year.
"When Cailyn was a bit younger, she was a lot smaller and we'd be running up Doomsday Hill and if a woman passed us she'd look down and say the most encouraging things and it would make Cailyn glow."
For similar reasons, top high school runners were often encouraged to run Bloomsday in the first decade after its 1977 debut.
"I ran Bloomsday all four years I was in high school and found it to be inspiring," said Julie (Horn) Olds, a 1982 Ferris graduate who's married and living in Spokane. "It was pretty much expected that we would run."
Not only did she qualify for the State 4A high school track finals in the 1,600- and 3,200-meters all four years, she also won her age group in Bloomsday during her high school years.
"And one year I stood on the podium with a lady from New Zealand," she said. "It definitely boosts your enthusiasm for running.
"There's something uniquely special about being able to represent your community in that race. I'm sorry the top high school runners are missing that."
Herm Caviness, the Ferris distance coach who retired in 1982 but still assists the track team, said he and other coaches soon changed their thinking about letting their best runners race Bloomsday.
"You're only in high school once, and if you get hurt it might be the end of a once-in-a-lifetime chance at a state championship," he said.
High school track meet schedules also have become busier.
"Most of the track teams race twice a week, which is already too much," Robertson said. "College teams race only once a week. So you can't afford to let kids do something that might hurt them; they don't have time to recover.
"My first two years at Mead, every meet was decided by a couple of points. You need your good runners in there."
Most area high school running coaches are Bloomsday supporters, including Robertson, who's on the Lilac Bloomsday Board.
Indeed, Bloomsday foots the travel bill for the area's top 32 high school runners to attend the Western Regional Footlocker Cross Country Championships in California each fall.
"We want to be part of the support for Bloomsday because it's such a great community event," said John Mires, Mead boys track coach. "It elevates the sport and it's part of what makes Spokane such a great distance running environment for our high school athletes."
While the top high school runners shouldn't be racing Bloomsday, he said, Mires and other coaches encourage their athletes to support by volunteering to work during the event or just being there.
"We're in the middle of our competitive season," he said. "We're heading toward big goals and Bloomsday isn't one at their age. But a lot of kids come back after high school just to run Bloomsday."
Tyler Hatanov is one of them.
A four-year varsity letterman for Mt. Spokane cross country and the school's record holder in the 800, Hartanov said he had a blast returning on a Bloomsday road trip with friends from Montana State University last year.
"I actually entered and jogged it my senior year (in high school)," he said. "There's always that tendency to race, because you see people going past you that you can beat, but I ran with my brother and another guy and we kept each other honest. When I came back with my college friends, we did the same thing, just enjoying the scenery, fellowship and the atmosphere."
Local journalism is essential.
Give directly to The Spokesman-Review's Northwest Passages community forums series -- which helps to offset the costs of several reporter and editor positions at the newspaper -- by using the easy options below. Gifts processed in this system are not tax deductible, but are predominately used to help meet the local financial requirements needed to receive national matching-grant funds.
Subscribe to the sports newsletter
Get the day's top sports headlines and breaking news delivered to your inbox by subscribing here.
---