Marketing > Sponsored
From prenatal care to pediatrics, Providence is creating a healthier future for families
Wed., Nov. 16, 2022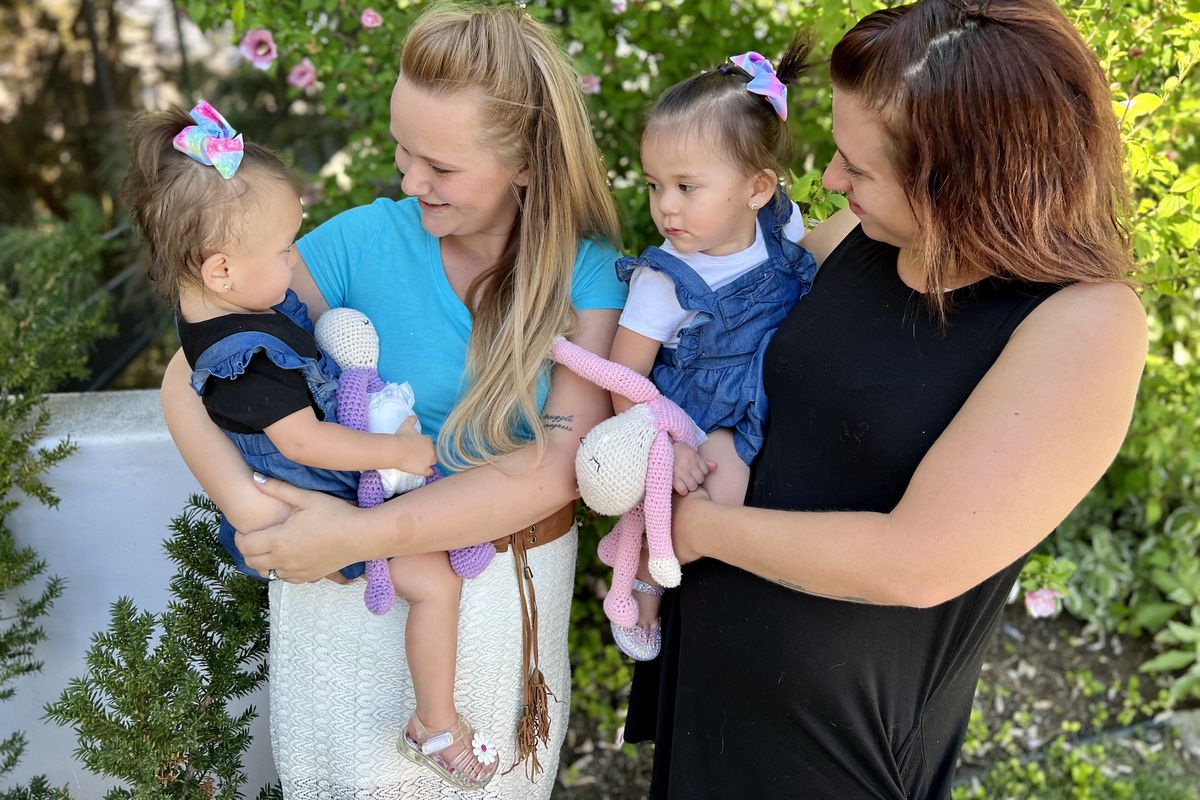 Ellie Vivie plus her mom and aunt (Courtesy Providence)
Like many expectant mothers, Miranda Kekauoha had a plan. It was spring 2020, and she was pregnant with identical twins, which put her in a medical high-risk category.
She was referred to Providence Sacred Heart Medical Center in Spokane, not far from her home across the Washington state line in Coeur d'Alene, Idaho.
Kekauoha felt comfortable getting her routine checkups and ultrasounds at Providence Sacred Heart Medical Center because she knew the teams had extensive experience with other moms in her situation.
The maternity caregivers were friendly, the maternal fetal medicine specialists were skilled and supportive, and the hospital's Birth Place was equipped with everything from jacuzzi bathtubs to birthing balls to make mothers and their newborns feel as safe, healthy and comfortable as possible.
Kekauoha was also an experienced mother who already had two young children, and she understood that no two pregnancies are alike, particularly when having twins, but she felt she had a general idea of what to expect — the excitement, the challenges and the ultimate joy of giving birth.
But then there were complications with the pregnancy. She was admitted to Providence Sacred Heart Medical Center Antepartum Unit so she could be continually monitored at all hours.
She gave birth prematurely at 30 weeks. Each of her daughters weighed less than four pounds. They were taken to the Providence Sacred Heart Children's Hospital Neonatal Intensive Care Unit (NICU). It is the region's only Level IV Neonatal Intensive Care Unit, offering the highest-level care for the youngest or sickest babies.
"There's no amount of research that prepares you for walking into the NICU for the first time and seeing your babies hooked up to wires and tubes," says Kekauoha. "But we felt comfort knowing the most experienced team was caring for our girls. We felt really feel lucky that Providence is in our community."
Along for the journey
It's comforting to know that Providence is equipped to handle any situation that might arise during pregnancy or delivery. Providence is always creating new ways to improve already exceptional care. For example, Providence recently launched an initiative called TeamBirth that puts laboring mothers at the center of the birthing experience.
Now at Providence Holy Family Hospital and Providence Sacred Heart Medical Center, the program has been proven to improve outcomes for mothers and their babies, empowering moms to openly communicate with their care teams. Caregivers make a special effort to learn about the birthing person's specific needs and how they would like the birthing process to go. A shared whiteboard, located in all labor and delivery rooms, outlines care plans and updates progress for both mother and baby. Entries on the board include whether the mother wants an epidural or if they want to breastfeed both of which are part of the many options that Providence supports.
During labor, the program centers around "team huddles" — opportunities for the caregivers and patient to communicate about what is happening right now and what will be occurring in the future. During these huddles, the laboring mother is the center of attention. Rather than talking "about" the woman, the caregivers are talking with her and listening to her opinion. Caregivers pay special attention to different cultural customs and views of childbirth so patients from all diverse backgrounds feel like they are receiving what they want and need. The response from patients has been overwhelmingly positive as they notice compassionate care getting even better.
Mental health matters
There is more to consider than just the physical health of mother and child. Experts are becoming increasingly aware of the mental health implications of starting a family. And there, too, Providence is ahead of the curve. Early in 2022, Providence Holy Family Hospital launched the Perinatal RISE Program (P-RISE), the third prong of the hospital's RISE (Resources, Insight, Support and Empowerment) Program of mental health services for children, teens, and adults. P-RISE is designed to address the special mental health needs of mothers, including the common occurrences of post-partum depression and anxiety.  
P-RISE was created for people who are pregnant or up to one year postpartum who experience depression, have anxiety issues, personality disorders, PTSD or other mental health conditions present prior to pregnancy and childbirth. Participants meet with psychiatric providers, therapists and a nurse practitioner, all certified to treat perinatal mental health.
There are group sessions that gather at least three days a week for six to eight weeks, as well as additional individual sessions with therapists and nurse practitioners. Patients talk about their experiences — their trials and triumphs — and they learn skills that will help them moving forward.
First-time mom and recent program graduate Adeia Hernandez said P-RISE changed her life. "P-RISE gave me the skills I need to be able to deal with everyday challenges," Adeia said. "I am a happier, more understanding, and supportive mom now."
Birth is just the beginning Providence's Mission to serve all, especially the poor and vulnerable, continues long after birth. With an extensive network of pediatric primary care clinics and pediatric specialty clinics in the Spokane area, Providence is poised to provide young patients with comprehensive, personalized care. Parents can take advantage of same-day appointments, in-person and virtual, and Saturday clinic hours.  
Providence Sacred Heart Children's Hospital is the region's only children's hospital, attracting renowned health care providers specializing in pediatric cardiology, neurology, intensive care, and more. Families travel from all over Washington, Idaho, Montana and Oregon for the specialty care provided at the Children's Hospital.
"Parents want the best for their children, and they know they'll find that at Providence," said Dr. Mike Barsotti, Providence Sacred Heart Children's Hospital chief administrative officer. "Our care teams have the knowledge, experience, and passion to help families find hope and healing."
From pre-natal to pediatrics, Providence is here to ensure the health of our community now and in the future. Visit Providence online at https://www.providence.org/services/maternity to learn more.
Local journalism is essential.
Give directly to The Spokesman-Review's Northwest Passages community forums series -- which helps to offset the costs of several reporter and editor positions at the newspaper -- by using the easy options below. Gifts processed in this system are not tax deductible, but are predominately used to help meet the local financial requirements needed to receive national matching-grant funds.
Subscribe now to get breaking news alerts in your email inbox
Get breaking news delivered to your inbox as it happens.
---