News > Pacific NW
More tankers return to service
Tue., April 19, 2005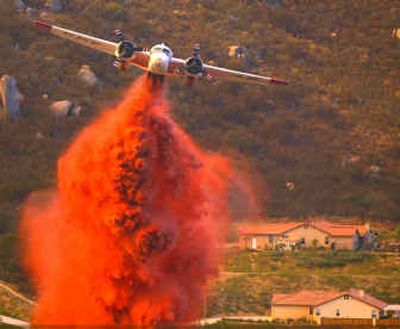 BILLINGS – The government is allowing 10 large air tankers to return to the federal firefighting fleet, and more are possible pending a study on the life expectancy of some of the aircraft, a spokeswoman with the National Interagency Fire Center said Monday.
Rose Davis said contracts have been awarded for seven P-3 Orions to Aero Union Corp., in California, as well as a DC-7 and two P-2Vs. But, she said, the latter three will have data-gathering devices that will help officials determine the stresses of the firefighting environment and will also be used outside of heavily populated areas. Davis said this was a precaution since officials still don't have a service-life estimate for the aircraft.
Contracts for the P-2Vs are to Minden Air Corp., of Minden, Nev., and Neptune Aviation Services, of Missoula, and the DC-7 contract went to Butler Aircraft in Redmond, Ore., said NIFC's Randy Eardley.
Additional large air tankers may also be cleared for service following the results of a study assessing operational service life of the P-2Vs, she said. The report is expected in June and would affect nine aircraft owned by private companies, Davis said.
Eventually, she said, the government would like to have monitoring equipment on all heavy air tankers in service, though that might not happen this year.
Last May, the U.S. Forest Service and the Department of the Interior terminated contracts for 33 large air tankers because of concerns with public safety and airworthiness. This followed a report on three fatal air tanker accidents between 1994 and 2002.
Federal officials later agreed to return some large tankers to service if operators could prove the aircraft safe to fly. Last summer, eight P-3 Orions were returned, as were two P-2Vs with monitoring equipment, Davis said.
Len Parker, chief executive officer of Minden Air Corp. said he believes a sincere effort is being made to establish operational service life for the P-2Vs and that there's an increasing realization by federal officials about the role large air tankers play in firefighting.
He said both Minden and Neptune Aviation Services do a good job maintaining their aircraft. Each operated one of the P-2Vs returned to service, with limits, last summer, and he's hoping to get another in the air after the study is completed.
"We're professionals. We're serious about safety," he said Monday. "Neither of our companies would put an aircraft out there that we didn't feel was safe."
Local journalism is essential.
Give directly to The Spokesman-Review's Northwest Passages community forums series -- which helps to offset the costs of several reporter and editor positions at the newspaper -- by using the easy options below. Gifts processed in this system are not tax deductible, but are predominately used to help meet the local financial requirements needed to receive national matching-grant funds.
Subscribe now to get breaking news alerts in your email inbox
Get breaking news delivered to your inbox as it happens.
---