News > Idaho
Education spans generations
Sat., April 23, 2005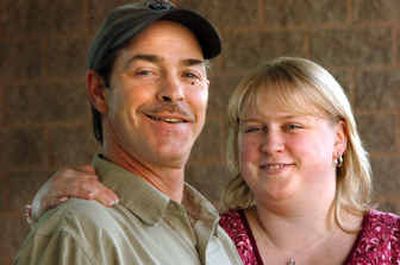 Victor Larsen has every reason to be proud of his daughter Jessica Bane-Larsen.
Bane-Larsen, 25, will graduate May 1 from Lewis-Clark State College's Coeur d'Alene campus with her bachelor of science degree in business administration.
Bane-Larsen is equally proud of her father.
Larsen, 46, graduates a week later from the University of Idaho's Coeur d'Alene campus with his bachelor's degree in psychology.
Bane-Larsen will walk again arm-in-arm with her dad in the UI ceremony May 9.
Victor Larsen is not an anomaly.
Cyndie Hammond, director of the Lewis-Clark State College Coeur d'Alene center, said the majority of their students are non-traditional.
The same applies for UI Coeur d'Alene, said Barbara McDonald, UI's management assistant for Coeur d'Alene. McDonald said female and non-traditional students, age 35 and up, are pretty much their majority.
Both LCSC and UI Coeur d'Alene campuses use classrooms at North Idaho College. Demand for both institutions has grown so much that classes have spilled over into Coeur d'Alene City Hall and the public library.
Larsen received a vocational degree in his 20s, and worked seasonally for the Forest Service as a stage-one stand examiner for 15 years.
He won't be working this summer however, because he will begin his master's program at UI Coeur d'Alene in June.
With the program, Adult and Organizational Education, he plans to focus on a human resource development track with an emphasis on leadership. Larsen started his journey back into education in 1999.
He wanted to do something different, and as a seasonal employee there really wasn't a future for him with the Forest Service.
Originally he wanted to study traditional Chinese medicine and go for his master's degree in acupuncture.
For that he needed to get an associate of arts degree, but along the way he changed his direction. He transferred from NIC to the UI program. Larsen has chosen a non-thesis option for his master's, so the program should take a year and a half.
"You get beat up a lot less," Larsen said. "When you go out into the work force nobody asks, 'Can I see your master's thesis?' "
Bane-Larsen graduated from NIC with her associate's degree in 2001. Her ultimate goal is to be a certified public accountant.
In addition to her studies, she works full time in accounting for Weaver Industries in Rathdrum, which makes marine hardware.
Bane-Larsen plans to stay with Weaver after graduation, with the goal of CPA in sight, which will require 150 hours of accounting classes beyond what she has already done.
Bane-Larsen's sister and Larsen's youngest daughter, Jackie, 16, is already attending NIC. She was matriculated into NIC without having to finish high school.
"She took the compass test and scored 99 in college-level writing," said Larsen.
The college scene seems to run in the family.
In addition to DeDe Clements, Bane-Larsen's mother, who will be present at both graduations, her paternal grandparents, Jim and Inga Larsen, will be at the UI commencement, and Larsen's sister, Nanette Larsen, an engineer with Apple in San Jose, Calif., is arriving for the UI ceremony as well.
"I'm very proud of him," Bane-Larsen said. "I tell people all the time that my dad's graduating with me."
Her father added that the world is changing and that people have to change with it.
"Occupations have changed especially here in the Northwest," he said. "You have to keep pace with the future, and higher education is the way to it."
Local journalism is essential.
Give directly to The Spokesman-Review's Northwest Passages community forums series -- which helps to offset the costs of several reporter and editor positions at the newspaper -- by using the easy options below. Gifts processed in this system are not tax deductible, but are predominately used to help meet the local financial requirements needed to receive national matching-grant funds.
Subscribe now to get breaking news alerts in your email inbox
Get breaking news delivered to your inbox as it happens.
---