Sports
Moyer baffles Indians
Mon., April 25, 2005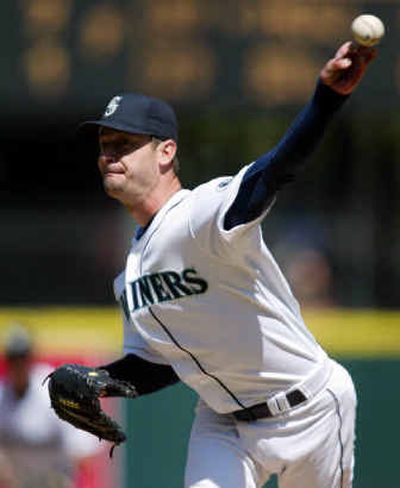 SEATTLE – He throws his fastball about 15 miles per hour slower and stands 11 inches shorter. On Sunday, however, Jamie Moyer measured up to Randy Johnson.
Moyer beat the Cleveland Indians 9-1 at Safeco Field for his 130th career victory as a Seattle Mariner, tying Johnson for the most victories by a Mariners pitcher.
"It shows longevity," Moyer said. "The only way to accomplish things is being around for awhile and being healthy."
Maybe there's more to it than that, pitching coach Bryan Price says.
Price loves the comparison of Moyer with Johnson, two pitchers who couldn't be more different except for the numbers they put up with the Mariners.
The 6-foor-10 fastball-firing Johnson went 130-74, from 1989-1998 for the Mariners. Moyer, a control specialist whose fastball occasionally reaches 84 mph, is 130-68 since coming to the Mariners in 1996.
"Randy was in his prime here in his mid-20s to early 30s, and Jamie was just figuring out how to be successful when he was about 33 years old," Price said. "Now he's doing it at 42. He's had a nine-year run here that has been nothing short of spectacular. To have a guy who hits his stride in his mid to late 30s is a remarkable feat."
Moyer, again, is shutting up the critics who say he's too old to be effective. He's 4-0 now, having found the touch with his pitches that he didn't have in the second half last year, when he finished 7-13.
"He's always trying to find ways to be in better condition and get more ideas on how to get hitters out," Price said. "If there's anybody you would think would be vulnerable to slacking off and thinking he had it all figured out, it would be Jamie. Instead, he's been completely the opposite. He covets information more than our young guys do."
Moyer's explanation?
"It's execution," he said. "It's making better pitches, getting ahead in the count. Today I was ahead more times than not in comparison to my last four games."
The Indians hurt him only once, on Aaron Boone's solo homer in the seventh inning.
"He throws an 80, 81 mph fastball, he's got the curveball and he's got the changeup," manager Mike Hargrove said. "He keeps the ball down and puts it in good spots. He made two bad pitches all day. Other than that, he was absolutely golden."
Moyer also was a master of perfect timing. He quieted the Indians' hitters and gave the Mariners' offense a chance to finally break out of its week-long slump.
Ichiro Suzuki single-handedly gave Moyer a 1-0 lead in the first inning when he singled and went to second on a balk by pitcher Scott Elarton, then boldly ran to the Mariners' first run. He tagged up and reached third on Jeremy Reed's fly to left field – a play that would keep most runners at second – then tagged again and scored on Adrian Beltre's sacrifice fly to center.
Moyer nursed the 1-0 lead through six innings, then received the greatest gift a Mariners pitcher has gotten all week: a big inning from the offense.
The Mariners, who had scored just four runs in their previous 32 innings, broke through with six runs off Elarton and relievers Scott Sauerbeck and Rafael Betancourt in the sixth.
Catcher Miguel Olivo, who had skidded to a .143 batting average, pounded a three-run double for the crushing blow.
"Hopefully, that primed the pump to where we will start scoring the way we should," Hargrove said.
Local journalism is essential.
Give directly to The Spokesman-Review's Northwest Passages community forums series -- which helps to offset the costs of several reporter and editor positions at the newspaper -- by using the easy options below. Gifts processed in this system are not tax deductible, but are predominately used to help meet the local financial requirements needed to receive national matching-grant funds.
Subscribe to the sports newsletter
Get the day's top sports headlines and breaking news delivered to your inbox by subscribing here.
---