News > Features
Hitting a milestone
Sat., April 30, 2005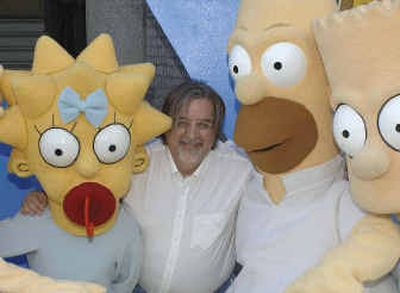 When a show reaches an impressive 350 episodes, it's fair to reflect on its mortality.
So how long can "The Simpsons," which hits that milestone on Sunday, keep going?
"I don't see any end in sight," says creator and executive producer Matt Groening.
Those are reassuring words for the millions of fans who have remained loyal to the Simpson family through 16 seasons, and counting. Writers are already at work on episodes for 2005-06, the 17th season.
The key to its longevity is simple, Groening said: "We try to keep surprising the audience. That's what you're looking for in television – surprise."
As long as the show can meet that burden, he says, "we'll keep going."
With the ensemble cast signed through the next three seasons, "I would consider it highly likely we will do those seasons," says executive producer Al Jean, who has been with the animated comedy since it was spun off Tracey Ullman's variety show in 1989.
The series features the voices of Dan Castellaneta and Julie Kavner as parents Homer and Marge Simpson, Nancy Cartwright as son Bart and Yeardley Smith as daughter Lisa.
Castellaneta and Kavner also voice a number of different characters, as do cast members including Harry Shearer (Mr. Burns and Ned Flanders among them) and Hank Azaria (police Chief Wiggum, Moe and others).
The future also depends on the continued profitability of the brand that has brought an estimated $1 billion-plus to Fox and parent company News Corp. through the TV show, DVDs and a vast array of other goods.
Although ratings are not stellar compared to top shows like Fox's own "American Idol," "The Simpsons" has held steady with just under 10 million weekly viewers for several years and remains Fox's Sunday bulwark.
It's a creative mainstay as well, say Groening and Jean.
"I'm particularly proud of our recent episodes. I think they're as sharp and surprising as anything we've done since the beginning of the show," Groening says.
While some fans carp the new episodes are inferior to old ones, he says, being measured against a fond memory is a standard problem for comedies.
"Nothing lasts forever," adds Jean. "But I do think this past year, in my view, is one of the best we've had in a long time."
For those who contend the show's satirical boldness has ebbed, Jean notes it has tackled the subject of gay marriage and points to a future episode that will make hay out of assisted suicide.
"The Simpsons" has been able to turn any number of subjects into comic fodder with scant interference from the network, something virtually unheard of in television.
Groening attributes the freedom to the clout of executive producer James L. Brooks, a TV and movie heavyweight whose credits include "The Mary Tyler Moore Show," "Taxi" and "Terms of Endearment."
On Sunday's 350th episode (8 p.m. on KAYU-28 in Spokane), Ray Romano is heard as the voice of Homer's new best friend, a roofer. But there's a mystery behind the character that Jean compares to the film "A Beautiful Mind."
In a bonanza for viewers Fox is running two new "Simpsons" episodes back-to-back for the next three weeks, with "Arrested Development" already having ended its season in the 8:30 p.m. Sunday slot.
In this Sunday's second episode, an ailing Bart has to attend a fitness camp, with Albert Brooks voicing one of the instructors.
Although "The Simpsons" has logged the most seasons of any TV sitcom, it has yet to match the episode count of two others: "The Adventures of Ozzie & Harriet," which holds the record at 435 episodes, and "My Three Sons" with 380.
A wry Groening said he's set his own dream goal:
"I want to get to 366 so we have one for every day of the year, including leap year."
Local journalism is essential.
Give directly to The Spokesman-Review's Northwest Passages community forums series -- which helps to offset the costs of several reporter and editor positions at the newspaper -- by using the easy options below. Gifts processed in this system are not tax deductible, but are predominately used to help meet the local financial requirements needed to receive national matching-grant funds.
Subscribe now to get breaking news alerts in your email inbox
Get breaking news delivered to your inbox as it happens.
---