News > Nation/World
Study links global warming to greater hurricane strength
Mon., Aug. 1, 2005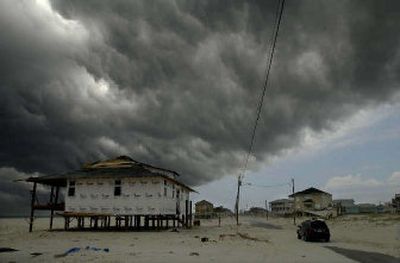 MIAMI – The accumulated power of Atlantic hurricanes has more than doubled in the past 30 years, with a particularly dramatic spike since 1995, and global warming likely is a major cause, according to a study to be published this week.
The report by a reputable climatologist at the Massachusetts Institute of Technology is the first to draw a statistical relationship between global warming and hurricane ferocity might.
"The large upswing in the last decade is unprecedented and probably reflects the effect of global warming," scientist Kerry Emanuel wrote in a study that will appear in the Thursday edition of the journal Nature. Copies of the article were made available Sunday.
Importantly, his study did not shed any light on the effect, if any, of global warming on the number of storms.
But that is only of modest consolation.
One reason: Scientists at the National Oceanic and Atmospheric Administration's hurricane research division in Virginia Key, Fla., have concluded that, due to long-term natural cycles, we are in the middle of a decades-long period of more frequent hurricane formation.
The current season, with a record seven named storms by July 23, provides unpleasant support for that conclusion.
Another source of concern: Most experts expect global warning to persist.
So, if both camps of scientists are correct, we could be facing stronger storms and more of them – a potentially catastrophic collision of phenomena.
"My results suggest that future warming may lead to an upward trend in tropical cyclone destructive potential and – taking into account an increasing coastal population – a substantial increase in hurricane-related losses in the 21st century," Emanuel wrote.
He said his analysis of wind-speed reports by the National Hurricane Center and other sources show that the accumulated power of hurricanes in the Atlantic basin, which includes the Caribbean Sea and the Gulf of Mexico, has more than doubled since 1970.
A particularly steep increase began in 1995, according to the study.
"This large increase in power dissipation over the past 30 years or so may be because storms have become more intense, on the average, and/or have survived at high intensity for longer periods of time," he wrote.
He said the trend is closely linked to an increase of about one degree in the average ocean surface temperature, which might not seem significant but can be crucial.
"It sounds like a small amount, but we know that as waters get even a little bit warmer, the potential exists for hurricanes to get dramatically stronger," said Chris Landsea, an NOAA scientist on Virginia Key and one of the nation's leading hurricane researchers.
Still, he is not fully convinced by Emanuel's study.
Landsea said the 1995-2004 spike in accumulated hurricane power correlated precisely with the beginning of the period of increased hurricane formation.
"It's very difficult to separate out what's caused by this natural cycle of activity versus man-made warming," Landsea said.
He also raised concerns about some statistical procedures employed by Emanuel, whom he described as "a very respected researcher."
"This is a serious study and it needs to be taken seriously," Landsea said. "But when you take a close look at it, there's a lot of caveats. So, at this point, I'm not convinced he's found the smoking gun between global warming and hurricanes."
Local journalism is essential.
Give directly to The Spokesman-Review's Northwest Passages community forums series -- which helps to offset the costs of several reporter and editor positions at the newspaper -- by using the easy options below. Gifts processed in this system are not tax deductible, but are predominately used to help meet the local financial requirements needed to receive national matching-grant funds.
Subscribe now to get breaking news alerts in your email inbox
Get breaking news delivered to your inbox as it happens.
---