Sports
Wallace expected to step up
Mon., Aug. 1, 2005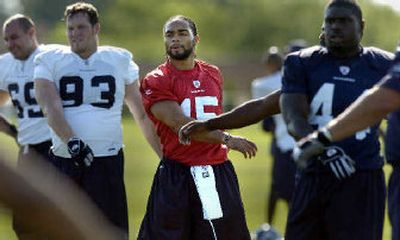 Without hesitation, Seneca Wallace rattles off the criticisms he's heard since he first started playing quarterback.
"They've questioned everything," Wallace said. "It was my height at first, then arm strength, then it was 'is he smart enough?' I have to be able to come in and prove them wrong."
It's an on-going task, but he's making inroads with Seattle. Wallace is currently the No. 2 quarterback behind Matt Hasselbeck, a spot that opened up when Trent Dilfer was traded to Cleveland. Brock Huard, sidelined by a back injury last season, was released in the off-season.
Wallace's primary competition, if Seattle doesn't choose to sign a veteran, is left-hander David Greene, a third-round draft pick from the University of Georgia. Two other quarterbacks, Gibran Hamdan and Brian Wrobel, are also at training camp.
Wallace has made some dazzling throws in the first three days of camp, but he's also had bouts of inconsistency. A poorly thrown pass Sunday morning resulted in an interception and a brief lecture from coach Mike Holmgren.
"Right now the job is his," Holmgren said. "He just has to continue to get better and continue to work on learning the offense because he has not played very much. He will play a lot during preseason."
The 5-foot-11, 196-pound Wallace has encountered doubters most of his career. He played "wherever they needed me" in high school in Sacramento, Calif., and then was recruited to Oregon State as a defensive back. He was sidetracked academically because he was short a core class.
He returned home to Sacramento City Junior College where the coach guaranteed him he would play quarterback. He passed for 3,675 yards and ran for 550 yards, earning J.C. All-American status and drawing considerable recruiting interest.
Not all of it was for his quarterback play.
"I remember going (on a recruiting visit) to UNLV, Jason Thomas was the quarterback there and this other guy said, 'Hey, man, don't you want to play receiver for him?' " said Wallace, who has not thrown a pass in an NFL regular season game. "But it worked out for me. Iowa State gave me a chance to play quarterback. Kansas State was another team.
"A lot of the Pac-10s wanted me to play receiver."
Wallace posted solid statistics at Iowa State, but there were lingering questions whether his performance would transfer to the NFL. Seattle drafted Wallace in the fourth round in 2003 and he's made steady improvement.
"He's a guy that has a lot of confidence and a lot of ability," Hasselbeck said. "He's fighting some factors – his height or the fact that he's real athletic, usually that can work against a guy when they think about his passing ability, but he's also a good passer. This will be a very important camp for him to show what he can do. I'm excited because I think he's going to do real well."
Wallace's versatility has been on display at camp, even though he's the backup quarterback. On Saturday he fielded punts. Late in the 2004 season, Wallace helped out as a scout team receiver.
"I've assured him that I view him as a quarterback and that is important to him," Holmgren said. "But I also want to get him on the field because I think he's a talented man."
If Wallace retains the backup quarterback job, it's unlikely Seattle would allow him to risk injury by returning punts. Seattle could install a play or two to take advantage of Wallace's agility, but Holmgren, who coached Steve Young at San Francisco, said most of Young's best runs were on unscripted scrambles.
Quarterback is Wallace's primary focus, but he's open-minded to multiple duties.
"Wherever I can help out," he said, "but that's not my call."
Tatupu suits up
First-round draft pick Chris Spencer remains unsigned, but he proved useful to the organization when he gave Lofa Tatupu a ride to the airport Saturday night. Tatupu, a second-round pick, arrived in Cheney, signed his contract and participated in practice Sunday morning, Seattle's first full-pads workout.
Spencer and Tatupu had been working out together last week in Seattle.
"He was pretty upset that I left him," Tatupu said. "All we do is work out and then we had nothing to do. We look at our notes (from minicamps), that's the only thing we have to go off of, but the notes are incomplete."
Tatupu will compete with second-year pro Niko Koutouvides for starting middle linebacker.
Asked what he said to Spencer at the airport, Tatupu replied, 'Why don't we just go ahead and both sign.' Everybody has their own situation. I just hope it works out best for him."
Notes
Safety Michael Boulware, who sat out Saturday afternoon with a sore ankle, returned to practice Sunday morning and picked off two passes, one via a deflection by cornerback Andre Dyson. Rookie linebacker Cornelius Wortham, who has been slowed by a sore hamstring, practiced for the first time. … Rookie defensive end Jeb Huckeba has made several eye-catching plays the first three days, including stuffing a running back for a loss during an inside-run drill Sunday. … Running back Shaun Alexander has remained in Seattle since the birth of his daughter Thursday.
Local journalism is essential.
Give directly to The Spokesman-Review's Northwest Passages community forums series -- which helps to offset the costs of several reporter and editor positions at the newspaper -- by using the easy options below. Gifts processed in this system are not tax deductible, but are predominately used to help meet the local financial requirements needed to receive national matching-grant funds.
Subscribe to the sports newsletter
Get the day's top sports headlines and breaking news delivered to your inbox by subscribing here.
---