Sports
He's singing a happy tune
Tue., Aug. 2, 2005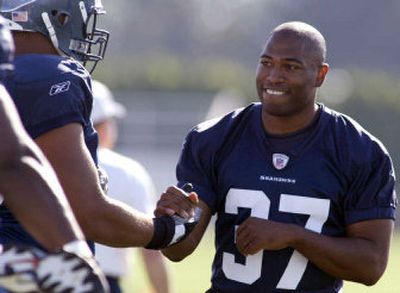 Shaun Alexander reported to Seattle Seahawks training camp Monday with short- and long-term goals.
In no particular order, he wants to get a good night's sleep, have a monster season and remain with the Seahawks for the rest of his career.
Of the three, the last probably triggers the most debate. Alexander agreed to a one-year, $6.32 million contract last week. In exchange, the team promised it wouldn't use the franchise player designation on Alexander and gave him veto power on potential trades.
"They want to sign a big deal and I want to sign one, too, that's going to keep me here forever," said Alexander, who didn't practice after arriving in Cheney in the early morning hours. "This town and this team just fit me. I just told them to make it long term and just be fair."
Team officials have been more reserved with their comments publicly.
"We will talk again," president Tim Ruskell said Friday. "I know their people real well and they are going to stay in touch and we will just see how that goes."
Meanwhile, Alexander's one-year contract appears to be a practical compromise for both sides. Alexander gets a healthy paycheck and some freedom if he wants to play elsewhere after the season. The team can expect a motivated running back while deciding if it will pursue a multi-year deal with the 5-foot-11, 225-pounder.
It's been reported that Seattle looked into trading Alexander, but found no takers. Indianapolis encountered similar problems when reportedly shopping Edgerrin James.
Alexander dismissed the trade talk, saying his goal was always to remain with the Seahawks.
"I can't explain all the leverage points of people talking," he said, "but I wouldn't be surprised if stuff that people said, both the Seahawks and my agents, were just leverage things."
Alexander also made waves with complaints that coach Mike Holmgren stabbed him in the back in the regular-season finale after Alexander finished one yard short of the NFL rushing title. Alexander later apologized.
Asked if he'd learned any lessons from last season, Alexander said, "Honestly, I think the sour notes were way bigger to everybody else than it was to anybody on the team. I just think it's one of those things if your family has a thing it wants to talk about it's probably best to wait until you get together. That's one of the things I've learned. Growth is a funny thing. You continue to learn something new every year."
Alexander is expected to practice today. He wasn't involved in Seattle's minicamps and hasn't put on a helmet since the playoff loss to St. Louis in January. Alexander worked out over the summer in Alabama to stay in shape.
"I feel like I'm in the best shape I've ever been," said Alexander, who will turn 28 later this month.
Alexander rushed for 1,696 yards and led the NFL with 20 touchdowns in 2004 while earning his second consecutive Pro Bowl selection. Alexander rushed for 1,318 yards in 2001, 1,175 yards in 2002 and 1,435 yards in 2003.
His goals for this season "are higher," but he declined to be more specific.
He was certain about one thing – he needs a little shuteye.
"Everybody's super healthy," he said of his wife Valerie, newborn Trinity and daughter Heaven, who was born during a home game with St. Louis in September, 2003. "This baby actually stays up at night, unlike Heaven who slept all through the night. I was like, 'I'm not sleeping at all here, at least at camp I get six hours a night.' "
Rhodes' crew
Defensive coordinator Ray Rhodes said his unit needs to improve across the board, but his wish list starts with an improved pass rush. He likes the depth at tackle and cornerback, and believes there is ample leadership.
"This is my third year with the team and we've had changes every year but the question is can we put this group together and get where we need to be," Rhodes said. "If we can move this defense up to the top half of the league (from 26th) we've made a big improvement."
Rhodes had high praise for offensive tackle Walter Jones, who put the hurt on Rhodes' defenses when he was with other franchises.
"Whoever lined up in front of him he kicked the crap out of them," Rhodes said. "I'm in the coaches' room with some of the guys I've coached with on other teams and I'll say, 'I know you're embarrassed, I'm embarrassed for you. If we could play this game over tomorrow, you'd be embarrassed again.' "
Notes
Light rain fell at the end of the morning practice, the first precipitation of camp… . During situational third-down drills, quarterback Matt Hasselbeck was sharp. He was 7 of 9 passing, all completions resulting in first downs. Backup Seneca Wallace was 4 of 8 for three first downs, including a perfectly thrown deep pass to Jerramy Stevens… . In a two-play span, guard Steve Hutchinson blocked tackle Marcus Tubbs seven yards down field on a running play, only to have Tubbs clog the running lane at the line of scrimmage on the ensuing down.
Local journalism is essential.
Give directly to The Spokesman-Review's Northwest Passages community forums series -- which helps to offset the costs of several reporter and editor positions at the newspaper -- by using the easy options below. Gifts processed in this system are not tax deductible, but are predominately used to help meet the local financial requirements needed to receive national matching-grant funds.
Subscribe to the sports newsletter
Get the day's top sports headlines and breaking news delivered to your inbox by subscribing here.
---