News > Nation/World
Pentagon defends base closures
Sun., Aug. 21, 2005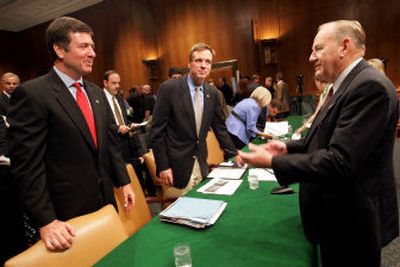 WASHINGTON – Pentagon officials made a final attempt Saturday to defend plans to close or consolidate hundreds of military bases, disputing arguments that cost savings were overestimated and that homeland defense would be compromised.
The commission is likely to end up supporting much of the Pentagon's plan, several members indicated. But the commissioners also voiced considerable reservations about some key aspects, including the removal of active-duty forces from New England, an overhaul of Air National Guard bases, and the closure of an Army research facility at Fort Monmouth, N.J.
They devoted extra time as well to the idea, which emerged late in the review process, of reopening Cecil Field in Jacksonville, Fla., which closed in 1999, and relocating jets there from Oceana Naval Air Station in Virginia Beach, Va.
"It may sound like we're against the whole thing," said James T. Hill, a commission member and retired four-star Army officer, speaking of the Pentagon's plan. "In point of fact," the recommendations "are for the most part really well-made." But, he added, "we're not going to bless it all, I suspect."
The plan would shut, shrink or consolidate 837 military facilities. It marks not only the first attempt in 10 years to reduce domestic base structure but also a more ambitious attempt than efforts in 1988, 1991, 1993 and 1995.
The commission, whose members include retired military officers, former lawmakers and onetime Cabinet members, is scheduled to spend several days this week voting in public on the Pentagon list and must submit its final report to President Bush by Sept. 8. The president then can accept the entire package or send it back once for revisions before forwarding it to Congress, which must reject or accept the plan in full.
As a measure of the intense interest that the proposed changes have drawn around the country, Anthony Principi, the commission chairman, said the panel had received 500 phone calls per week, more than 80,000 e-mails and more than 500,000 pieces of mail since starting its review three months ago. Commissioners have made 182 visits to 173 installations.
Principi led off the questioning by zeroing in on the issue of savings, which has dogged the Pentagon plan and which he said continued to trouble him. Although defense officials have projected savings of nearly $50 billion over 20 years, after initial closing costs of $24 billion, the Government Accountability Office reported in July that about half the estimated annual saving comes from counting military personnel who, for the most part, would be transferred to other bases, not eliminated.
Michael W. Wynne, the Pentagon's former acquisitions chief who is heading the Defense Department's base closure steering group, argued that such accounting was in keeping with government and corporate practice. Just as cash saved from no longer having to pay for base facilities would be used for other military purposes, so many of the troops would be freed for other military jobs more relevant to 21st century operations, he said.
But commissioners returned to the cost issue several times during four hours of testimony, expressing skepticism about the Pentagon's accounting.
"It doesn't appear to us the savings are real," said Philip Coyle, a commissioner who served as the Pentagon's top weapons evaluator for much of the 1990s.
As for homeland security implications, the commissioners focused largely on New England, where the Pentagon has proposed closing the submarine base at Groton, Conn., Portsmouth Naval Shipyard in Kittery, Maine, and Otis Air National Guard Base in Massachusetts and removing aircraft from Naval Air Station Brunswick in Maine.
"To remove essentially all active-duty military activity – not just air – out of the New England area, causes me some discomfort," said Harold W. Gehman Jr., a retired four-star naval officer and former head of U.S. Joint Forces Command.
Wynne, along with several senior military officers who testified with him, offered assurances that the distribution of U.S. forces after the proposed base changes would still provide for the protection of New England.
Local journalism is essential.
Give directly to The Spokesman-Review's Northwest Passages community forums series -- which helps to offset the costs of several reporter and editor positions at the newspaper -- by using the easy options below. Gifts processed in this system are not tax deductible, but are predominately used to help meet the local financial requirements needed to receive national matching-grant funds.
Subscribe now to get breaking news alerts in your email inbox
Get breaking news delivered to your inbox as it happens.
---