Sports
Willingham brings new life
Sun., Aug. 21, 2005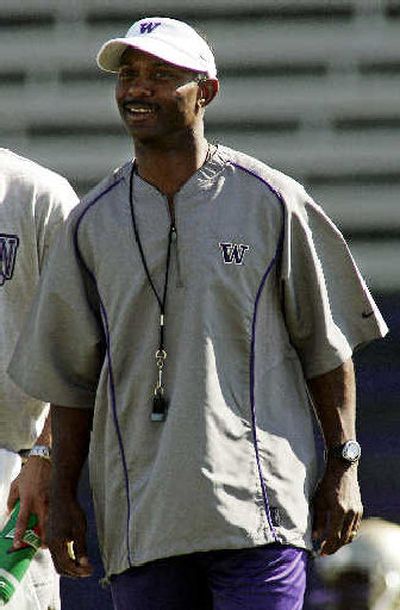 SEATTLE – Tyrone Willingham is dapper in a pressed white golf shirt. There's an embroidered purple "W" on his chest and natty purple trim on the collar.
He's Washington's coach now. So right out front, let's dispense with the Notre Dame questions. And don't even think about asking him about Sept. 24, when the Fighting Irish visit the Huskies. It's way too early for that.
"The Notre Dame episode, I won't touch that," Willingham said. "I don't talk about it. It's a wonderful place and we did some good things there. I didn't do all I wanted to do."
It's all about Washington for the Huskies' new coach, who spent the last three seasons in South Bend but was fired halfway into a six-year contract.
Folks in Seattle believe Notre Dame's loss is Washington's gain. Huskies fans feel Willingham — 65-51-1 in 10 seasons — can help a once-mighty program recover from its tumultuous recent past.
Former coach Rick Neuheisel is long gone, taking a $4.5 million settlement from the university and the NCAA in his wrongful termination lawsuit — a two-year public relations nightmare that ended in March.
Keith Gilbertson, the offensive coordinator promoted to head coach after Neuheisel was fired, resigned after two seasons and a school record worst 1-10 record last fall.
"A good time for a fresh start," running back Kenny James said.
The new university president and new athletic director have been on the job for a full year going into this season. So with a new coach in place, it's truly a new era — at last — at Washington.
"It was important to move past that stage," center Brad Vanneman said. "It was a dark page for the university. Coach Willingham brings new light, new blood into the program. It was refreshing."
After what they've endured, Washington fans are eager to join Willingham in looking ahead.
"Starting over is already behind us," said Sonny Sixkiller, who starred as a Huskies quarterback in the early 1970s. "That's all gone. It all started the day Tyrone was hired."
Willingham closed spring practices to reporters and moved fall camp to Seattle after several years at Evergreen State College in Olympia. He also keeps his plans for a starting quarterback to himself.
Sixkiller has been impressed. He offered high praise for Willingham by pointing out similarities between the new coach's mannerisms and those of the so-called "Dawgfather" himself.
Former coach Don James won 72 percent of his games and left an indelible imprint on Washington's program from 1975-92, marking a legacy that hasn't been matched in the years since.
"I liken him a little bit to DJ. They go after things the same way," Sixkiller said. "Tyrone is very methodical. There's a real attention to every detail.
"Hopefully, Tyrone can bring in the same kinds of players Don James had with his staff. If that happens, it won't take long to correct the ship."
Local journalism is essential.
Give directly to The Spokesman-Review's Northwest Passages community forums series -- which helps to offset the costs of several reporter and editor positions at the newspaper -- by using the easy options below. Gifts processed in this system are not tax deductible, but are predominately used to help meet the local financial requirements needed to receive national matching-grant funds.
Subscribe to the sports newsletter
Get the day's top sports headlines and breaking news delivered to your inbox by subscribing here.
---