News > Features
Actually, it's about time that he checked it out
Tue., Aug. 23, 2005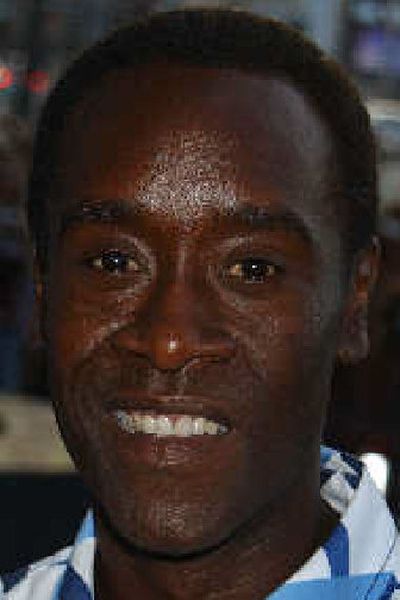 Don Cheadle has finally visited "Hotel Rwanda." The 40-year-old actor toured the Hotel des Milles Collines in Rwanda's capital Kigali last month, speaking with several of the more than 1,000 people who were sheltered there during the country's 1994 genocide.
"All of their experiences were the stuff of epic films – things they had to go through in those 100 days," Cheadle says. "It was amazing."
He earned an Oscar nomination for his portrayal of hotel manager Paul Rusesabagina, but the movie was filmed primarily in South Africa.
During his 2 1/2 -week visit, Cheadle met with Rwandan President Paul Kagame, attended the premiere of "Hotel Rwanda" in Uganda and toured displaced-person camps in the country's northern provinces.
More than 1.5 million Ugandans have fled their homes to avoid a campaign of terror waged by rebel group Lord's Resistance Army.
Cheadle said he's writing a book with John Prendergast of the nonprofit International Crisis Group about how ordinary Americans can respond to Africa's problems.
They've got to grow up sometime
When Victoria Gotti learned in November that she had breast cancer, she kept the news to herself – hiding her draining treatments from her three teenage sons and the producers of their reality show, "Growing Up Gotti."
The 42-year-old daughter of late mob boss John Gotti didn't tell her sons until earlier this month, explaining: "I just wanted the boys to be OK and not get crazy and think that Mommy is dying."
"Growing Up Gotti" began its third season Monday night on A&E.
It certainly sounds fishy
The Coast Guard is investigating the disappearance of Olivia Newton-John's longtime boyfriend, who failed to return from an overnight fishing trip off the California coast last month.
Kim McDermott, a 48-year-old cameraman, was last seen on the crowded charter fishing vessel and his personal items were found on the boat.
He's got friends in low-priced places
Country superstar Garth Brooks has signed an exclusive multiyear contract that reportedly will make Wal-Mart, Sam's Club and their online outlets the only places where his music will be commercially available.
Brooks, among the all-time best-selling recording artists, retired from performing in 2001.
That River stuff is all wet
Joaquin Phoenix, who stars in an upcoming movie biography of Johnny Cash, is denying tabloid reports that he had a breakdown during filming.
Phoenix banged his head on a bedpost during a scene involving the death of Cash's brother, prompting speculation that he was reacting to the fatal 1993 drug overdose by his own brother, River.
The 30-year-old actor says he was just trying to get into the emotional state of his character, adding that suggestions he was drawing from his personal life "kind of makes me sick."
"Walk the Line," scheduled for release in November, co-stars Reese Witherspoon as Cash's wife, June Carter.
A trip down faulty memory lane
Rachel McAdams will co-star with Diane Keaton this fall in "The Family Stone." In Monday's People column, the Associated Press erroneously named Diane Lane instead.
The birthday bunch
Actress Vera Miles is 75. Satirist Mark Russell is 73. Actress Barbara Eden is 71. Singer-actor Rick Springfield is 56. Actor Jay Mohr is 35. Singer Julian Casablancas (The Strokes) is 27.
Local journalism is essential.
Give directly to The Spokesman-Review's Northwest Passages community forums series -- which helps to offset the costs of several reporter and editor positions at the newspaper -- by using the easy options below. Gifts processed in this system are not tax deductible, but are predominately used to help meet the local financial requirements needed to receive national matching-grant funds.
Subscribe now to get breaking news alerts in your email inbox
Get breaking news delivered to your inbox as it happens.
---