News > Nation/World
Holdouts gird for confrontations
Tue., Aug. 23, 2005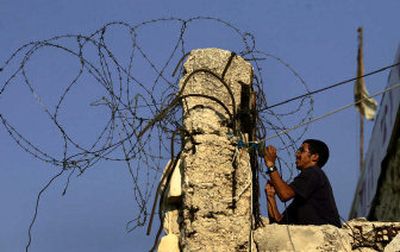 SANUR, West Bank – When Israeli forces swept through the Gaza Strip to evict Jewish settlers, they were met with tears and bitterness, punctured tires and paint bombs.
On this ragged West Bank hilltop, there were preparations for a fight.
With the last Gaza settlement evacuated Monday, thousands of Israeli police and soldiers began today removing protesters and the few remaining residents from Sanur and a neighboring settlement, where as many as 2,000 opponents were promising a spirited last stand. They were welding bars across the windows of the synagogue here Monday night, and metal spikes lay along the roadside.
At the start of today's eviction, military bulldozers tore down the gates of the Homesh and Sanur settlements.
Young men and some of their elders ran razor wire around an Ottoman-era fort at the center of Sanur and said they would not initiate violence but they do not plan to sit by as soldiers pull them from land they believe is theirs by biblical deed.
"If they spank me, I will spank them back," said Shaul Halfon, 70, a former Israeli army commander and rabbi who presides over the makeshift synagogue amid the tents and trailers that make up this settlement a few miles from the Palestinian city of Nablus.
Halfon is revered by the many radical youth who have flocked to the settlement, one of four in the area slated to be turned over to the Palestinians. His message about the soldiers and police is clear: "They are murderers, they are not human beings," he said. "If he does this, he cannot be Jewish."
There already have been skirmishes between troops and protesters. An army truck was set on fire and pelted with stones. Despite a recent handover of the community's weapons, there have also been media reports of stockpiled stun grenades, guns and plans to pour boiling oil on the forces.
Local journalism is essential.
Give directly to The Spokesman-Review's Northwest Passages community forums series -- which helps to offset the costs of several reporter and editor positions at the newspaper -- by using the easy options below. Gifts processed in this system are not tax deductible, but are predominately used to help meet the local financial requirements needed to receive national matching-grant funds.
Subscribe now to get breaking news alerts in your email inbox
Get breaking news delivered to your inbox as it happens.
---