Sports
Pohlad to turn 90
Tue., Aug. 23, 2005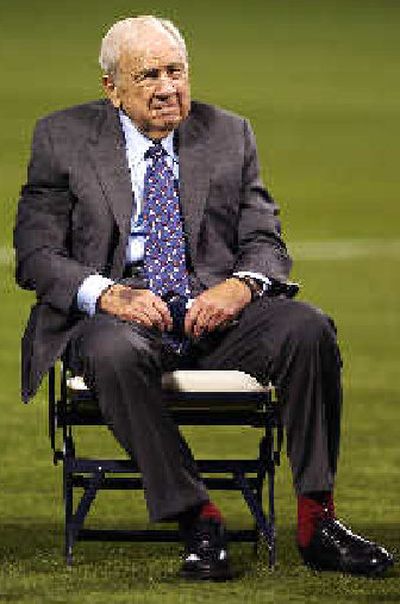 MINNEAPOLIS – Whether the Minnesota Twins are surging toward the postseason or stumbling through a rough summer, Carl Pohlad has always kept his composure.
Perhaps that's one reason why running a baseball team at his age is still practical – and a passion. Pohlad will spend his 90th birthday today at the Metrodome, hoping his Twins can start a critical three-game series against the division-leading Chicago White Sox off with a win.
"We've had some great years here, and we've had some poor years," general manager Terry Ryan said. "But he's always been supportive."
That's not to suggest he doesn't get frustrated with failure, like during a stretch of eight straight losing seasons from 1993-2000 or even during a recent stretch this year when the Twins nearly fell out of postseason contention by dropping 22 out of 33 games.
But Pohlad, a billionaire who built his fortune in banking and bought the club in 1984, has always believed in the people he pays to run the front office, scout for talent, make decisions in the dugout and take the field.
"He's never been one to micromanage," Ryan said. "Yet he's about as competitive a guy as I've seen."
Pohlad, whose comments these days are rare, declined an interview through the team. Despite an ailing back, hip, knee and ankle that require a walker or a wheelchair to get around, Pohlad faithfully attends almost every home game – usually stopping by manager Ron Gardenhire's office to chat before they begin.
"He still likes baseball, I'll tell you that," Gardenhire said. "He likes this team, of course, and he still has a lot of fun coming to these games."
Pohlad always asks the manager who's pitching. When the answer is veteran right-hander Brad Radke – who has a history of giving up runs early in the game – the owner offers a bit of advice.
"He says, 'We've just got to get him through the first couple innings,' " Gardenhire said, smiling.
Last week, Pohlad attended the owners' quarterly meeting in California while the Twins were completing a sweep of the White Sox.
"He got a kick out of it," Gardenhire said. "He said, 'Reinsdorf was squirming.' "
That's a reference to Chicago's Jerry Reinsdorf – one of only two individuals who have owned a majority share of their teams longer than Pohlad. New York Yankees boss George Steinbrenner is the other.
"When you turn 90, you've done something right," Radke said. "Hopefully, I can come close to that."
Pohlad, who is aided in baseball decisions by one of his three sons, Jim, was well-regarded in Minnesota after the Twins won their second World Series in five years – in 1991.
His public image began taking hits, however, when he threatened to sell the team to a North Carolina investor in 1997 in one of many failed attempts to secure funding for a new stadium that he is still longing to be built. Then came 2001, when he secretly volunteered the franchise for elimination during baseball's failed attempt to contract two clubs.
The Twins started the season with a payroll around $56 million, well below the major league average. That is not likely to increase as long as the team is still playing in the revenue-challenged, 23-year-old Metrodome.
If Ryan had more money to work with, the Twins might have been able to add the hitter or two they seemingly need to stay in the wild-card and A.L. Central races. But Ryan, who has had a strong relationship with the Pohlads since he was promoted to his position in 1994, won't use that as an excuse.
"If we've shown that we can be competitive and we can continue to be in the hunt for the postseason," Ryan said, "they've allowed us to be flexible."
Local journalism is essential.
Give directly to The Spokesman-Review's Northwest Passages community forums series -- which helps to offset the costs of several reporter and editor positions at the newspaper -- by using the easy options below. Gifts processed in this system are not tax deductible, but are predominately used to help meet the local financial requirements needed to receive national matching-grant funds.
Subscribe to the sports newsletter
Get the day's top sports headlines and breaking news delivered to your inbox by subscribing here.
---