News > Business
Sales scooting along
Tue., Aug. 23, 2005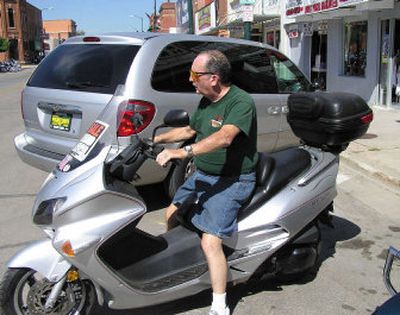 PIERRE, S.D. – As gasoline prices soar, the popularity of peppy, fuel-sipping motor scooters – most easily get 50 miles per gallon and some of the smaller ones get up to 80 mpg – is soaring. Sales, estimated at 86,000 last year in the United States, have doubled from 2000, according to the Motorcycle Industry Council.
"I put about 20 miles a day on mine, and I only have to fill it up twice a month," said Jessica Meuchel, 23, who uses a scooter to deliver daily newspapers in Pierre, S.D. She bought the two-wheeler this spring because it was costing her $200 a month to fuel her truck.
Even the larger scooters are more economical to drive than cars, says Doug Day, owner of Scooter Centrale and Vespa Hartford in Plainville, Conn. He says sales at his shops climbed nearly 200 percent last year and are doing well this year, too.
Motorcycle Industry Council spokesman Mike Mount said the market gained momentum when upscale Italian scooter maker Piaggio re-entered the U.S. market with the legendary Vespa scooter in 2001. Motorcycle makers such as Honda and Yamaha also began offering new lines of scooters in recent years.
Scooters were pioneered in postwar Europe by Piaggio, which made the first Vespa in 1946.
Gary Christopher, an executive with American Honda Motor Co. in Los Angeles, said Honda heavily promoted U.S. scooter sales in the 1980s, but annual U.S. sales peaked in 1987 and slumped after advertising was pared. They have long been popular in coastal areas and warmer climates, but more also are being sold in states with colder weather, he said.
"It looks like this new resurgence of interest in scooters is something that can stand on its own without massive injections of advertising and promotion," Christopher said.
Although scooters are economical, the fun factor cannot be overlooked, Christopher said.
"There's just something about a scooter that invites you to jump on it and go," Christopher said.
Dwight Turner, owner of GS MotorWorks in Frisco, Texas, a large seller of imported motor scooters from China, attributed the fad in part to rising gasoline prices and the coming of age of youngsters who have graduated from popular foot-propelled sidewalk scooters.
"Many 10- to 13-year-olds bought those scooters, and then got hooked on the idea of riding scooters instead of bicycles and are moving up the scooter food chain," Turner said.
Scooter sales at his firm climbed 300 percent last year, and they increased 50 percent this past April alone, primarily because of high gasoline prices, he said.
"We sell to many teenage customers, college students, as well as people in bigger metro areas looking for more economic travel and parking options," Turner said. "I would estimate that 50 percent of our customers buy scooters for primary transportation and 50 percent buy them as a toy."
Ross Petersen, a motorcycle and scooter dealer in Pierre, S.D., said scooters have turned into a fashion statement for some teenagers.
"It's kind of cool," he said. "You'll see a little group of them riding around together, and that feeds it."
Small scooters, especially those made in China, Korea and Taiwan, sell for as little as $800-$900. Larger scooters, capable of legal highway speeds and more, can cost $4,000 to $6,000.
Scooters, while fun to drive, also can be dangerous. Other motorists often don't notice the small two-wheelers, and that can land scooter drivers in the hospital – or the morgue.
Inexperienced and young scooter drivers should be especially careful, Petersen says.
"I see a lot of people driving scooters with shorts, flip-flops, no helmet, two-up on a machine that shouldn't ride two people," he says. "Scooters are pretty small, and the headlight's always on for safety, but sometimes people driving bigger vehicles don't see them. We've all seen those drivers with a cell phone in one hand, a cigarette in the other. I don't know how they can drive."
Motor scooters are usually regulated by state laws as either motorcycles or mopeds. If classified as motorcycles, special licensing endorsements are required. Several states require young drivers to wear helmets, Mount says. As for liability insurance, some states require it and others don't, he said.
Mount says the median age of scooter owners is 46, but they have wide appeal to both young and old, males and females. One-fourth of scooter owners are women, he says.
"Scooters are an easy entree into the world of two-wheeling for many people and are less intimidating than motorcycles," Mount says. "And if you're getting 50 to 70 miles per gallon, that's a lot better than pretty much any car you can buy."
Local journalism is essential.
Give directly to The Spokesman-Review's Northwest Passages community forums series -- which helps to offset the costs of several reporter and editor positions at the newspaper -- by using the easy options below. Gifts processed in this system are not tax deductible, but are predominately used to help meet the local financial requirements needed to receive national matching-grant funds.
Subscribe now to get breaking news alerts in your email inbox
Get breaking news delivered to your inbox as it happens.
---