Sports
Peters' principles
Sun., Aug. 28, 2005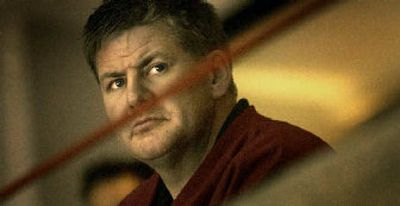 As the players filtered into town for the Spokane Chiefs' training camp this week, Bill Peters took note of those who had freshly shorn heads.
"High and tight, eh?" the coach of the Western Hockey League team said to one of them, with an approving nod and smile.
That simple comment said a lot about how Peters views the world of hockey, and society at large: It's black and white, and you either are committed (or not) to being disciplined in your life. The closely trimmed hair of a young man is a statement to him: "Coach, I'm ready to sacrifice and work hard."
The sources of that world view for Peters are clear, said a longtime friend and mentor.
"He's just a straight, old-fashioned Alberta redneck," said Mike Babcock, who also considers himself one and doesn't consider the term an insult. "He's straightforward, honest, and there is no gray area. He has unbelievable passion and energy for hockey – and learning in general."
Babcock, the current Detroit Red Wings coach, has a history with Peters that goes back to the pair's childhood. Both men are from rural Alberta and Peters was a captain for Babcock at Red Deer College, then joined Babcock twice as an assistant coach for the Chiefs. They remain good friends to this day and talk often.
"Mike's always been a mentor, and he's the older brother 'Pete' never had," said Peters' father, Bill Sr., about their bond.
They learned many lessons of the game, and life, together; one of the most important being how to turn around adversity. Both have lost and won in life and neither was pro hockey material as a player.
For his part, Peters was on the ice from age 3. A pretty fair baseball player, his true passion was hockey and he played his way up through the youth hockey ranks with some future National Hockey League players.
He might not have ended up playing collegiate hockey for Babcock at all – but for an accident at age 15 in his hometown of Killam, Alberta, in which his ankle was severely injured in a car-bicycle accident that occurred while he and his friend waited at a stop sign.
"To me, he would have been in the NHL," said Bill Sr., noting that Peters still has pins in his ankle from that accident, which gave him problems in his playing career.
It's not a story you will hear from Peters, who always prefers to focus on the positive.
"Bill's real good at looking at what he has and doing the best with it," said Kevin Hamilton, who assisted Peters for his final season at the University of Lethbridge.
Peters suffered through three tough seasons at the underfunded U of L, but to some those are the most defining times.
"The most I ever learned was at a place called Moose Jaw," said Babcock. "We never won many games, but it taught me how to survive. Then, when I got to Spokane I was given the opportunity to be successful. Hopefully they've empowered him and will give him a chance to be successful."
Peters said the tough times have definitely made him stronger.
"What happens is you go through things," he said. "You go through some little wars together and that's what bonds people, right? You go through some tough times and you find out about people during tough times. The guys that stick together have obviously gone through some tough times and persevered and respect each other."
Those who know Peters well, such as Babcock, have obvious respect for him and have many of the same things to say about him. He's a character guy, intense about doing things the right way, but, ultimately, a person who genuinely knows how to relate to people.
"He's a great communicator: He prepares, he listens, he's got some personality to him. To me, he's well-rounded," said Tim Speltz, general manager of the Chiefs who hired Peters to replace the fired Al Conroy. "I've had a lot of association in the game with guys that are just coaches, but Bill, to me – if he was in business or coaching – Bill's going to be successful. He's a people person. He's intelligent.
"To me, you know how you can just say that some guys 'get it?' Bill seems to always 'get it.' He's just got a knack."
The Chiefs are in desperate need of someone who has that "knack". After a series of average seasons, the organization and its fans want to return to something more like the glory days of the Boone Street Barn – when Babcock and Peters were behind the bench.
"Bill's a quality guy – very hard-working, very passionate about what he does," said former Chiefs captain Brandin Cote. "He brings back the qualities in the Chiefs that I saw when I was there. The Chiefs are going to be a team that is relentless and hard working."
Hard work is something that Peters learned after he finished playing hockey, as he began working for his father's company in the oil patch in Alberta.
"My dad was a consultant and I thought I was going to make a million dollars in the oil field," said Peters. "There was a boom in Western Canada at the time. I went to work for a few years in the oil field. I realized I didn't want to do that for the rest of my life. I got into coaching."
He did, but not right away. Peters, who married his high school sweetheart in 1990, moved with her to San Antonio. At the urging of his father, he completed his college work and earned a degree in kinesiology. While in the city, he began a hockey camp that went around the United States and did some work for the Dallas Stars. He managed an ice rink when it was built there, but the game kept calling him.
So, in 1999, he joined Babcock as an assistant coach with the Chiefs. He did not apply for the job when Babcock left for the Anaheim organization, but stayed for two years with Perry Ganchar. He applied for that job when it opened up, but Al Conroy was hired. Peters was told he lacked one thing – head coaching experience – so he got it.
Unfortunately, his opportunity came at resource-starved U of L. It was a tough three years.
"It's frustrating. It's very hard to deal with – and it's something you don't wish anybody has to go through when you go through it," said Peters. "You learn from having success, as well as from failure, but it's frustrating.
"There were definitely challenges, but it was a great experience. I worked with great people at the university and had a lot of fond memories there. I'll stay in touch with quite a few people from there for the rest of my life."
So, now he comes to Spokane with an opportunity to take a team with many returning veteran players to a higher level. How full is the Chiefs' "glass?"
"It's more than half-full. It's three-quarters full," he said. "I'm a very optimistic guy. I like our players. … I think (the front office) has done a great job of giving us a bright future. But our future is now. Chad Klassen, Jeff Lynch, and Gustav Engman, they're not worried about two or three years down the line; they're worried about today, now. We expect to be good right now. We expect to be good in the future."
Peters has already put into place several subtle changes that are meant to create "winning habits" – certain things that are not negotiable.
"Being on time for anything is not negotiable. Work ethic is not negotiable, and being a good teammate is not negotiable. Those are the biggest three things," said Peters.
Peters believes in running things in a particular way, so players know what's coming and aren't surprised.
"Structure is everything. If you don't have structure, you don't have a chance to win," said returning assistant coach Kevin Sawyer, also a former Chiefs captain.
"… And that's what we're going to do here. Not that it's different, but it's going to be a focal thing for us. The little things are big things for us now."
Peters said he looks for two things in players: discipline and "intrinsic motivation".
"I like guys that want to get better, are realistic about where they're at, know what their strengths are as a player, and work on their shortcomings," said Peters.
"Then, one day, when you do that, your shortcomings disappear and all of the sudden you're a complete player and good in all situations. One-dimensional guys now, the way the game's being played, are getting phased out."
It's an example of how Peters is a student of the game. He used to hang out at the rink in Killam all day, picking up things from younger and older players alike. He soaked up all he could under former coaches such as Babcock. He's a quick study and a hard worker, but Babcock said it is his personal skills that will suit him most to WHL success.
"Bill relates well to people" said Babcock. "Everybody likes him. Why wouldn't you like a straightforward guy?"
Those who know Peters as a coach say that players will know where they stand with him. Peters said he knows it takes different tactics to motivate each player, but he won't resort to sarcasm or demeaning comments. He admits his current role is different from that of his former one.
"There's no better job in hockey, other than being a player, than being an assistant coach," said Peters. "He's the one telling you what you want to hear. The head coach is the one who tells you what you need to know."
That's why Peters is not shy about pointing out that a player's chin strap isn't snapped when he hits the ice – or that his hair is too long.
"As a coach, players don't like you every day. They're not supposed to," said Babcock. "You're supposed to make them accountable and make them better, not be their friend. You're supposed to push them beyond what was possible and make them better than they thought they could be, through drive and intestinal fortitude.
"He's a guy that uses his resources, like Sawyer. I know their coaching staff real well, as people. … I can't imagine they won't have success."
Peters said he isn't worried about how things turn out. He believes that if he works hard, the "hockey gods" will reward him (or any player that does the same).
"Hockey is the … fairest game in the world," he said.
However, unlike the coach he follows, Peters believes working hard is important, but said that alone isn't enough.
"You can work hard and be totally useless. If you don't work hard and work smart, it's a bad combination," he said. "You can do the same amount of work in half the time if you have a plan and you work smart. You've got to work hard and you've got to work smart, and you've got to work together."
Now, as training camp comes to a conclusion with today's Red-White game, he is eager to get down to what he loves to do most – working with people.
"I wish it was next Tuesday and we were practicing," said Peters. "I can't wait to get down on the ice, interacting with them. Because that's what coaching is. If you didn't have that, didn't interact with these guys, I wouldn't coach."
Local journalism is essential.
Give directly to The Spokesman-Review's Northwest Passages community forums series -- which helps to offset the costs of several reporter and editor positions at the newspaper -- by using the easy options below. Gifts processed in this system are not tax deductible, but are predominately used to help meet the local financial requirements needed to receive national matching-grant funds.
Subscribe to the sports newsletter
Get the day's top sports headlines and breaking news delivered to your inbox by subscribing here.
---