News > Business
Airlines buffeted by bad news
Tue., Aug. 30, 2005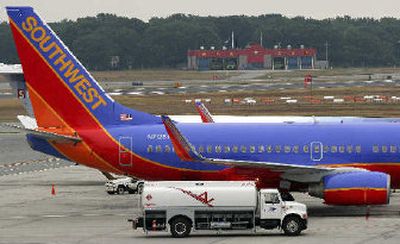 ATLANTA — The one-two punch of Hurricane Katrina and oil prices briefly topping $70-a-barrel is giving the beleaguered major airlines just what they don't need as they approach a traditionally slow travel season and a few of them flirt with bankruptcy.
The storm forced the closure of several airports and caused scores of flight cancellations throughout the Gulf Coast region Monday. It also caused a surge in oil prices, something the airlines have been battling for months with no end in sight.
The result could mean more pain for Atlanta-based Delta Air Lines Inc., a major carrier to the area affected by the hurricane, as it continues to try to avoid a Chapter 11 filing. More broadly, the other airlines also could suffer. Like Delta, Eagan, Minn.-based Northwest Airlines Corp. also is in danger of bankruptcy.
Airline shares fell Monday.
"It's not anything that anybody needs, frankly," airline consultant Robert Mann said of the oil price spike and the hurricane. "The airlines don't need it. Consumers don't need it."
The Federal Aviation Administration said airports were closed in New Orleans and Baton Rouge, La.; Biloxi, Miss.; Mobile, Ala.; Pensacola, Fla. and at Eglin Air Force Base in Florida. Airlines moved their equipment away from the stricken areas and canceled all flights, FAA spokeswoman Laura Brown said. Many air traffic control facilities in Louisiana, Mississippi and Alabama were closed.
The nation's No. 2 carrier, United Airlines, which is currently in bankruptcy, canceled all 63 flights scheduled through midday Tuesday into the area affected by the hurricane, with more expected later as the storm moves north, a spokesman said. American Airlines, the nation's biggest carrier, canceled 36 flights in and out of New Orleans on Monday, while Houston-based Continental Airlines Inc. canceled 111 flights in the region.
Dallas-based Southwest Airlines Co. shuttered its service to New Orleans and Jackson, Miss., and planned to follow suit in Birmingham, Ala., Monday evening. The airline said service to those areas wasn't expected to resume until at least Tuesday.
Delta spokeswoman Chris Kelly said the nation's third biggest carrier canceled dozens of flights Monday. She said that included all flights to and from nine cities in Louisiana, Mississippi and Alabama. Northwest said it canceled 29 flights because of the hurricane, and it suspended service in 12 Southeastern cities.
Some carriers, including Delta and United, were waiving fees for customers who were flying to the storm area but needed to change their travel plans.
Airline industry expert Terry Trippler said he believes the financial impact of the hurricane coupled with ever-rising oil prices could force the airlines to move more aggressively to raise ticket prices.
"They cannot continue to bleed red ink," Trippler said. "Delta is going to get hurt a lot by this. Not just the oil prices, but the loss of flights they will experience over the next several days. It could be the one-two punch that makes the brain trust at Delta say it's time to go into Chapter 11 reorganization."
Local journalism is essential.
Give directly to The Spokesman-Review's Northwest Passages community forums series -- which helps to offset the costs of several reporter and editor positions at the newspaper -- by using the easy options below. Gifts processed in this system are not tax deductible, but are predominately used to help meet the local financial requirements needed to receive national matching-grant funds.
Subscribe now to get breaking news alerts in your email inbox
Get breaking news delivered to your inbox as it happens.
---