News > Idaho
Finding answers to growth
Tue., Aug. 30, 2005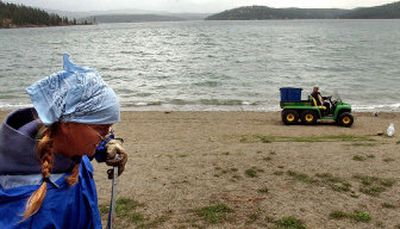 The U.S. population will expand by 33 percent over the next quarter century, with the West receiving a disproportionate share of the growth.
The forecast – from the U.S. Census Bureau – poses daunting questions for Kootenai County, said Maureen McAvey, a senior fellow with the Urban Land Institute in Washington, D.C.
Double-digit growth in the past four years has left the county with congestion, shrinking farmland, and sprawling residential and commercial development. Many scenic areas of the West are experiencing the same pressure, she said.
"For communities that have as much natural beauty as you have, that becomes an issue over time," McAvey told a roomful of business leaders, planners and government officials in Coeur d'Alene on Monday. "If you ruin the goose that laid the golden egg, what do you have left?"
Denser development, according to McAvey, is part of the answer to growth.
Clustering housing cuts down on the cost of providing government services to new residents, she said. It helps preserve open space, environmental assets, and creates pedestrian-friendly areas. National studies indicate that the United States could save $100 billion over the next 25 years with compact growth.
"Sprawl is an expensive way to develop," McAvey said. "It makes it harder to do transit, and you have more miles of roads and sewers to maintain."
McAvey spoke at a forum sponsored by Coeur d'Alene's urban renewal agency and Idaho's newly formed chapter of the Urban Land Institute.
The institute's goal is to spur discussion of land-use policy and development practices. The Idaho chapter formed last fall in response to rapid growth gripping many areas of the state, said Quentin Knipe, the chapter chairman, who works as a real estate attorney in Boise. The chapter now has more than 150 members scattered throughout Idaho.
Lots of myths surround high-density development, McAvey said. "When people think about higher density, they think about New York City … That's not what we're talking about," she said.
Even slight density changes can yield positive results, she said. Washington, D.C., for example, is expected to add 2 million residents over the next 20 years. By adding one more housing unit per acre, the city could absorb the growth without expanding its boundaries, she said. Many metro areas are also seeing increased demand for condos and townhouses. Single professionals, empty-nesters, seniors and childless couples are driving the trend. They want to be near downtown, and they don't want to devote their weekends to housework or yardwork, she said.
By 2015, only 20 percent of U.S. households will have children under age 18, according to the Census Bureau. "Clearly, we have less need for the four-bedroom, three-bath house," McAvey said.
McAvey arrived in Coeur d'Alene on Saturday morning, and spent the weekend wracking up miles in her rental car. The driving tour gave her a snapshot of Kootenai County.
She listed Coeur d'Alene's vibrant downtown, pocket parks and public space along the waterfront as critical amenities. Public access says that Lake Coeur d'Alene isn't just for the wealthy, or for longtime residents who bought early, McAvey said. "It's a very important asset."
In contrast, McAvey saw few pedestrians and little public space in outlying areas. "It was built for cars, not people. … We all use the Targets and the Wal-Marts," she said. "But it's useful to think about maintaining a balance as you go forward."
Despite a nationwide backlash against new taxes, people continue to support bonds for new parks and green space, McAvey said. A tax dedicated to acquiring open space might be a future tool for local governments, she said.
North Idaho's growing market for second and third homes also poses challenges, she said. Homes that sit vacant for most of the year don't support retail services, or create much community interaction.
Work-force housing is another critical issue for rapid-growth areas, McAvey said. Housing prices are appreciating so quickly that people in many service professions – including nurses, teachers and firefighters – can't afford to buy homes, or can't afford a home in the community where they work.
"The phrase we use all around the country is 'Drive till you qualify' " for a home loan, she said.
It contributes to sprawl, McAvey said. Many communities are focusing on developer incentives to promote "mixed income" developments.
Work-force housing is an issue of immediate concern to Coeur d'Alene's urban renewal agency, said Tony Berns, the agency's executive director. Average home prices in Kootenai County edged over $200,000 this year. The agency is exploring ways to encourage affordable housing development downtown, he said.
One of the challenges of building denser developments is getting neighbors to buy-in, said Steve Meyer, a 36-year resident of Coeur d'Alene, who works in commercial development.
Too often, the attitude tends to be, "These are attractive concepts, let's do it in someone else's neighborhood," he said. "That, by default, leads us to suburban development at the lowest price point, and it jeopardizes the Rathdrum Prairie.
"Developers go out to where the land is cheap, and build affordable, entry-level homes," Meyer said.
Local journalism is essential.
Give directly to The Spokesman-Review's Northwest Passages community forums series -- which helps to offset the costs of several reporter and editor positions at the newspaper -- by using the easy options below. Gifts processed in this system are not tax deductible, but are predominately used to help meet the local financial requirements needed to receive national matching-grant funds.
Subscribe now to get breaking news alerts in your email inbox
Get breaking news delivered to your inbox as it happens.
---