News > Business
Scrapbooking goes digital
Mon., Dec. 5, 2005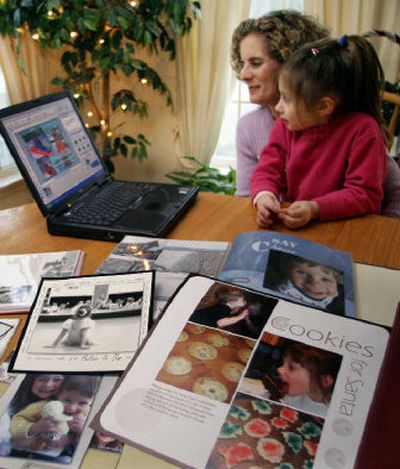 CONCORD, N.H. — Wendy Armstrong won't confess how much money she used to spend on scrapbooking supplies, but she does admit nearly kicking her daughter out of her nursery to make more room for the piles of paper and decorative doodads.
The baby kept her room, but "believe me, it was a very hard decision," jokes Armstrong, a stay-at-home mom who lives near Portland, Ore. "This was not so much a scrapbooking hobby as a collecting hobby."
Two years later, Armstrong is ready to get rid of her collection altogether.
But she hasn't given up on scrapbooking. Rather, she's joining a growing number of scrapbookers who have gone digital.
Armstrong, 43, now creates all of her scrapbook pages entirely on her computer. No more physical cutting and pasting, no more agonizing over a layout to the point of paralysis.
"I had two kids, a backlog of a gazillion photos, and I was just getting to the point where I'd literally have layouts that sat on my desk for months just not quite finished," she said.
Switching to digital scrapbooking brought a huge sense of relief.
"All of a sudden I didn't totally panic about finishing my layouts like I did with paper scrapping because I never really had to finish," said Armstrong, who has completed 240 pages in just more than a year. "It just created so much more freedom than paper scrapping."
Digital scrapbooking is a fast-growing offshoot of the $2.5 billion scrapbooking industry.
Motivated by the same desire to preserve memories as their traditional peers, digital scrapbookers use photo-editing software and other programs to arrange digital or scanned photographs, text and embellishments on their pages. Finished pages can be printed and inserted in standard scrapbook albums, bound in hardcover coffee table-style books, burned to CDs and DVDs or shared through e-mail.
Last winter, Armstrong created a batch of pages covering her family's activities of the previous year and printed two copies, one for herself and one for her parents in Florida.
"There's no way I would've done a paper scrapbook to send them," she said. "Heck, I couldn't even do it for myself."
Some digital scrapbookers strive for realistic pages featuring digitally created ribbons, tags and other embellishments, such as shadows that give an appearance of depth. Others adopt a more artistic style by blending photos together, or they go for the cleaner, graphic style of magazine layouts and advertisements.
For many, the main appeal is flexibility: Photos and embellishments can be repositioned, resized or re-colored.
And while printing pages can be expensive, digitally created "papers" and decorations can be used over and over, and many coordinated kits can be downloaded for free from dozens of Web sites.
One of the most popular sites, Scrapbook Bytes, has grown to nearly 40,000 registered members since it went online in 2003.
The increase in users has been matched by an explosion in the number of people designing their own papers and elements to share or even sell.
Dianne Rigdon of Bakersfield, Calif., started making her own kits after downloading a few free ones and now spends 20 to 30 hours a week designing.
"You're just happy getting any money for doing what you love to do," she said. Some traditional paper companies now offer digital kits on CD, and computer-generated layouts are making their way into scrapbooking magazines. Simple Scrapbooks magazine just published its fourth edition of Digital Scrapbooking, and about 15 percent of the layouts it publishes in its regular magazine are digital.
"I think it definitely has broadened the appeal of scrapbooking," said Stacy Julian, the magazine's founding editor. "So many people think scrapbooking is perhaps a kind of kitschy-crafty thing. It's made it much more accessible to people who don't have that inclination for crafts, but maybe they work with a computer all day long and they feel much more comfortable with the technical aspect of it."
Local journalism is essential.
Give directly to The Spokesman-Review's Northwest Passages community forums series -- which helps to offset the costs of several reporter and editor positions at the newspaper -- by using the easy options below. Gifts processed in this system are not tax deductible, but are predominately used to help meet the local financial requirements needed to receive national matching-grant funds.
Subscribe now to get breaking news alerts in your email inbox
Get breaking news delivered to your inbox as it happens.
---