Sports
Reasons for optimism
Tue., Dec. 6, 2005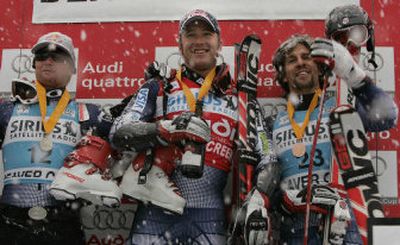 BEAVER CREEK, Colo. – If the U.S. Men's Ski Team needed a confidence boost for the rest of the World Cup season and the Turin Olympics, a superb showing here certainly provided plenty of cause for optimism.
Not surprisingly, Bode Miller and Daron Rahlves are the chief reasons. But they aren't the only ones.
And, when performances by Lindsey Kildow and a deep women's squad at Lake Louise, Alberta, are factored in, the American Alpine skiers seem capable of coming home from Italy with more medals than the grand total of two they – well, not so much "they," but Miller – collected at Salt Lake City in 2002.
"We've had momentum over the last two years, but you never know if that's going to carry forward," U.S. Ski and Snowboard Association president Bill Marolt said. "Now we have a toehold and a platform from which we can push forward."
As the only pre-Olympic World Cup venue with a downhill, super-G, giant slalom and slalom, Beaver Creek provides a chance to gauge where everyone stands.
The U.S. men came away with two victories and two second-place finishes, plus a third, a fourth and a fifth. The powerful Austrian team totaled three podium finishes, but no other nation had more than one.
"Hopefully it does send a good message to everybody else and gets them thinking a bit more," Rahlves said. "And that just gives us more power as a team."
On Day 1, Thursday, he was fifth in the super-G, while Miller blamed iced-up goggles for his failure to finish. It was the only day that ended without a top-three placing for the U.S. team.
From then on, the procession to the podium delighted spectators ringing cow bells and pounding Thunder Stix.
Rahlves, Miller and others acknowledged the home-slope advantage, saying they were inspired by skiing in front of family and friends.
On Day 2, Rahlves won the downhill, edging reigning overall World Cup champion Miller.
"The downhill's where Daron and Bode really got this thing kick-started," Marolt said. "We were kind of flat, and then – Bam! – those two guys got those results."
On Day 3, the duo swapped spots, with Miller beating Rahlves to lead a 1-2-4 U.S. finish in the giant slalom. Erik Schlopy was fourth despite breaking his left hand in the opening run, then taping his pole to his glove for the second run.
Third-place Kalle Palander of Finland, the 1999 slalom world champion, smilingly apologized for preventing a sweep.
"It felt like I was in the U.S. championships," Palander said. "It's not easy when you see Daron in front of you and Bode behind you."
On Day 4, Miller went out early in the slalom, but 21-year-old Ted Ligety finished in a career-best third.
"Now you're seeing what this team is capable of," head coach Phil McNichol said. "The U.S. team has been chewing its way to the top of the class."
There were other noteworthy results.
Dane Spencer was 12th in the giant slalom on a bad knee, Steve Nyman earned World Cup points in downhill and super-G, and Tom Rothrock got points in slalom.
"Our team has a huge amount of ability compared to where our results usually are. You're seeing that more and more with guys like Ted. We have nine or 10 guys who score in World Cup on a regular basis, and you're still not seeing their best skiing," Miller said. "Three Americans in the top four – it's not going to be as unusual if we close that gap and race to our ability."
At Lake Louise, Kildow won a downhill and had two other top-six finishes. Her skill and charisma make her the natural heir to former star Picabo Street; only 17 at Salt Lake City, Kildow had the best finish for a U.S. woman, sixth in combined.
Three Americans were in the top 10 in Friday's downhill, and five finished in the top 14 in Sunday's super-G.
The men now head to Val d'Isere, France, the women to Colorado.
Just as Miller commanded much of the attention last week, Kildow figures she'll be the one everyone's watching in Aspen.
"It's going to be a little hectic," she said, "but it's perfect practice for me for the Olympics."
Never too soon to start thinking ahead, right?
There's still a lot of time between now and Feb. 12, when the men's downhill opens the Alpine skiing schedule in Italy.
Time for injuries, perhaps. Time for slumps. But also time for hope.
"We've got a good start," Marolt said. "When the gun goes off in Torino, we'll be ready to go."
Local journalism is essential.
Give directly to The Spokesman-Review's Northwest Passages community forums series -- which helps to offset the costs of several reporter and editor positions at the newspaper -- by using the easy options below. Gifts processed in this system are not tax deductible, but are predominately used to help meet the local financial requirements needed to receive national matching-grant funds.
Subscribe to the sports newsletter
Get the day's top sports headlines and breaking news delivered to your inbox by subscribing here.
---