News > Business
N.Y. Stock Exchange votes to transform itself
Wed., Dec. 7, 2005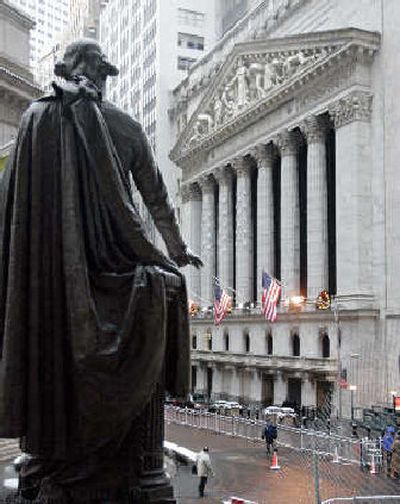 NEW YORK — With a mixture of vision and nostalgia, the seat owners of the New York Stock Exchange voted Tuesday to acquire Archipelago Holdings Inc., a deal that will transform the 213-year-old Big Board into a for-profit company with new, high-tech trading capabilities.
More than 95 percent of the voting members approved the $9 billion transaction, according to the NYSE. More than 90 percent of the exchange's 1,366 seats were represented in the vote, tallied in the exchange's sixth-floor conference room, considered a Wall Street institution.
"There certainly was some nostalgia there," John Thain, chief executive of the NYSE, said in a conference call with reporters. "A lot of attendees were members for many, many years, and they wanted to be present at this historic transaction and say that they were there."
Archipelago shareholders, meeting in Chicago, approved the transaction earlier Tuesday, though the margin of the vote was not disclosed.
The acquisition, expected to close in late January, will create a new publicly held corporation, NYSE Group Inc., with the exchange and Archipelago becoming divisions of the company. The new stock will be listed on the NYSE as NYX one day after the deal closes. A secondary stock offering has been tentatively set for late February or March, Thain said.
Its storied history and iconographic status aside, the NYSE has been under heavy competitive pressure from the Nasdaq Stock Market Inc. and other electronic trading platforms in the past decade. While the exchange prides itself in its floor auctions, which help reduce price volatility, modern stock traders have been drawn to Nasdaq's transaction speeds, where a penny price difference could mean thousands of dollars made or lost.
Some of that competitive pressure came from Archipelago itself, which has increased its share of NYSE-listed stock trades in recent years, but has also seen intense competition from other electronic trading platforms.
The new company will have the capability to not only trade stocks listed at the NYSE, but also Nasdaq-listed and over-the-counter stocks through Archipelago's electronic trading system. The deal also increases the exchange's market share in exchange-traded funds and derivatives trading.
As the NYSE prepares to take on all-electronic rival Nasdaq Stock Market Inc., investors are likely to benefit from better transaction speeds as well as lower fees as the two major markets compete for business.
The transformation into a for-profit company gives the NYSE Group equity it can use for expansion and further acquisitions.
"I continue to believe there will be more consolidation both in the U.S. and globally, and this transaction positions us to be a participant in that consolidation," Thain said. "I can't talk about any specific area, but I think that there will be opportunities for us over the course of next year."
Under the agreement, NYSE seat owners will receive more than $5 million for each seat, though just $300,000 in cash. The rest will be stock in the new company, which seat owners will be restricted in selling for up to three years. Archipelago shareholders will have their shares transferred to the new company on a one-for-one basis.
Although Archipelago shares were down 43 cents at $59.95 in trading Tuesday, shareholders have seen the value of their stock quadruple since the merger was announced April 20.
Local journalism is essential.
Give directly to The Spokesman-Review's Northwest Passages community forums series -- which helps to offset the costs of several reporter and editor positions at the newspaper -- by using the easy options below. Gifts processed in this system are not tax deductible, but are predominately used to help meet the local financial requirements needed to receive national matching-grant funds.
Subscribe now to get breaking news alerts in your email inbox
Get breaking news delivered to your inbox as it happens.
---