News > Business
Unwanted baggage
Wed., Dec. 7, 2005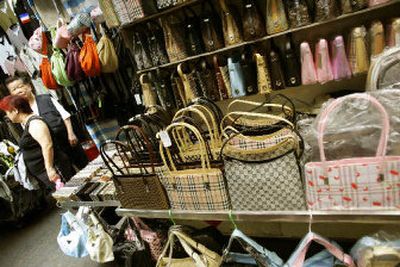 HONG KONG — As Hong Kong prepares for a global summit about free trade next week, the government is starting to worry that commerce is a little too free in this bustling city of skyscrapers and shopping malls.
The authorities are cracking down on vendors selling fake goods at markets where shoppers can pick up a brown leather Louis Vuitton handbag, silvery Rolex watch and silky Hermes tie — all for just a fraction of what the real one would cost.
The Hong Kong Customs and Excise Department is stepping up efforts against counterfeits in response to an expected influx of tourists coming in town during the World Trade Organization summit on Dec. 13-18 and the holiday season.
"We are anticipating, during this period until the end of the year, normally there will be more tourists and people coming to Hong Kong. So we have to step up our enforcement measures against this counterfeiting activities to suppress their increasing strength," said Samson Chiu, a divisional commander of the intellectual property investigation bureau of the Hong Kong Customs Department.
The objective is to prevent counterfeit vendors from disturbing the tourists, he said.
A special action team of 108 people has been created to step up anti-counterfeit measures for the global summit, Chiu said. The team will continue until after the WTO meeting and will be reviewed afterward. If the counterfeit sales people have been suppressed, the special action team might not be needed in the future, he said.
Customs officials recently raided six storerooms for counterfeit goods in Mongkok, a popular shopping area, and seized around 9,000 items, including fake Gucci, Chanel and Fendi items, Chiu said.
The piracy fight is serious business for officials in Hong Kong, which calls itself "Asia's World City" — a cosmopolitan place with a strong rule of law. Such assurances help set Hong Kong apart from cities across the border in mainland China, where counterfeiting is rampant.
Tourism and shopping dollars are pillars of Hong Kong's economy. In 2004, tourists spent about $11.85 billion in Hong Kong, and approximately 56 percent of their spending was on shopping, according to the Hong Kong Tourism Board.
Recently two of the world's biggest action movie stars, Arnold Schwarzenegger and Jackie Chan, appeared in a TV ad against fakes. The 30-second spot is a joint effort by Hong Kong's Intellectual Property Department and the California Commission for Jobs and Economic Growth.
As the men rumble down a highway together on motorcycles dodging explosions, Chan says, "When you buy pirated movies and music, you support criminals!"
Schwarzenegger chips in: "Let's terminate it!"
The action hero turned California governor introduced the ad recently while stopping in Hong Kong during a trade tour of China. He acknowledged it's tough to stop the counterfeit industry because there are so many willing buyers.
"I know that even from our own trade mission, people have been traveling in the various different cities and going into those shops and buying those goods," he said.
Customs official Chiu said the vendors have elaborate systems that help them avoid arrest. They employ lookouts and frequently relocate storerooms. In some markets, the goods are displayed on the street. Customers pick out what they want from catalogues and the goods are later delivered. Sometimes, shoppers are led to back alley showrooms full of fakes.
Hong Kong has tried to dissuade people from buying fakes by branding them as uncool.
"We're hoping to create a sort of peer pressure where people don't think it's necessarily right to show off about buying fakes," said Stephen Selby director of Hong Kong's Intellectual Property Department.
Local journalism is essential.
Give directly to The Spokesman-Review's Northwest Passages community forums series -- which helps to offset the costs of several reporter and editor positions at the newspaper -- by using the easy options below. Gifts processed in this system are not tax deductible, but are predominately used to help meet the local financial requirements needed to receive national matching-grant funds.
Subscribe now to get breaking news alerts in your email inbox
Get breaking news delivered to your inbox as it happens.
---