News > Nation/World
Lennon vigil filled with song
Fri., Dec. 9, 2005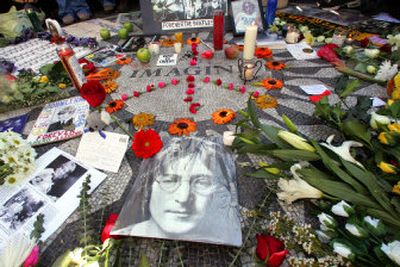 NEW YORK – As crowds of mourners filled the air in Central Park with song and remembrances of John Lennon on Thursday on the 25th anniversary of his murder, his widow quietly paid her own respects.
Clad entirely in black, Yoko Ono knelt and appeared to say a brief prayer for her late husband before leaving a bouquet of white peonies on the "Imagine" tile mosaic in Strawberry Fields.
Ono, 72, then blew two kisses to the crowd before heading back to her home at the Dakota apartment building.
It was the first time Ono had attended the yearly memorial; in the past, she had simply lit a candle in her window on the anniversary.
"I think she was sad and overwhelmed," said bar owner John Munro, 40, of the Philippines. "You could tell she was still dealing with his death, 25 years later."
People from around the globe gathered at Strawberry Fields on Thursday to pay tribute to the music icon, who was gunned down by deranged fan Mark David Chapman on Dec. 8, 1980.
Lennon – who had just turned 40 – was returning from a midtown Manhattan recording studio with Ono. In an instant, Chapman, carrying a copy of J.D. Salinger's "The Catcher in the Rye," opened fire. Police officers put the mortally wounded singer in the back of a squad car, but shortly after arriving at the hospital, Lennon was dead.
On Thursday, flowers, candles and written tributes carpeted the mosaic as people jostled for photos. Off to one side, a spirit of togetherness prevailed as dozens joined in singing Beatles songs.
"It's so crazy, the impact of one man," said Terra Merget, 33, of Seattle. "Everybody's in the middle of New York City, and it's freezing, and we're singing `All You Need is Love.' How crazy is that? I couldn't be happier right now."
Eric Mangual, a 33-year-old Verizon lineman from Middlesex, N.J., wore just a sleeveless black T-shirt, exposing a shoulder tattooed with "Lennon/Imagine" and the Japanese characters for peace and love.
"No one will ever be better than John Lennon and the Beatles. There'll never be a better band," said Mangual, who called Lennon "a voice, a music legend and a great humanitarian. I come out here every single year, and I celebrate every single day, just by playing his music and listening."
"There's so much in the world that isn't right, but this puts things in perspective of how it should be," said Carly Guerrero, 36, a medical assistant from Westchester County, N.Y. "His vision was of a world without boundaries – no religion, no races, no hell, no heaven, just everyone living in the world, in peace."
Thomas Kellog, 44, an artist and theater company owner, flew in from Los Angeles to attend the vigil.
"John Lennon, what he said then still rings true," he said. "I was a little kid when the Beatles started up. And then 'Imagine' came out. That was just an amazing, amazing idea. He definitely inspired me."
The scene Thursday was much the same in Liverpool, Lennon's hometown, where scores of fans from around the world remembered him with white balloons, flowers and prayers.
"I just wrote 'Merry Christmas John' on my balloon," said James Andrews, a 9-year-old from Bournemouth, England. "I love the Beatles, and especially John Lennon."
Local journalism is essential.
Give directly to The Spokesman-Review's Northwest Passages community forums series -- which helps to offset the costs of several reporter and editor positions at the newspaper -- by using the easy options below. Gifts processed in this system are not tax deductible, but are predominately used to help meet the local financial requirements needed to receive national matching-grant funds.
Subscribe now to get breaking news alerts in your email inbox
Get breaking news delivered to your inbox as it happens.
---