News > Spokane
Singer turns vision into extravaganza
Fri., Dec. 9, 2005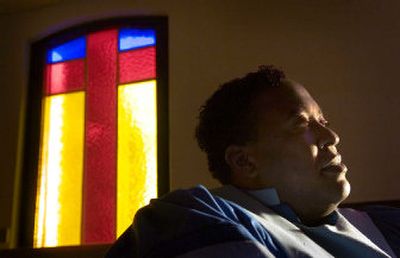 After winning this year's "Gimme the Mike!," Spokane's takeoff on "American Idol," Kenny Andrews decided not to keep the grand prize.
Instead, he sold the brand-new Toyota Prius to finance a dream: uniting the community through music.
"I just want people to come together," said Andrews, a smooth tenor who can often be heard singing the national anthem at Gonzaga basketball games and other events. "We are all God's people and together, we can praise the Lord through song."
On Sunday, Andrews' vision will become a reality with the first Gospel Extravaganza, a concert and brunch featuring the choir and praise team from Spokane's Calvary Baptist Church, the oldest African American church in Washington. The event will be the first in a series of concerts showcasing gospel choirs and musicians from throughout Spokane and beyond.
Andrews, 43, came up with the idea three years ago after visiting the House of Blues in Chicago, which hosts a gospel brunch every Sunday. He was struck by the diversity of the crowd and how, despite people's differences, they were able to come together for both music and worship. "They were breaking bread and praising the Lord together," said Andrews, who grew up attending Calvary Baptist, where his father has been the pastor for 32 years. "I wanted to make that happen in Spokane."
He contacted other gospel musicians in the area and started spreading the word.
"The vision is ultimately to bring all people together in unity," Andrews wrote in a recent letter sent to more than 300 area churches. "To transform lives and restore communities through the ministry of song."
Born in Moses Lake, Andrews moved to Spokane when he was 6. His father, the Rev. C.W. Andrews, always encouraged him and his siblings to use music as a way to express their love for God. While the older Andrews would preach on Sundays at Calvary Baptist, all five of his children would sing and play during the service. Kenny, who joined a church choir when he was 4, usually sang while his two older brothers, Chester and Darrell, played piano and drums. His younger sisters, Dana and Lyn, also sang and played tambourine.
Kenny Andrews left Spokane for New Orleans in 1985 to work as an executive catering manager. He continued performing and sang the national anthem at numerous events, including a New Orleans Saints game at the Superdome eight years ago and also at Tiger Stadium in 1999. In the fall of 2001, he moved his family back to Spokane because they wanted to be closer to his aging parents.
When he returned, Kenny Andrews immediately started singing once again with the choir at Calvary.
Music has always been a way to break down barriers, said the Rev. C.W. Andrews, who also was a vocalist in his younger years. "The melody comes into your heart, and it's a way to experience God," he said. "When you have the spirit of God in you, you don't see color or differences. You just see them as another human being, a soul that the Lord loves."
Every Sunday, music plays a significant role at Calvary Baptist, which will celebrate its 116th anniversary in February. People are often on their feet, clapping their hands, swaying their bodies as they sing their hearts out. "The praise team starts the fire," explained the older Andrews, "the Voices of Calvary (choir) puts wood to the fire, then the pastor preaching the word puts the icing on the cake."
People who come to Sunday's Gospel Extravaganza will hopefully share that experience, Kenny Andrews said. More concerts, which will include a full brunch, will take place every second Sunday of each month. He hopes future shows include national gospel acts.
Local journalism is essential.
Give directly to The Spokesman-Review's Northwest Passages community forums series -- which helps to offset the costs of several reporter and editor positions at the newspaper -- by using the easy options below. Gifts processed in this system are not tax deductible, but are predominately used to help meet the local financial requirements needed to receive national matching-grant funds.
Subscribe now to get breaking news alerts in your email inbox
Get breaking news delivered to your inbox as it happens.
---