News > Spokane
It's a dog's laugh
Sat., Dec. 10, 2005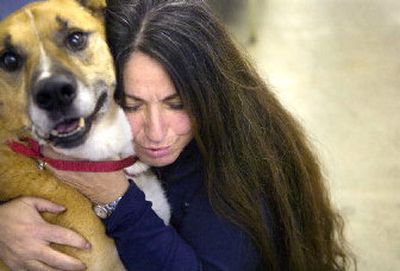 Dogs laugh.
That excited panting noise canines make while playing or anticipating a much desired walk … that's a laugh, according to animal behaviorist Patricia Simonet.
And the sound is comforting to other dogs, she has discovered.
The development and program coordinator for Spokane Regional Animal Protection Services has been researching the sound she calls dog laughter, as well as other canine noises, for four years.
Her most exciting discovery came just over a year ago. When she played the recording of a dog's play panting through a speaker system at Spokane Valley's SCRAPS, all of the barking dogs quieted within a minute.
"I wanted to see if I could reduce (the dogs') stress by playing the sound in the shelter," Simonet said. "I was surprised when they were calm and quiet."
Simonet presented her study on reducing shelter dogs' stress at the International Conference on Environmental Enrichment at Columbia University in New York.
"This can enrich their stay in this sterile environment," she said, referring to the animal shelter. "It's concrete out there."
The Spokane resident started her research on dog sounds in 2001 at Sierra Nevada College in Lake Tahoe where she was a professor of animal behavior. After coming to Spokane, she began studying how to make shelter dogs feel more at ease. Simonet started her research on dog vocalizations because she wanted to know more about the animal.
"We've shared our hearth with them for 135,000 years," she said. "Secondly, I was looking for a project for my students. They were a little disappointed when it didn't involve monkeys or elephants."
Simonet and her students started by recording dogs at play. Then they isolated the growling, whining, barking and the sound she now calls laughter.
"We played it (the play panting) to dogs individually in a room and watched each one," Simonet said. "They'd play, pick up a toy or go to the computer and bump at it. We also played the other sounds. When we played the dogs growling during play, the dogs didn't respond with play. In fact, the puppies piddled on the floor."
By the way, the panting sound that dogs make while playing isn't the same panting sound they make when they are hot or thirsty.
Simonet, who has a doctorate in animal behavior from North Central University in Arizona, has worked with SCRAPS about three years. She asked director Nancy Hill about a year ago if she could use the shelter's dogs to determine the impact of dog sounds on the group of typically stressed canines. When SCRAPS would close for the night, she would play the sounds.
"Animals in captivity need to have their sterile environments less sterile," Simonet said.
"This is not home for the dogs," Hill said. "She saw that and wanted to help.
"And I was very pleasantly surprised by the results," the SCRAPS director said. "I've been here for 20 years, and this is the most significant thing I've seen."
Hill is getting estimates to install a sound system that would carry the laughter throughout the SCRAPS kennels. The cats are in an isolated room.
By calming the dogs, the sound may even make them more adoptable.
Meanwhile, the study has brought SCRAPS and Simonet national attention. Television news media, including CNN and "Good Morning America," have broadcast news bites on the dog laughter. "Extreme Home Makeover" contacted Simonet earlier this week about using the dog laughter recording for an upcoming project, but she hasn't heard back about a decision yet.
"We've gotten e-mails from all over the world," Hill said. "Right now, we are the only ones benefiting from it, but we hope other shelters, individuals and pet stores can benefit, too."
Simonet wants to eventually market the dog sound commercially. She said if it's successful, she plans to donate a portion of the proceeds to SCRAPS.
"She's a huge animal lover," Hill said. "She's clearly picked the right field."
Local journalism is essential.
Give directly to The Spokesman-Review's Northwest Passages community forums series -- which helps to offset the costs of several reporter and editor positions at the newspaper -- by using the easy options below. Gifts processed in this system are not tax deductible, but are predominately used to help meet the local financial requirements needed to receive national matching-grant funds.
Subscribe now to get breaking news alerts in your email inbox
Get breaking news delivered to your inbox as it happens.
---