Sports
Redick, Paulus lead Duke by Valparaiso
Mon., Dec. 19, 2005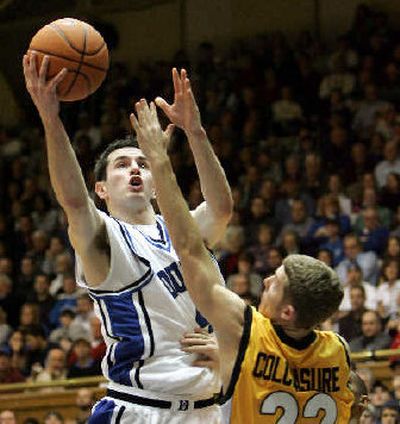 J.J. Redick scored 30 points and Greg Paulus set a school freshman record with 15 assists as No. 1 Duke shook off a subpar defensive first half to beat Valparaiso 104-77 on Sunday night at Durham, N.C.
Shelden Williams added 19 points and 11 rebounds for the Blue Devils, who improved to 10-0 for the fifth time in six seasons, while Lee Melchionni scored 18 points.
Paulus broke the freshman record of 13 assists shared by Bobby Hurley, Jason Williams and Chris Duhon. He came within an assist of tying the school record owned by Hurley, who finished his career as the nation's career assists leader.
Dan Oppland scored 25 points to lead the Crusaders (4-3), who tried to hang around after falling behind by double digits early but never seriously threatened.
The Blue Devils were coming off a 97-66 victory over then-No. 2 Texas.
(2) Connecticut 86, New Hampshire 44: At Hartford, Conn., Rudy Gay had 22 points and the Huskies (8-0) dominated the overmatched Wildcats (2-8).
(7) Florida 101, Jacksonville 58: At Gainesville, Fla., Corey Brewer had the first triple-double in Florida history and the Gators (10-0) matched the school's best start with a rout of the Dolphins (1-6).
(9) Illinois 61, Coppin St. 42: At Champaign, Ill., James Augustine scored 15 points and the Illini (11-0) broke the game open with an 18-4 run in the second half on the way to a victory over the Eagles (0-8).
(12) Michigan St. 85, Florida International 58: At East Lansing, Mich., Shannon Brown scored 20 points and two Michigan State teammates had double-doubles to help the Spartans (9-2) rout the Golden Panthers (3-5).
(13) Boston College 80, Texas Southern 53: At Boston, Jared Dudley had 25 points and 10 rebounds and Sean Marshall scored a season-high 19 points and the Eagles (7-2) ended a two-game losing streak by beating the Tigers (2-8).
(21) N.C. State 81, Miami 69: At Raleigh, N.C., Cameron Bennerman had a season-high 19 points and almost single-handedly turned the game around early in the second half, helping the Wolfpack (8-1) hold off the Hurricanes (6-4) in the Atlantic Coast Conference opener for both.
USC 76, Alcorn St 53: At Los Angeles, Lodrick Stewart scored 16 points, Nick Young had 14 and Gabe Pruitt added 13 as the Trojans (7-2) beat the Blazers (0-7) for their seventh-straight victory.
Local journalism is essential.
Give directly to The Spokesman-Review's Northwest Passages community forums series -- which helps to offset the costs of several reporter and editor positions at the newspaper -- by using the easy options below. Gifts processed in this system are not tax deductible, but are predominately used to help meet the local financial requirements needed to receive national matching-grant funds.
Subscribe to the sports newsletter
Get the day's top sports headlines and breaking news delivered to your inbox by subscribing here.
---