Sports
Mariners free Franklin
Wed., Dec. 21, 2005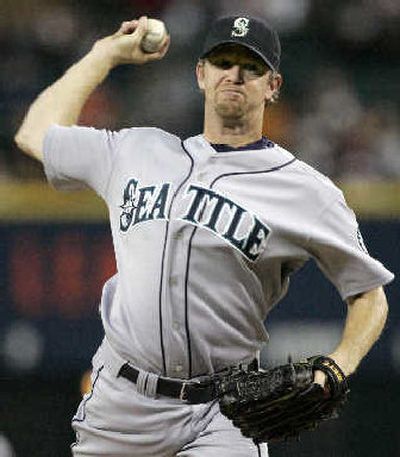 SEATTLE – Ryan Franklin may have thrown his last pitch for the Seattle Mariners.
The 32-year-old right-handed pitcher, who has been with the organization since 1993, wasn't tendered a contract Tuesday and is now a free agent.
Franklin – who has a 35-50 career record with a 4.34 earned-run average – was the only Mariner among five arbitration-eligible players who weren't offered contracts by the team on the final day teams could offer contracts to its arbitration-eligible players.
The Mariners offered contracts to starting pitcher Gil Meche, relievers Julio Mateo and Rafael Soriano and infielder/outfielder Willie Bloomquist. Meche, Mateo, Soriano and Bloomquist can take the team to salary arbitration for a final contract.
Two others players – pitcher Cha Seung Baek and outfielder Jamal Strong – weren't tendered contracts.
Franklin could still return to Seattle next season, though it's likely he'll end up with another team.
Beginning today, teams can still negotiate contracts with non-tendered players. But it's clear that Franklin – who made $2.6 million in 2005 – isn't in the Mariners' plans. The team is prepared to head into the season with a starting rotation of Jamie Moyer, Felix Hernandez, Jarrod Washburn, Joel Pineiro and Meche.
If he returns to Seattle, Franklin would be used as a reliever.
"We will speak to him," Seattle general manager Bill Bavasi said. "Pursue? We'll have to wait and see. Our intention was to grant him free agency."
Meche spoke to Franklin on Tuesday.
"You hate to see anyone go who you've been around for 10 years," Meche said. "But as many teams as there are out there, someone will take a guy like Frankie. He will eat up innings and keep you in the game."
Franklin has averaged 200 innings over the past three seasons. He was 8-15 last season with a 5.10 ERA.
Franklin made news last season for all the wrong reasons. He was suspended for 10 days in August for violating baseball's steroids policy.
While Meche, 27, was offered arbitration – he made $2.535 million in 2005 and could possibly earn in upward of $4 million next season with a favorable arbitration ruling – that doesn't mean he'll be back with Seattle for sure.
The Mariners could still trade Meche. The Colorado Rockies are said to have interest in the right-hander.
Also on the trade front, the Mariners are reportedly still talking with the Boston Red Sox about trading center fielder Jeremy Reed for either Matt Clement or Bronson Arroyo, both pitchers.
The Mariners also claimed left-handed pitcher Jake Woods off waivers from the Los Angeles Angels. Woods, 24, was 1-1 with a 4.55 ERA in 28 relief appearances for the Angels last season. He also was 3-1 with a 5.89 ERA at Triple-A Salt Lake last season.
To make room for Woods, the Mariners designated infielder Greg Dobbs for assignment.
Dobbs, 27, played in 59 games for the Mariners in 2005, hitting .246 with one home run and 20 RBI. He hit .321 with three home runs and 22 RBI for Triple-A Tacoma.
Bavasi said Woods would likely make the team out of spring training or start the season in Tacoma.
"He's got a little less stuff from the left side than what we have on the club today," Bavasi said. "We're taking a chance on a left-handed arm in there (the bullpen) that's more effective."
Local journalism is essential.
Give directly to The Spokesman-Review's Northwest Passages community forums series -- which helps to offset the costs of several reporter and editor positions at the newspaper -- by using the easy options below. Gifts processed in this system are not tax deductible, but are predominately used to help meet the local financial requirements needed to receive national matching-grant funds.
Subscribe to the sports newsletter
Get the day's top sports headlines and breaking news delivered to your inbox by subscribing here.
---