News > Voices
WV game brings coaches back
Sat., Dec. 24, 2005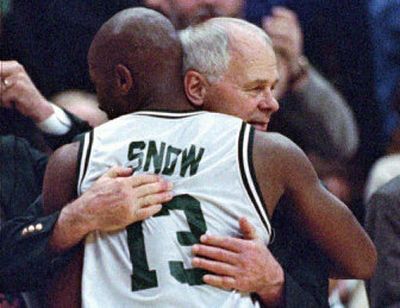 It's difficult to decide which is more impressive – that there will be more than a half century of West Valley High School boys basketball coaches at the school's alumni game Wednesday night or that it takes only five individuals to cover that span.
Four coaching alums will return to the bench for a four-team event: Jud Heathcote, Al Snyder, Duane Ranniger and Joe Feist.
Four teams of West Valley graduates will play, beginning at 5 p.m.
Among those expected to play are Joe Pettit, the City League's second-leading scorer in 1960 behind Central Valley's Larry Sloan, uncle of current CV coach Rick Sloan; Larry Winn, a multiple All-City selection and the league's top scorer in 1963; Fred Sackett, an All-City selection in 1962; and Les Albert, who played on Heathcote's first team at West Valley.
"Everyone will play two games," said Jamie Nilles, the current West Valley coach and the alumni game coordinator. "I have a bunch of applications in from players going all the way back to a couple of Jud's teams. A few of them wanted to play but hurt themselves getting ready."
This is the Eagles' final season in their current gymnasium. Construction is under way on a new facility that will be ready next year.
"I've heard from a couple players who played in this gym the first year it was open and wanted to play there in its last year," Nilles said.
Heathcote compiled a 165-129 career record as head coach of the Eagles from 1951 until 1964. After leading West Valley to four state berths and two state placements, Heathcote left to pursue a doctorate in education at Washington State University, where he was promptly hired to be the Cougars' junior varsity coach. He moved on to become head coach at the University of Montana and won the NCAA national championship at Michigan State when the Spartans and Magic Johnson knocked off Larry Bird and Illinois State in the finals.
"I left there in 1964 and I haven't been back since," Heathcote said. "Since my wife and I moved back to Spokane I haven't been to very many high school basketball games. I went to see Sean Mallon while he was at Ferris and Adam Morrison while he was at Mead. And last year I went to a girls basketball game for the first time to see the Bjorklund sisters play for University."
Snyder spent 10 years as Heathcote's assistant, moving up to lead the Eagles for 10 seasons, taking teams to the regional tournament in 1966 and again in 1969, which was the equivalent of the state tournament.
"In those days it wasn't a 16-team state tournament," he said. "You played in a regional tournament and only went to Seattle for the Final Four."
Ranniger, an All-City League player at Central Valley, was Snyder's top assistant before moving up in 1975. In his eight years as head coach, he took West Valley to state three times, placing sixth in 1978 and fifth in 1979.
Feist was just 23 when he was promoted from assistant to head coach in 1987. In his 12 years at West Valley he posted a record of 217-87 (tops among West Valley coaches), won seven Frontier League championships and had three teams place at state – including a third-place finish in 1992.
"I don't know Jud all that well, but he's always been friendly and helpful whenever I've talked to him," Feist said. "I've met Al, and Duane was a counselor at West Valley while I was there and he was always very positive and supportive of me while I was there. I'm just honored to have been part of it all there at West Valley and it's something I will always look back on with a great deal of pride."
Of the five West Valley coaches who will attend the game, including Nilles, four started out as assistant coaches at the school. Feist was an assistant coach under Darrell Boorman and Nilles was Feist's assistant coach for five seasons before taking over for the 1999-2000 season.
"West Valley has had that reputation for promoting from within like that," Feist said. "I think that's a very positive thing. For one thing, the kids know who they're getting and the coach knows the program and knows the kids."
West Valley has seen a number of changes during the tenures of these coaches. Under Heathcote, for example, the Eagles played in the old City League, which had just six teams during much of his tenure. Shadle Park joined in 1959 to make it a seven-team league.
During Snyder's tenure the City League expanded to 10 teams, adding Ferris and Mead for the 1965 season. In 1969 the Valley schools were kicked out of the City League and formed the Border League. Valley schools had been out of the football league for eight years when the city schools terminated the basketball agreement.
During Ranniger's tenure the Border League was replaced by the Frontier League. A new Border League, including Idaho schools, was formed during the tenures of Feist and Nilles.
Under Nilles, the Frontier League folded and West Valley rejoined the Greater Spokane League for the first time since the 1968 season as part of the Greater Spokane League. Next year West Valley will drop out of the GSL to join the Class 2A Great Northern League.
There is a wealth of memories within the old West Valley gym. A few stand out.
"We always filled that gym whenever we played Central Valley or U-Hi," Snyder said. "Those were always standing-room-only games and that was always a great rivalry."
In the days before Rubber Chickens and Stinky Sneakers to spur on rivalries, West Valley-Central Valley made for a can't-miss series.
"I remember one year for the CV game some kid smuggled in a live chicken," Snyder reminisced. "During warm-ups, he let it loose at our end of the floor and it (pooped) all over the place. Our kids were so excited that they came charging out to warm up and never noticed. We had to delay the start of the game while the kids cleaned their shoes. Ray Thacker, the CV coach at the time, came down and apologized all over the place, but of course it wasn't his fault."
Local journalism is essential.
Give directly to The Spokesman-Review's Northwest Passages community forums series -- which helps to offset the costs of several reporter and editor positions at the newspaper -- by using the easy options below. Gifts processed in this system are not tax deductible, but are predominately used to help meet the local financial requirements needed to receive national matching-grant funds.
Subscribe now to get breaking news alerts in your email inbox
Get breaking news delivered to your inbox as it happens.
---