News > Features
Getting creative
Mon., Dec. 26, 2005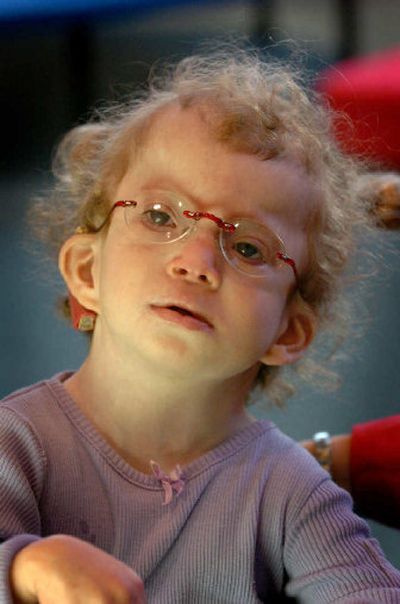 TEANECK, N.J. – Other mothers might have immersed themselves in sorrow, but Cindy Balsam turned her heartbreak into hope. After her daughter was born with an array of disabilities and medical complications, Balsam used her experience to help others in similar circumstances.
"As a parent, you can empower yourself in the hardest situation," said Balsam, a wife and mother of four. "It empowers your child."
The 33-year-old computer technologist was driven by a single desperate goal – to help her daughter Nettie overcome her challenges.
From the start, Balsam has surrounded 3-year-old Nettie, whom she calls her "wondergirl," with love. She has also transformed the family's garage into a therapy room and packed Nettie's calendar with occupational, physical, vision, auditory, feeding, electro-stimulation and speech therapy. The family's cozy colonial is filled with toys, children's books and therapeutic devices.
"No matter what we're going through, we're always focused on her developmental progress," said Balsam. "We're very aggressive with her therapies and follow-throughs."
With Balsam's computer expertise, it was only natural for her to integrate technology into her therapy. Several months ago, she created a DVD to promote Nettie's communication development and enhance her visual tracking skills.
The DVD displays various shapes, animals and familiar objects, designed to teach new words and phrases. A mix of subtle background music keeps it entertaining.
"I always felt guilty if I wasn't doing therapeutic activity with her 24/7. This gives me a break while doing something helpful for her," she said. While Nettie watches the DVD, Balsam can tidy the house and spend time with her other children.
The therapeutic DVD was such a hit with Nettie, Balsam wanted to share it. She recently launched a Web site – ettiesays.com – to sell the DVD and reach out to other parents of disabled children.
"This is my feel-good hobby. We have a slew of customers, from as far away as Sweden and India, who love this," she beams.
So far, Balsam has sold 500 copies of the DVD and has elicited fan mail and questions from parents who want to learn more about what worked with Nettie.
One mother, who declined to give her name, praised the DVD for teaching her children new phrases and the seasons of the year. "My kids love the `Nettie Says' DVD. It's not just entertaining, it's educational."
"She's an incredible person," said Suzanne Tepler, a homemaker, about Balsam. "She's always challenging Nettie in a warm and nurturing way. `Nettie Says' is a testament to the knowledge and know-how that Cindy has gained by being so completely involved in Nettie's therapies. Cindy wants to share with others what worked for Nettie."
On a recent day, Balsam grinned into Nettie's blue eyes, partially hidden behind her thick glasses, and watched her daughter's face stretch into an infectious smile. She sang her songs until she giggled. Then she rolled Nettie onto her stomach and cheered wildly when she pushed her body up with her arms.
"She's worked so hard and she's accomplished so much, it's amazing," boasted Balsam.
Nettie's come a long way from her birth, when doctors took one look at her and whisked her to the neonatal intensive care unit.
The infant had bilateral choanal atresia, a blocked passageway from her nose to her throat, requiring immediate surgery to allow proper breathing.
But that was just the start of Nettie's medical problems. Her long list of abnormalities included a webbed neck, impaired hearing, deformed vocal chords, an extra finger, low muscle tone and ocular photosensitivity, which left her legally blind. Since she had difficulty sucking and swallowing, Nettie was unable to eat without the aid of a tube inserted into her stomach.
Other parents might have become paralyzed with grief.
Balsam didn't want to waste the time. She started working the phones, contacting agencies, therapists and physicians for help.
She secured oxygen for the house and found medical and therapeutic devices. She hired therapists and arranged for Nettie to have cochlear implant surgery to improve her hearing.
"I treated each of her issues as if it was her only one," said Balsam. "I didn't want to miss out on any of the aggressive therapies. Some people thought I pushed her too hard, but now everyone sees how Nettie's life has improved because of it. She can bear weight on her feet and can make sounds now. That's miraculous."
There are other positive signs. In the past, Nettie seemed oblivious to her surroundings, but now she interacts. She smiles at voices and faces. She cries when she needs something. She giggles when her brothers or sister walk into the room.
"I've seen 1,000 percent progress," said Balsam.
Balsam still has to carry her 23-pound daughter around the house because her legs are not strong enough to walk. Nettie must still use a stomach tube because she cannot suck or swallow.
Whatever challenges Nettie faces next, Balsam will remain fixed on the brief moments of wonder that Nettie has brought to her and her family.
"Whenever she smiles at me," said Balsam beaming, "that's my best moment."
Local journalism is essential.
Give directly to The Spokesman-Review's Northwest Passages community forums series -- which helps to offset the costs of several reporter and editor positions at the newspaper -- by using the easy options below. Gifts processed in this system are not tax deductible, but are predominately used to help meet the local financial requirements needed to receive national matching-grant funds.
Subscribe now to get breaking news alerts in your email inbox
Get breaking news delivered to your inbox as it happens.
---