News > Nation/World
Tsunami recalled in grief
Mon., Dec. 26, 2005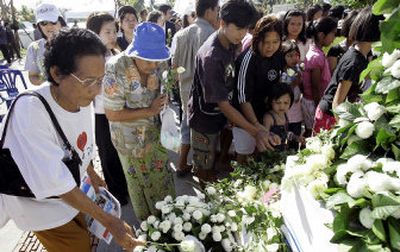 BANDA ACEH, Indonesia – Mourners returned to battered shorelines today to mark one year since the Indian Ocean tsunami crashed ashore in a dozen countries, laying waste to coastal communities and sweeping away at least 216,000 lives.
Under a clear sky and before a gentle sea, survivors, friends and relatives of those who died and world leaders commemorated those lost in one of the worst natural disasters the modern world has experienced.
In Indonesia's Aceh province, which was closest to the earthquake that spawned the waves and bore the brunt of the disaster, President Susilo Bambang Yudhoyono led hundreds of other officials in a minute's silence at a ceremony held on a jetty overlooking the sea.
"It was under the same blue sky, exactly one year ago, that mother Earth unleashed her most destructive power upon us," Yudhoyono told the gathering.
Similar periods of silence were to be observed at official ceremonies in Thailand and Sri Lanka, where flags would be lowered to half-staff and bells rung in remembrance. Muslim, Christian, Buddhist and Hindu prayer services were being held across the tsunami zone.
Some preferred more personal reflection.
In Thailand, one man sat in the sand, a bouquet of white roses laying in front of him. The man, who declined to talk to a reporter, was among scores of Westerners who traveled to sites along Thailand's world famous beachfront where their loved ones disappeared into the waves.
Ulrika Landgren, 37, of Malmoe, Sweden, brought her 9-year-old son to Patong beach where nine friends died. "Somehow it's good to see this place," she said, tears falling from behind her sunglasses.
One year ago today, a magnitude 9 earthquake — the most powerful in 40 years — ruptured the sea floor off Sumatra island, sending waves 33 feet high across the Indian Ocean.
They crashed ashore in a dozen countries, sweeping entire villages away in Aceh and Sri Lanka, swamping resorts in Thailand and surging into coastal communities from India to east Africa.
In Aceh, Yudhoyono set off a siren at 8:16 a.m. to mark the moment the first wave struck. The siren is part of a tsunami warning system that did not exist last year. He later scattered petals over a grave holding almost 47,000 bodies that were hastily buried in the days after the disaster.
Hundreds of people gathered at a mosque in Kajhu village for one of scores of prayer ceremonies in the province.
"It is important for me to come here to pray for my family, may they rest in peace," said Darmawati, 39, who lost her husband, two daughters and both parents in the disaster. "I pray that God will give me strength to raise my only son who survived."
Indonesia also tested a tsunami warning system for the first time today, sounding alarms in the western Sumatra town of Padang that sent many residents running through the streets according to an organized evacuation plan.
Residents of the town had been warned ahead of time that it was a drill.
In Sri Lanka, President Mahinda Rajapakse joined mourners in the southern village of Peraliya today to honor the more than 31,000 Sri Lankans who died in the tsunami.
Local journalism is essential.
Give directly to The Spokesman-Review's Northwest Passages community forums series -- which helps to offset the costs of several reporter and editor positions at the newspaper -- by using the easy options below. Gifts processed in this system are not tax deductible, but are predominately used to help meet the local financial requirements needed to receive national matching-grant funds.
Subscribe now to get breaking news alerts in your email inbox
Get breaking news delivered to your inbox as it happens.
---