News > Features
'Neutral' partners
Fri., Dec. 30, 2005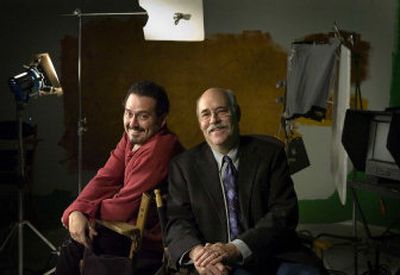 There's an old adage that good filmmakers strive to keep in mind:
What works on the page seldom works on the big screen.
Juan Mas learned that early on in his attempt to make a movie out of the work of Spokane young-adult author Terry Trueman.
Mas works for North By Northwest Productions, the Spokane-based film/video/television company responsible for such films as "The Basket" and "Hangman's Curse." He has directed the feature films "Choke" and "The Coroner."
But Trueman's work – mainly his 2001 award-winning novel "Stuck in Neutral" – presents a special challenge.
For one thing, there's the plot. "Stuck in Neutral" tells the story of 14-year-old Shaun McDaniel, a brilliant kid with a photographic memory who has lived his entire life unable to communicate. Cerebral Palsy has made him into a drooling, subject-to-fits mess whom his family both loves and feels sorry for.
And yet the book is told in first person. Trueman's feat was to take the reader directly into Shaun's mind, to show the world as the boy sees it – with humor, insight and poignancy.
Then there's the book's length. At 128 pages, which is a generous estimation by the publisher HarperCollins, the book seems a bit short for a feature film.
"The first time I ever met (North By Northwest CEO) Rich Cowan," Trueman says, "he walked up to me and said, 'I read your book. I think it would make a very good 45-minute movie.' "
Mas solved the problem by incorporating two of Trueman's other works into the mix. One is the novel "Cruise Control," a 2004 companion piece to "Stuck in Neutral" that tells the same story from the point of view of Shaun's older brother, Paul.
The other is the 1994 poem "Sheehan," which is what inspired Trueman's novels in the first place.
Writing success came late to Trueman. The 58-year-old author has worked as, among other things, a therapist, a community college writing instructor and an annuities salesman.
He found his voice with the searingly powerful poem about his own son, Sheehan (now 26), who, like Shaun, has suffered since birth from an incapacitating condition.
Using his son's story as inspiration, Trueman then wrote "Stuck in Neutral" – and was rewarded by having the novel named a Michael L. Printz Honor Book by the American Library Association.
Mas, 42, who had been introduced to "Stuck in Neutral" by his wife Bobbi, came to the project with two thoughts in mind.
The first involved a visual style. Mas showed Trueman a number of Edward Hopper paintings, including one titled "Nighthawks," a much-reproduced portrait that shows four people in a brightly lit, late-night diner.
"It's the beauty of his paintings," Mas says, explaining why he's drawn Hopper's work. "It's his harsh, direct, one light coming from one source and then the rest of it being in shadows. The closer you look at each painting, there's more to the story."
Mas' other thought was both to tell the story by cutting between the two novels and the poem, playing with time and setting, and to make special use of the character Shaun.
In Mas' screenplay, Shaun at time addresses the screen directly. Then, during scenes that feature the other characters, he sits in his wheelchair or lies in bed, existing as the pathetic "retard" (Shaun's own description of himself) that the other see him as.
"Juan figured a completely different and unique way to totally eliminate the need for voiceover at all," Trueman says. "And he captured the spirit of the book perfectly."
It's been a long trip for "Stuck in Neutral" to get even this far. The actor Craig T. Nelson ("The Family Stone") optioned the novel twice, and he and his son, Noah Nelson, had worked with Trueman to develop a script that made the father (the role Nelson would play) more of a central character.
"That was when I really started thinking of it seriously as a movie, "Trueman says.
But when financing failed to appear, the project fell apart.
Now it's North By Northwest's turn to, one, get the financing (which, Mas says, they're trying to do locally first) and, two, attract at least one name actor.
"We've been concentrating solely on the father at this point," Mas says. "Right now, we've got the script out to an A-list actor, though I can't mention his name."
But at least they have do a finalized screenplay in hand, which gives them hope that they can start shooting in the coming year and then hit the festival circuit in 2007.
And it's a screenplay that, at least in Trueman's mind, is a perfect mix between dancing images on a screen and literal letters on a page.
That result may not surprise Trueman, but it certainly does satisfy him.
"I've always enjoyed films a lot," he says. "I think I was more influenced by moves growing up than I was by books. So all along, I think I was thinking something cinematically."
Local journalism is essential.
Give directly to The Spokesman-Review's Northwest Passages community forums series -- which helps to offset the costs of several reporter and editor positions at the newspaper -- by using the easy options below. Gifts processed in this system are not tax deductible, but are predominately used to help meet the local financial requirements needed to receive national matching-grant funds.
Subscribe now to get breaking news alerts in your email inbox
Get breaking news delivered to your inbox as it happens.
---