News > Features
Harnois indulges her devilish side on Fox's 'Point Pleasant'
Mon., Feb. 7, 2005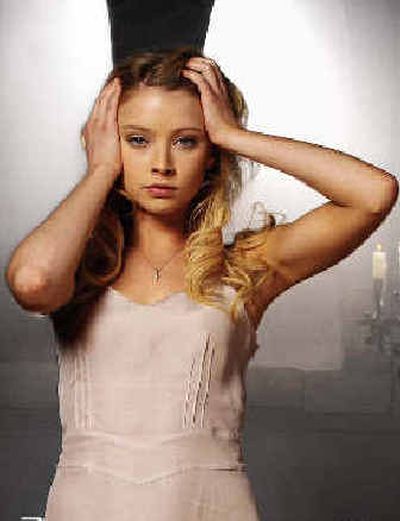 At first glance, Fox's new drama "Point Pleasant" may appear to be nothing more than a clone of the network's own "The O.C.," but look closer.
Suddenly, happily marrieds are cheating on each other. Fireballs are erupting on the beach.
All hell is breaking loose, thanks to the arrival of seemingly innocent 17-year-old Christina Nickson, who – unbeknownst to her – is Satan's darling daughter.
Stepping into Christina's hoofed (just kidding!) shoes is 25-year-old newcomer Elisabeth Harnois, a petite blonde who attended Catholic school but always possessed a little bit of the devil.
"Point Pleasant" is Fox's answer to the WB's much-missed "Buffy the Vampire Slayer."
And since Harnois resembles that show's Sarah Michelle Gellar and Michelle Trachtenberg, this little devil could prove one hot find.
"Elisabeth seems totally innocent – a real sweetheart – but you're not quite sure if there's something kind of dark behind it," says Grant Show, who joins Harnois in "Point Pleasant" as Satan's right hand and Christina's protector.
Show may be on to something. Once when Harnois (pronounced arn-wha) was a little girl growing up in Riverside, Calif., she conspired with a friend to shock Harnois' mother into believing she'd been hit by a car.
When Mom gasped, Elisabeth popped out unscathed from behind a door.
"Unfortunately my mom was holding my little brother at the time," Harnois remembers all too well. "I could tell it wasn't funny."
But according to co-star Clare Carey, who plays one of the show's sexy young moms, Harnois sports a halo with her horns.
"I have my little baby on the set sometimes," Carey says. "And Elisabeth goes out of her way to play with her."
Harnois grew up an only child until she turned 8, when her mother delivered the first of her four brothers, now ages 8 to 17.
The family resides in Florida while Harnois chose to live in L.A. to be closer to her boyfriend of three years, a freelance TV producer.
Before landing her "Pleasant" role, Harnois had guest-starring roles on popular TV series, including the similarly dark-themed "Charmed."
"I played a girl who turns into a wolf by night," she recalls.
But Harnois, an alum of Wesleyan University in Connecticut, points to "Buffy" as a favorite show that made her crave witchy adventures of her own.
" 'Buffy' was such a smart show," says Harnois, who's thrilled that former "Buffy" and "Angel" writer/producer Marti Noxon is "Point Pleasant's" creator.
"Marti's carrying on that legacy of smart, supernatural writing."
Harnois has but one concern. While audiences have come to embrace "Joan of Arcadia" star Amber Tamblyn for her sensitive portrayal of a girl who speaks with God, Harnois worries audiences may confuse her with her anti-"Arcadia" character.
"To be clear," she says, "I was raised Catholic and am not the daughter of Satan."
The birthday bunch
Actor Miguel Ferrer is 50. Actor James Spader is 45. Country singer Garth Brooks is 43. Actor Jason Gedrick ("Boomtown") is 38. Actor Ashton Kutcher ("That '70s Show") is 27.
Local journalism is essential.
Give directly to The Spokesman-Review's Northwest Passages community forums series -- which helps to offset the costs of several reporter and editor positions at the newspaper -- by using the easy options below. Gifts processed in this system are not tax deductible, but are predominately used to help meet the local financial requirements needed to receive national matching-grant funds.
Subscribe now to get breaking news alerts in your email inbox
Get breaking news delivered to your inbox as it happens.
---