Sports
Fully evolved
Sun., Feb. 13, 2005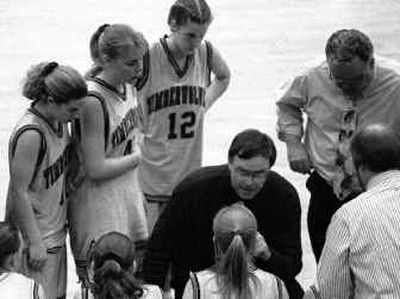 Girls high school basketball today isn't the same game your mother or grandmother played.
In the three decades since the Idaho High School Activities Association established girls state tournaments, the game has made measurable improvements.
Former Coeur d'Alene and Lake City girls coach Dave Fealko was a referee in the state invitational tournaments before the IHSAA launched the first official state tourneys in 1975-76.
"It's gone from a game of drudgery, in that it was nothing but jump balls, double dribbles, travelings and scores in the 20s, to a game where it is today – up-tempo, defense and girls doing amazing things," Fealko said. "The growth has been phenomenal. In the early days as a referee, you had to focus on it not being a girls game. You had to do the best you could even though you knew it was going to be torture."
From the first year through the present, North Idaho teams have more than held their own at state as teams from Grangeville to Lakeland and several stops in between have captured 55 of the 112 state championships in the past 29 years.
Two state tourneys were held the first year. Lewiston and Lapwai claimed the A and B titles, respectively. The following season four state tourneys were established, and that continued until a fifth classification was established four years ago.
"For a while, it was fairly routine that all four state titles were coming out of the North," former Moscow coach Sally Greene said.
Fealko became head coach at Coeur d'Alene in 1978. The Vikings won the first of four state titles under Fealko in 1984. In an all-North Idaho final, the Viks topped then-rival Sandpoint 49-48 in overtime.
"That was our first really good team of what I call racehorse basketball – where we pressed and (ran)," Fealko said. "Beating Sandpoint was a breakthrough for us. Sandpoint played in three straight state finals. They had been the top team in the North."
The '84 tourney also was played in CdA's gym. The Viks would claim two of their next three state titles in their gym as well. The IHSAA stopped rotating the sites of the state tourneys in 1996-97.
Beginning in 1990-91, Fealko's CdA teams won three state titles in four years, capped with a 25-0 season in 1993-94, the year before the school split to form a second high school in town (Lake City).
Fealko said the stretch of dominance was a product of the first state title.
"It all goes back to 1984," he said. "That was when all the young girls around town got to see us win that state championship in our gym. They were playing in the youth leagues. They saw it and they wanted to be a part of it."
Fealko admits that the advent of AAU and select teams in the 1980s propelled the development of girls' abilities. He remains philosophically opposed to off-season ball, although many of his players participated.
"I've never been a believer that you need to go out and play 40 games in the summer and go to a bunch of camps," said Fealko, 57, whose 18-year coaching record was 320-125. "I've always believed that kids need to do whatever they want to do in the summer. The select few are going to get to college.
"I know it works for a lot of kids, but it's given some kids and some parents false hopes. Just because they're playing for a select team doesn't necessarily mean they're going to get a (scholarship)."
After the undefeated season at CdA, Fealko moved over to Lake City where the core from his final CdA team led LC to a state title. He resigned following the season, but returned four years later. His brief comeback lasted a year.
Fealko will retire from teaching at the end of the year.
Former Post Falls coach Mike Curtis, 56, who was a head coach during the same era as Fealko, also credits the growth of girls basketball to off-season teams.
"Realistically, whether you like it or not, it's expected. It's part of your job as a head coach," said Curtis, whose teams were 117-90 in 10 years. "When I became a head coach, girls didn't do off-season stuff. Then they started playing in summer leagues and tournaments like the boys and it went fruitcake."
Sally Greene, who played in the first state invitationals, spent nine years as head coach at Moscow before resigning in 1996 with a 159-57 record. Her teams won four state titles in five years.
Four of the five starters on her first state championship team in 1992 went on to play at the NCAA Division I level, and eight of the 12 on the team played in college at some point.
Greene believes the growth of the girls game has leveled off in recent years.
"Maybe I'm a little biased, but what I've been seeing in the last few years is the game isn't progressing at quite the rate it did in the 1980s and early 1990s," Greene said. "It could be because of parity."
Curtis agrees.
"Back in the early days, if you had a good post and a good guard you had an outstanding team," Curtis said. "You used to be able to hide a (marginal) player. You can't anymore."
After all, it's not the same game your mother grew up playing.
Local journalism is essential.
Give directly to The Spokesman-Review's Northwest Passages community forums series -- which helps to offset the costs of several reporter and editor positions at the newspaper -- by using the easy options below. Gifts processed in this system are not tax deductible, but are predominately used to help meet the local financial requirements needed to receive national matching-grant funds.
Subscribe to the sports newsletter
Get the day's top sports headlines and breaking news delivered to your inbox by subscribing here.
---