News > Business
Advertising coverage
Tue., Feb. 15, 2005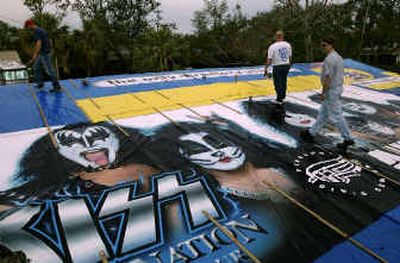 PENSACOLA, Fla. — The black-and-white painted faces of the rock band Kiss peer from the roof of Dana Morris' home in suburban Gulf Breeze. In Pensacola, Allan Weaver's auto repair shop is topped with an ad for a plumbing service.
They are among the first victims of Hurricane Ivan to take advantage of an offer from Lamar Advertising Co. to use vinyl billboard ads as roof tarps until owners can get permanent repairs.
Six months after the first of four hurricanes hit Florida last year, roofers are in short supply and many victims are having a hard time obtaining insurance settlements to pay for repairs.
In the meantime, many of the thousands of blue plastic tarps that the Federal Emergency Management Agency provided immediately after the storm are wearing out and cracking from the sun's rays, wind and rain — and FEMA won't replace them.
The vinyl billboard is the first covering Weaver and his partner Lois Justice have had for the roof of Higgins Automotive.
"People with houses, they needed roofs worse than we did, so we didn't get a FEMA blue roof," Weaver said. "Now that we have these we'll wait until summer or even next year so the people who need a roof at home can get one first."
The billboard material is thicker, more resistant to damage from ultraviolet light and designed to last longer than the FEMA tarps. Nearly 200 Ivan victims have contacted United Way, which is coordinating distribution locally, and there has been interest from other parts of Florida.
Lamar Advertising, based in Baton Rouge, La., has donated the coverings, which can be used facing up or down.
Morris, a lawyer, resorted to the Kiss billboard covering because insurance money he has received so far has been insufficient to repair all the damage at his Gulf Breeze home. He, his wife and their two children are staying in a Pensacola apartment until it can be fixed.
Local journalism is essential.
Give directly to The Spokesman-Review's Northwest Passages community forums series -- which helps to offset the costs of several reporter and editor positions at the newspaper -- by using the easy options below. Gifts processed in this system are not tax deductible, but are predominately used to help meet the local financial requirements needed to receive national matching-grant funds.
Subscribe now to get breaking news alerts in your email inbox
Get breaking news delivered to your inbox as it happens.
---