News > Features
Artificial relief
Tue., Feb. 15, 2005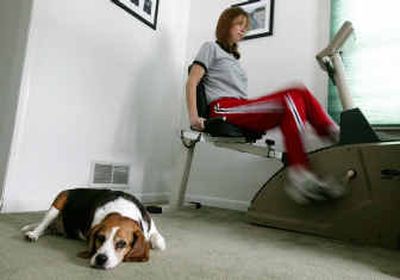 DETROIT — For 13 long years, Michelle Simon planned every aspect of her life around her back pain.
All activity – watching a movie, golf, riding in a car – had to be limited so it didn't exceed 21/2 hours. Anything longer worsened her pain. She originally hurt her back when she slipped on a wet floor at work.
"It even impacted having another child," says Simon, 38, a registered nurse at William Beaumont Hospital in Royal Oak, Mich. "I wasn't willing to go through that whole thing again. We opted to stay with one."
Sixty-five million Americans live with chronic lower back pain, the American Association of Neurological Surgeons says. The search for help can take months. What works for one person may not for another.
The lack of universally effective treatments has triggered research and prompted doctors since the 1950s to look for better options, including ways to shore up eroded back discs, the spongy cushions between the 33 vertebral bones in the back.
Now the first of a new generation of artificial discs has arrived, providing a real alternative to conventional lumbar fusion surgery, which 250,000 Americans undergo each year for lower back problems.
Federally approved last October, the Charite Artificial Disc, made by DePuy Spine, a Johnson & Johnson company in Raynham, Mass., is a device combining two metal outer pieces with a tough, medical-grade plastic center. It is intended for use in people, typically ages 18-60, who have a single compressed disc in the lower back and who haven't been helped by more than six months of other treatments. Although swimming, stretching, pain-relieving drugs, physical therapy and chiropractic manipulation help many patients, some, like Simon, live with chronic pain.
She underwent disc implant surgery Nov. 18 at William Beaumont Hospital, where Dr. David Montgomery, an orthopedic spine surgeon involved in clinical research about the artificial disc, trains other physicians to do the procedure.
Last month, Simon returned to work part-time, and she now takes two pain pills a day, compared with six before the surgery. "If this takes away 50 percent of my pain, I'll deem it a success," she says.
Other companies are testing artificial discs made with all-metal materials, as well as devices for the upper, or cervical, section of the back and neck. Those are more challenging parts of the anatomy because of their proximity to key arteries and nerves.
"The future is bright for people with back and neck conditions," says Dr. Teck Soo , a neurosurgeon at Providence Hospital and Medical Center in Southfield, Mich., who has tested several of the devices for Stryker Orthopedics, a Mahwah, N.J., division of Kalamazoo-based Stryker Corp.
In March, Soo will begin testing an all-metal Stryker disc implant for the cervical portion of the spine. Last year, he was involved with clinical studies of an all-metal device for the lower back.
Figuring out which implant is better will take years and will be surrounded by the kind of debate that has gone on for years over materials used in hip implants.
"It will be impossible for patients to figure out from a Web site which is best because physicians and biomechanical engineers don't know either," says Dr. John Zinkel, a neurosurgeon at Bon Secours Hospital in Grosse Pointe, Mich.
A bigger question, he says, is: Who is a candidate?
To help sort out the best candidates, patients undergo computer tomography and other tests. "Everyone should know this is not for everyone," says Montgomery. "This is still a major surgical procedure. People need to think long and hard before doing it. We're still looking for the perfect device."
The operation takes from two to four hours, depending on the experience of the surgeon, the source of the pain and the age of the patient.
"The age of the disc makes a big difference in the surgery," says Zinkel, midway through a four-hour procedure Jan. 25 for Eileen Fiscelli of Roseville, Mich. An active gardener, churchwoman and caregiver to several relatives, Fiscelli lived with debilitating pain from arthritis for 18 months. As people age, a disc "loses its water content" and the spine becomes "bone on bone," Zinkel says. "That's where inflammation sets in."
Perhaps surprisingly, the operation is performed through the lower abdomen, not the back, to minimize harming important blood vessels and nerves that fan out from the back of the spine.
Using a cautery tool to burn away tissue, Zinkel and Dr. Michael Taylor, a general surgeon, peel away one layer of tissue after another until they reach the ailing disc. To pinpoint the exact spot, they use a super X-ray machine, a technique called fluoroscopy.
Then they scrape out disc fragments with a large spoon-like device with sharp edges at the end, a tool that looks much like one used to carve pumpkins. "I want clean bone surfaces, so the metal is resting on clear cartilage," Zinkel explains. Then he and Taylor insert a tool with a wedge-like tip to spread the disc apart and to remove a tiny lip at its end. "We want the implant to sit on a level surface, so we can place the implant all the way back," he explains.
The Charite disc is a three-piece implant. The two shiny outside metal plates are cobalt chromium alloy. The inside is a tough, white medical-grade plastic. Small teeth in the metal plates secure the device to bone. The design allows patients to bend again. "Natural motion is back," according to Charite's physician promotion materials.
Studies submitted by DePuy Spine to gain federal approval followed 300 patients for two years. Eighty-eight percent were satisfied with the Charite device. Spine measurements showed patients achieved a nearly full range of motion. They also returned to work and activities faster – often within 12 weeks – compared with as much as six months for surgery patients, doctors involved with the study say.
The procedure typically requires a one- to three-day hospital stay. Complications with the implants include possible puncture of abdominal structures and ejaculation problems in men. There's also the possibility the device will wear away or become dislodged, which can occur with any implant. In Europe, where the Charite device has been available for many years, 2 percent or 3 percent of patients eventually needed a lumbar fusion operation, Beaumont's Montgomery says. "We're still looking for the perfect device," he says.
Cost estimates range from $23,000 to as much as $50,000. So far, few insurance plans pay for the procedure, a typical problem with treatment involving new technology. "I've been talking to Blue Cross for the last few months, and they won't pay for it," says Montgomery.
The wide range in hospital and physician charges also is typical when a new product is involved. At some sites, patients' surgery fees are free if the devices are implanted as part of a clinical study. Doctors expect prices to stabilize in a year or two after more doctors learn the technique and insurance companies begin to pay for it. They will be watching longer studies to see if the procedure truly helps patients like Simon and Fiscelli.
Both are happy with their results.
"It's been quite miraculous," says Diann Coley, Fiscelli's daughter. "She had instant relief. She has no pain in her back." The bigger issue was overcoming the aftermath of anesthesia, which left Fiscelli nauseous.
Simon still has numbness in one of her feet when she sits too long and also some pain in her right leg. Both were problems she had before the surgery. But she considers it a more tolerable pain. She knows it may take a year before she knows just how much function has been restored.
"I'm moving in the right direction," she says. "I feel I made the right decision. I think this is going to be a good thing for a lot of people."
Local journalism is essential.
Give directly to The Spokesman-Review's Northwest Passages community forums series -- which helps to offset the costs of several reporter and editor positions at the newspaper -- by using the easy options below. Gifts processed in this system are not tax deductible, but are predominately used to help meet the local financial requirements needed to receive national matching-grant funds.
Subscribe now to get breaking news alerts in your email inbox
Get breaking news delivered to your inbox as it happens.
---