News > Features
Major changes
Tue., Feb. 15, 2005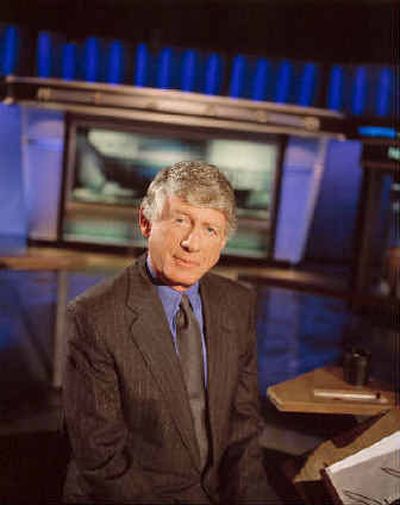 When George Stephanopoulos filled in as anchor to talk about the Iraqi elections recently, it may have been a peek into the future at "Nightline."
In its 25th anniversary year, Ted Koppel's ABC News program is at another crossroads. While the situation may not be as dramatic as the high-stakes survival game when ABC courted David Letterman in 2002, the changes contemplated this year probably will be more far-reaching.
One of the intriguing ideas being talked about at ABC is a swap, where Stephanopoulos takes over "Nightline" and Koppel lands at the struggling Sunday morning franchise "This Week."
"There has been endless speculation about 'Nightline,' " ABC News spokesman Jeffrey Schneider said. "I expect there will be more. I'm not going to add to that speculation, except to say we are doing the finest broadcast right now and expect to continue."
It's an issue now because the network wants to decide the show's future by the end of the year, when Koppel's contract expires.
The Letterman flirtation proved ABC wouldn't hesitate to replace "Nightline" with a program that could generate higher profits. If news is abandoned, ABC's entertainment or sports divisions could be enlisted.
Ratings for "Nightline" are up slightly this year, countering a longtime trend. The show averages 3.8 million viewers a night, down from 6.3 million viewers 10 years ago, according to Nielsen Media Research.
In that same stretch, Letterman's "Late Show" dropped from 6.3 million to 4.6 million. NBC's dominant "Tonight" show averaged 5.7 million viewers a decade ago and is at 5.8 million now.
Once a relative novelty, "Nightline" now competes in a television environment saturated by news. People are also going to bed earlier and getting up earlier, as the increasing viewership for local early-morning news shows indicates.
ABC executives prefer an hourlong show in that 11:35 p.m. time slot ("Nightline" is 30 minutes, followed by Jimmy Kimmel), according to people at the network who spoke on condition of anonymity.
But there's actually reason to believe ABC News may have an advantage in keeping the time slot to itself.
For one thing, news represents a clear contrast to ABC's rivals at that hour. A late-night talk show would be a potential goldmine, but there are few proven commodities on the open market. Letterman, Leno, Conan O'Brien and Jon Stewart aren't available, and Kimmel's ratings make moving him up a half-hour risky.
A sports highlight show would be extremely attractive to young men, a demographic advertisers pay a premium to reach. But would ABC parent Walt Disney Co. want to undermine one of its other properties, ESPN, with a "SportsCenter" competitor?
Whether news hangs on to the time slot could depend on a new "Nightline."
Many companies have tensions between headquarters and satellite offices, and that's frequently been the case with ABC News' New York office and the "Nightline" Washington base. It seemed ominous when "Nightline" co-executive producer Leroy Sievers resigned in November, saying the company was considering fundamental changes to the show and "we were unable to agree on those changes."
Within the past few weeks, ABC has filmed some partial test runs in its Times Square studios of a potential new "Nightline," reportedly lighter in tone and containing multiple stories.
The "Nightline" crew, in turn, plans to make its own hourlong prototype and hopes to reach some common ground.
Koppel's reduced workload in recent years has hurt the show's identity, said Tom Rosenstiel, director of the Project for Excellence in Journalism. Koppel regularly works three nights a week, a schedule designed to pave the way for a successor but now widely considered a failure.
ABC's New York office is said to favor bringing "Nightline" back to its live roots. It is now live only occasionally; people on the show say it's easier to book guests for a late afternoon or early evening taping than close to midnight.
At issue, it seems, is the very identity of "Nightline."
"If the notion of doing a single subject deeply in an authoritative way was lost, if they give that up to do a live magazine that is mostly talk, something will be lost in television," Rosenstiel said. "Because 'Nightline' stands apart in a culture that is mostly hot air."
In an age when many managers equate live television with excitement, "Nightline" and the evening news programs are old school. They give time to prepared reports with craft and editing.
"Nightline" also takes pride in reporting on important topics that get relatively little attention on TV news. One example was a recent story about Rwanda, although the participation of "Hotel Rwanda" actor Don Cheadle gave it a Hollywood twist.
An hourlong show that runs live every night is a grueling new workload that would seem to freeze out Koppel, who just turned 65.
That adds logic to the idea of a potential Stephanopoulos-Koppel swap, first reported by Newsday's Verne Gay. Koppel would add instant gravitas to a Sunday political show now third in the ratings behind NBC and CBS. Stephanopoulos would have room to grow on "Nightline" and face a younger, more open-minded audience each night.
Those involved say all of the talk is very preliminary.
"We're thinking about something that is basically a year off, and a lot can happen between now and then," said Tom Bettag, "Nightline" executive producer.
"All of us have put a lot of years into putting together a broadcast that is unique in television and is important to viewers," he said. "We'll do everything we can to make sure it will go on another 25 years."
Local journalism is essential.
Give directly to The Spokesman-Review's Northwest Passages community forums series -- which helps to offset the costs of several reporter and editor positions at the newspaper -- by using the easy options below. Gifts processed in this system are not tax deductible, but are predominately used to help meet the local financial requirements needed to receive national matching-grant funds.
Subscribe now to get breaking news alerts in your email inbox
Get breaking news delivered to your inbox as it happens.
---