Sports
Duke tops Wake Forest
Mon., Feb. 21, 2005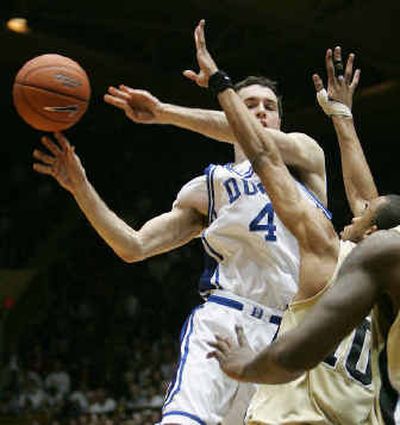 In the first and likely only start of his career, Patrick Davidson set the emotional tone for Duke. He manhandled Wake Forest guard Chris Paul on the opening possession, bumping him wildly before a foul was called.
He left the game after two minutes to a rousing ovation and got a warm embrace from Blue Devils coach Mike Krzyzewski, who left no doubts about how important this game was.
"It's something I'll never forget," Davidson said.
J.J. Redick was pretty memorable himself.
The junior guard scored a career-high 38 points after Coach K shook up the starting lineup, and reserve Lee Melchionni added 15 to lead the seventh-ranked Blue Devils past No. 5 Wake Forest 102-92 Sunday night in Durham, N.C.
Duke (19-4, 9-4 ACC), coming off consecutive losses for only the fourth time in the past eight seasons, had its way with the Demon Deacons in the second half. After trailing by two at the break, the Blue Devils shot 61 percent in the final 20 minutes to reach their highest point total of the season.
"It was as good as our offense has looked all year, and it wasn't one guy or just me," Redick said. "It was everybody."
Chris Paul had 27 points and Trent Strickland scored 17 for Wake Forest (22-4, 10-3), which fell out of a first-place tie with North Carolina.
The Blue Devils closed it out at the free throw line to win for only the third time in the past six games. They last lost three in a row to complete the 1995-96 season.
"It was the most competitive game we've been in maybe a couple of years," Krzyzewski said. "Both teams just wanted it so badly. And they are just outstanding."
In a gritty, physical first half, the two teams combined for 24 fouls, a total that included offsetting technicals on Dockery and Wake Forest's Jamaal Levy. Later, the usually unflappable Paul got a technical when he shoved the ball in the face of Melchionni, helping Duke take its big lead.
(12) Louisville 84, Saint Louis 66: At Louisville, Ky., Taquan Dean hit five 3-pointers for 15 points and the Cardinals (23-4, 11-2 Conference USA) defeated the Billikens (7-18, 4-8).
Larry O'Bannon scored 17 and Ellis Myles finished with 13 points and 18 rebounds for the Cardinals, who finished with their highest point total since a 105-69 win over Tulane on Jan. 29.
Izik Ohanon scored 18 to lead Saint Louis, which played most of the game without coach Brad Soderberg, who was ejected in the first half.
(25) Villanova 80, (17) Pittsburgh 72: At Villanova, Pa., Allan Ray hit five 3-pointers and scored 21 of his 23 points in the second half to lift the Wildcats (17-6, 7-5 Big East) to an 80-72 win over the Panthers (18-5, 8-4).
Curtis Sumpter scored 18 points, Randy Foye added 15 and Villanova went 12 for 23 from 3-point range, helping the Wildcats win for the eighth time in 10 games and bolstering their chances of making their first NCAA Tournament appearance since 1999.
Aaron Gray, a 7-foot center, continued to get major minutes off the bench and scored a career-high 15 points for the Panthers. Carl Krauser had 16 points with six turnovers.
Local journalism is essential.
Give directly to The Spokesman-Review's Northwest Passages community forums series -- which helps to offset the costs of several reporter and editor positions at the newspaper -- by using the easy options below. Gifts processed in this system are not tax deductible, but are predominately used to help meet the local financial requirements needed to receive national matching-grant funds.
Subscribe to the sports newsletter
Get the day's top sports headlines and breaking news delivered to your inbox by subscribing here.
---