News > Nation/World
Ex-chiefs view tsunami damage
Mon., Feb. 21, 2005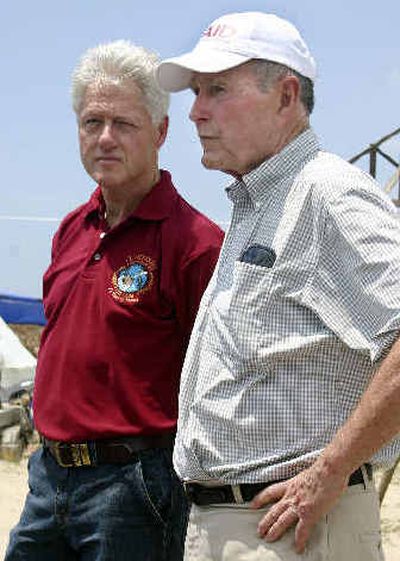 LAMPUUK, Indonesia – Former Presidents Bush and Clinton traveled Sunday to ground zero of tsunami devastation, where they described the destruction as unimaginable and promised survivors who begged for shelter that more help will come.
On the second day of their relief mission to the region, the two former leaders flew in U.S. military helicopters from the provincial capital Banda Aceh over a barren landscape that once was a patchwork of rice paddies to the village of Lampuuk, where the only structure left standing is a large white mosque.
The village had 6,500 inhabitants before the Dec. 26 disaster. Only 700 remain.
"I've never seen anything like this in my entire life. Ever," Bush said.
As he looked out of the helicopter, Bush said he was counting his blessings. "In my own heart, I was saying, 'We're very lucky; we're very lucky people not to have to go through something like this.' "
Clinton shook hands with Rahmayadi, one of thousands of survivors left homeless by the disaster. He said his house in Lampuuk had stood in the neighborhood where the Americans visited but was flattened by the tsunami.
"My children and wife died, and I didn't get their bodies, so now it's only me and two sons," said the 53-year-old Rahmayadi, who goes by only one name. "All we ask for now is shelter because we can't live in tents forever. I will keep being patient until someone helps me."
Bush reassured villagers who greeted him and Clinton, "You're going to be OK. A lot of people around the world want to help."
Standing amid the debris of Lampuuk, Clinton said that seeing the destruction firsthand helped him understand how so many people had died.
The official tsunami death toll ranges from 169,070 to 178,118. The number of missing is believed to be as high as 128,426, with most presumed dead.
"It's hard to imagine those numbers until you see the level of devastation. The first thing I thought was, 'Well, at least now I understand. I understand how they all died. I understand why they couldn't get away,' " Clinton said.
"And then, when we were flying over Banda Aceh, I was struck by how the devastation was total and then more limited, and you'd come into a street, and everything would be normal again," he said. "It's almost impossible to appreciate the scope of this if you haven't physically seen it."
Clinton said reconstruction will take three to five years to complete.
President Bush asked his father and Clinton to lead the U.S. effort to provide private aid to tsunami victims. The pair of ex-presidents began a tour of the tsunami zone in Thailand on Saturday. After visiting Indonesia, they flew to Sri Lanka on Sunday. They plan to visit the Maldives today.
Former President Bush called on Indonesia to ensure that U.S. aid money is being well-spent, a U.S. official said. Indonesia is said to be among the most corrupt countries.
Local journalism is essential.
Give directly to The Spokesman-Review's Northwest Passages community forums series -- which helps to offset the costs of several reporter and editor positions at the newspaper -- by using the easy options below. Gifts processed in this system are not tax deductible, but are predominately used to help meet the local financial requirements needed to receive national matching-grant funds.
Subscribe now to get breaking news alerts in your email inbox
Get breaking news delivered to your inbox as it happens.
---