Sports
Iverson earns MVP with modest play
Mon., Feb. 21, 2005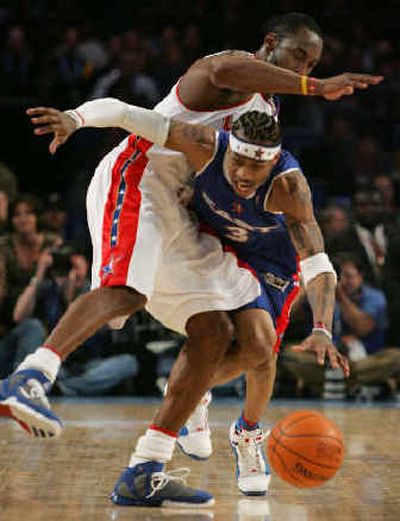 DENVER – Allen Iverson, Most Valuable Player, was also Allen Iverson, Elder Statesman.
Feeling no need to take things over — only to play hard, distribute and let other guys do their thing, The Answer was selected MVP of the All-Star game Sunday night, helping the East to a 125-115 victory.
"I'm playing with the greatest players in the world and I'm playing with four other All-Stars," Iverson said. "So, I mean, in a game like this, you just let it come to you."
Not that his line was anything to scoff at: 15 points, nine assists, five steals and the producer of as many oohs and ahhs as anyone in the gym.
He added this MVP award to the one he won in 2001, the last time the East won this game. Back then, he scored 15 points over the final nine minutes to lift his team to a stirring comeback victory from 21 points down.
This time, there was no need for that kind of drama, and no need to score 60 points the way he did earlier this season with the struggling 76ers.
Nope. All he had to do was get the ball to Shaq, or LeBron, or Vince Carter or Zydrunas Ilgauskas. His nine assists were distributed to seven players. Seven players on the East squad finished in double figures. What better tribute to a point guard than getting all his teammates involved on offense?
"He was the guy who just kept pushing other guys verbally and with his energy," East coach Stan Van Gundy said. "He really wanted to win, and he's a very, very competitive guy, as we all know."
Maybe too competitive – at least back in the day.
On this night, though, he played and talked like a cool veteran.
He took to the floor and played a game-high 32 minutes despite waking up woozy and lightheaded, a likely victim of altitude sickness in the thin air of Denver.
Afterward, he spoke of conversations with James, who is on his way to being the NBA's next great player, the way Iverson once was.
"LeBron James is on top of the world," Iverson said. "I just told him to never forget that the guys who put you on the top of the world can put you under, too."
He dedicated the victory to his best friend, whose mother passed away recently.
"He was always there for me when I was down, and he's going to be there for me when I'm on top," Iverson said.
On Sunday, he was on top.
He threw the ball behind his head, hit James and O'Neal for alley-oops, threw bounce passes between his legs. His best assist of the night didn't even count; it was a save on the baseline and a toss to O'Neal who jammed, but it was nullified when referee Jack Nies said he had stepped on the line.
OK, so it wasn't a perfect night. Iverson shot only 4 for 13 and committed seven turnovers. But, oh well.
Iverson knows it's not about being perfect now. It's just about being the best he can be.
"The whole thing is just me maturing and getting older," he said. "A lot of things I've done in my life, I'm not proud of, but I'm proud of the fact that I recognize that, and I move forward in my life and I'm trying to be a better person first, and then a better basketball player."
Local journalism is essential.
Give directly to The Spokesman-Review's Northwest Passages community forums series -- which helps to offset the costs of several reporter and editor positions at the newspaper -- by using the easy options below. Gifts processed in this system are not tax deductible, but are predominately used to help meet the local financial requirements needed to receive national matching-grant funds.
Subscribe to the sports newsletter
Get the day's top sports headlines and breaking news delivered to your inbox by subscribing here.
---