News > Business
New tools 'turn Web into conversation'
Mon., Feb. 21, 2005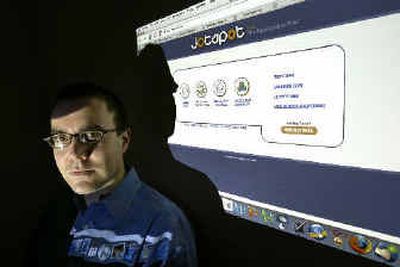 PALO ALTO, Calif. — This scenario is all too familiar to office workers who collaborate electronically on projects: E-mails get passed around with differing versions of documents-in-progress attached. Instant messages whiz by. Web sites are cited, then lost.
It's often a jumbled mess, with no central online location for shared data.
There must be a better way.
A new crop of tools aims to help turn the Web — be it on the public Internet or a company network — into much more than a collection of documents one visits like a museum: Look, but don't touch.
The idea is to make it easy to quickly post and remove stuff from digital bulletin boards where the online communities of the future will gather to catch up and trade ideas, images and work.
"We're turning the Web into a conversation," said Glenn Reid, chief executive and founder of Five Across Inc.
Reid's startup and several other companies offered their visions for accomplishing that last week at the DEMO conference in Arizona, an annual showcase of tech innovation.
All are trying to address in one way or another an emerging trend of making the Web less disjointed and more democratized — a richer, more organized forum for gathering and sharing information.
JotSpot Inc., a Palo Alto, Calif.-based startup, is betting on Wikis, a type of Web page that can be edited by anyone.
Wikis could become a staging area of sorts for information, and JotSpot's new Web service targets businesses that want to give authorized users a common location in which to collaborate.
Co-workers can take a spreadsheet, build upon it, customize it, integrate data from the Web or e-mails and have all the information reside in one place on a Wiki Web site. Revisions are tracked and archived so nothing is ever lost.
Behind JotSpot is Joe Kraus, a serial entrepreneur who co-founded the early search engine Excite.
Kraus became a believer in Wikis after he and fellow co-founder Graham Spencer got fed up with exchanging hundreds of e-mails and attachments and tried using a Wiki instead while working on a business plan. That ultimately led to JotSpot's birth in October. Others, like Five Across and iUpload, aim to use the power of another form of Web publishing, online journals commonly known as blogs, to help businesses or individuals streamline their teamwork or communication.
Local journalism is essential.
Give directly to The Spokesman-Review's Northwest Passages community forums series -- which helps to offset the costs of several reporter and editor positions at the newspaper -- by using the easy options below. Gifts processed in this system are not tax deductible, but are predominately used to help meet the local financial requirements needed to receive national matching-grant funds.
Subscribe now to get breaking news alerts in your email inbox
Get breaking news delivered to your inbox as it happens.
---