A&E > Entertainment
Emerging Artist: Cliff Hall
Fri., Feb. 25, 2005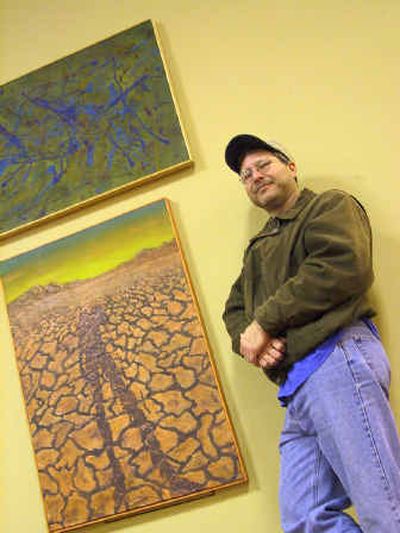 Age: 42
Birthplace: Miami, Fla.; currently living in Airway Heights.
Education: Associate of Fine Arts degree from Spokane Falls Community College, 2003; candidate for Bachelor of Fine Arts from Eastern Washington University, 2005.
Day job: Full-time student.
Kind of art: Digital images, acrylic paintings and sculptures. "Most of the work is abstract expression with some a bit more realistic," Cliff says.
Influences: Russian-born artist Wassily Kandinski, one of the first creators of pure abstraction in modern painting; action painter Jackson Pollock; innovative contemporary sculptor Martin Puryear; and newcomer David Bates, who works in sculpture, painting, drawing and relief.
Talk about your process: "I enjoy the process most of all," he says. "For me the constant changes and improvements that come about during production are intriguing and captivating to my psyche."
What's going on in your art right now? "I am working on a sculpture series about the way some men are treated inappropriately by their female counterparts and how these individuals do so, incorrectly, in the name of feminism, creating damaging effects to the male population and, more importantly, to the female population."
Where can people see your work? "Processed," a group exhibition by Eastern Washington University graduating art students, Brewster Hall Art Gallery, 410 Second Ave. in Cheney, through March 4; group show at Rainbow Regional Community Center, 508 W. Second Ave. in Spokane, through March 25; BFA Capstone Exhibit in EWU's Art Gallery in May; and Far West Billiards, 1001 W. First Ave., in June 2005.
Contact: islandboy_1962@yahoo.com
Local journalism is essential.
Give directly to The Spokesman-Review's Northwest Passages community forums series -- which helps to offset the costs of several reporter and editor positions at the newspaper -- by using the easy options below. Gifts processed in this system are not tax deductible, but are predominately used to help meet the local financial requirements needed to receive national matching-grant funds.
Subscribe to the Spokane7 email newsletter
Get the day's top entertainment headlines delivered to your inbox every morning.
---