News > Business
Enron trial date set
Fri., Feb. 25, 2005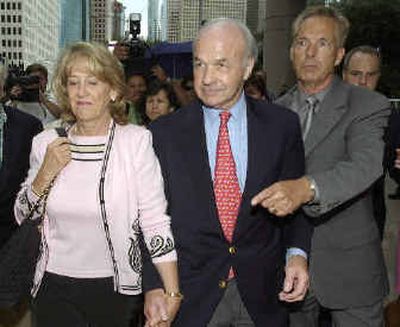 HOUSTON — The fraud and conspiracy trial of Enron Corp. founder Kenneth Lay, former CEO Jeffrey Skilling and chief accounting officer Richard Causey will begin Jan. 17, 2006, a federal judge said Thursday.
U.S. District Judge Sim Lake set the trial date for what is expected to be the premiere case to emerge from the Justice Department's investigation of the disgraced company that became the bankrupt embodiment of scandal and fraud in December 2001.
Lay and Skilling had agreed to support Causey's choice of a Dec. 1 trial to accommodate the preparation needs of all the legal teams. Lay has been pushing for a speedy trial since he was indicted in July. Skilling and Causey had originally asked for a March 2006 trial, but Skilling's legal team had said they could be ready for trial this fall.
Lake said that while he preferred September, he agreed all the defendants needed time to prepare. He said he also wanted to bypass the holiday season to avoid inconveniencing jurors, and selected the January date.
"Obviously we'd have liked to have the trial sooner. We'd like to have been done with a trial by now," Lay said. "But we're realistic. We want everybody to have the best defense they can and have the right outcome here."
Daniel Petrocelli, Skilling's lead trial lawyer, and Mark Hulkower, one of Causey's lead attorneys, said they were pleased with the judge's decision. Andrew Weissmann, head of the Justice Department's Enron Task Force, declined comment.
"We're anxious to get to trial, but we think our best case is presented with all the defendants properly represented," Petrocelli said.
Skilling and Causey each face more than 30 counts of fraud, conspiracy, insider trading and other charges, accused of being in on or knowing about various schemes to manufacture profits and hide debt in the years leading to Enron's crash. The case against Lay is narrower, alleging in seven counts of fraud and conspiracy that he took control of the ruse when Skilling abruptly resigned less than four months before Enron crumbled.
All three have pleaded not guilty.
When Lake asked prosecutors if they would file a revised or expanded indictment, prosecutor Sean Berkowitz replied he expected no changes other than the possible addition of charges or a rewrite of what has been filed, but "not in a way that would materially alter the case."
Lake had ordered all the lawyers to submit their schedules from June through September.
Lay's lawyers said they could begin anywhere from June to January. Petrocelli said he would be unavailable until the end of July because of a monthlong trial in California slated to begin in mid-June.
But Causey's team had other conflicts. Reid Weingarten, Hulkower's co-counsel, currently represents former WorldCom CEO Bernard Ebbers, who is on trial in New York on charges of overseeing the $11 billion accounting fraud that gutted the company nearly three years ago. Weingarten also has another federal trial on tap in Michigan in April.
Hulkower represents John Tuli, one of two former America Online executives headed for trial in mid-August on stock fraud charges.
Lay is charged in a separate case with bank fraud and three counts of lying to banks about his intention to use loans to buy Enron stock on margin. Mike Ramsey, Lay's lead lawyer, had said his team intends for that case to stay on the back burner until the conspiracy case concludes.
Local journalism is essential.
Give directly to The Spokesman-Review's Northwest Passages community forums series -- which helps to offset the costs of several reporter and editor positions at the newspaper -- by using the easy options below. Gifts processed in this system are not tax deductible, but are predominately used to help meet the local financial requirements needed to receive national matching-grant funds.
Subscribe now to get breaking news alerts in your email inbox
Get breaking news delivered to your inbox as it happens.
---