News > Nation/World
Texas study finds racial profiling
Fri., Feb. 25, 2005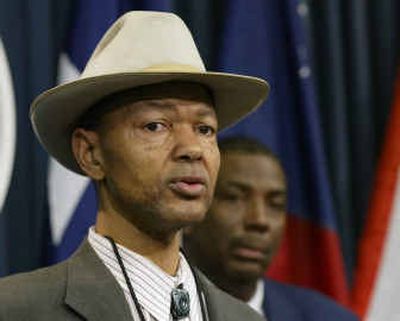 AUSTIN, Texas – Two out of three Texas law enforcement agencies searched black and Hispanic drivers at higher rates than white motorists at traffic stops in 2003, according to a racial profiling study released Thursday.
When searched, however, white motorists were at least as likely as blacks or Hispanics to be found with illegal items such as drugs or weapons, the report found.
The data were compiled from information more than 1,000 Texas law enforcement departments were required to record under state law. Most of the agencies responded to public information requests for the study.
The findings show large disparities between minority and white motorists who were stopped and searched, said Scott Henson, spokesman for the American Civil Liberties Union of Texas. "Now the question becomes: Why is that?" he said.
James McLaughlin Jr., executive director of the Texas Police Chiefs Association, said he hadn't seen the study, but that the findings didn't sound new.
"It's a replay of the reports that were put out a year or so ago," he said.
Such studies are generally flawed, he said, because they don't take into account factors such as the time of day a stop is made, the part of town and other variables.
"Does racial profiling occur? Yes, I'm sure it does and that's sad. Do I think it occurs to a great extent? No, I do not," he said.
The study's recommendations include adopting uniform reporting standards for racial profiling data; requiring extra data to be collected by police agencies; and establishing an independent statewide repository for reports.
The report also recommended banning consent searches – when an officer seeks a motorist's permission to do a search to look for illegal items, even if there is no probable cause. The study found three out of five Texas police agencies were more likely to ask blacks and Latinos than whites for a consent search.
The report conducted by Steward Research Group was commissioned by the ACLU of Texas, NAACP Texas, the Texas Criminal Justice Coalition and the state chapter of the League of United Latin American Citizens.
"This report confirms what communities of color live with on a daily basis," said Ana Yanez Correa, spokeswoman for the League of United Latin American Citizens.
Local journalism is essential.
Give directly to The Spokesman-Review's Northwest Passages community forums series -- which helps to offset the costs of several reporter and editor positions at the newspaper -- by using the easy options below. Gifts processed in this system are not tax deductible, but are predominately used to help meet the local financial requirements needed to receive national matching-grant funds.
Subscribe now to get breaking news alerts in your email inbox
Get breaking news delivered to your inbox as it happens.
---