Sports
CdA advances trio
Sat., Feb. 26, 2005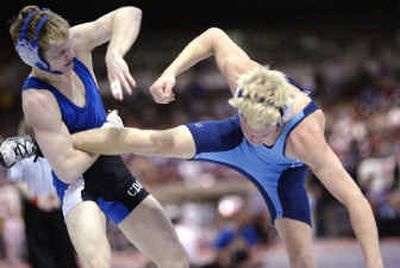 NAMPA, Idaho – It's a number Coeur d'Alene High wrestling coach Jeff Moffat held to all week.
For his Vikings to challenge for their first state trophy in 19 years, they had to push three into the championship finals.
That mission was accomplished Friday night, but not without plenty of drama before an estimated crowd of 5,000 at the Idaho Center.
Vikings Josh Manes (135 pounds), Jared Reynolds (160) and defending state champ Ryan Allen (189) will seek the highest individual honors this afternoon while helping CdA challenge for third place.
"It's the point system," Moffat said. "We figured Centennial would get two into the finals, so we figured to keep ground on them we had to get three into the finals."
Eagle (198 points) is all but a lock to secure a third straight State 5A championship today. Idaho Falls is next with 170, CdA has 147 1/2 and Centennial is on the Vikings' heels at 143. The top four teams earn trophies.
The Vikings got five through the morning quarterfinals.
Manes gave his coaches and himself the scare of their lives. The senior was cruising along, leading 15-2 in the third period and on the brink of securing a win by technical fall.
All of a sudden, Manes was on his back, fighting for the chance to wrestle for a state title.
Manes somehow recovered from a near-pin situation, holding off Jordan Johnson of Skyline 15-11. Manes admitted he thought the referee might slap his hand and blow his whistle at any moment while his back was on the mat.
"That's the worst I've wrestled all year," Manes said shortly after his coaches escorted him behind a curtain and out of view of the crowd to get his attention, if it hadn't already been achieved by that point.
"I was about ready to tech fall him and I blew it," Manes said. "I made tons of mistakes. I wasn't confident enough. The coaches chewed my butt. It'll help me out (today)."
Moffat was breathing a big sigh of relief moments later, too.
"He was real, real close to being pinned," Moffat said, raising his eyebrows for effect. "It's called Nerves 101. He survived. That's all you can say. Hopefully, he learned a valuable lesson. He'll bounce back. Maybe it's a blessing in disguise."
By definition, Reynolds won by disqualification over Tyson Pincock of Idaho Falls. Reynolds was rolling along in the third period ahead by 10 points when Pincock hauled off and punched him in the eye with a closed fist.
The referee called unsportsmanlike conduct. After a brief injury time out, Reynolds took Pincock down again, and Pincock unraveled again. He started cursing at the referee. Finally, the referee disqualified Pincock from the tournament, docked Idaho Falls two team points and took all the points Pincock had earned to that point away from Idaho Falls as well.
Pincock refused to shake hands with the CdA coaches afterward and made an obscene gesture to the crowd.
"He reversed me and then popped me in the eye with a closed fist," Reynolds said.
Reynolds rightfully reveled in his victory. A senior, he's guaranteed of his first state medal.
"That made my dream right there," Reynolds said of his semifinal victory. "I'm in the finals. I've worked my butt off for four years for this."
Allen capped the night with a comfortable 5-1 victory over Enoch Willey of Borah.
Leading 2-0 going into the final period, Allen got an escape and added a takedown before a late escape by Willey.
CdA, which hasn't captured a team trophy since 1986, is guaranteed eight placers, double what it had last year.
"Our program has come a long way in a short time," Moffat said. "I can't say enough about these kids. All of them have contributed. The guys we brought down have come miles in a short time."
Vikings Jason Ellefloot (125) and Cody Campbell (152) came up short in their semifinals. Ellefloot scored a late escape, but it wasn't enough as Chavis Jackson of Centennial prevailed 4-3. Jayson Johnson of Idaho Falls topped Campbell 7-1.
Lewiston heavyweight Mark Skogrand will battle for a state title after holding off Don Phipps of Highland 7-4.
Skogrand's coach, Dan Maurer, was ejected from the Idaho Center during afternoon consolation matches and couldn't watch his heavyweight in the semis.
Maurer, however, will be allowed to return for the finals today.
Lake City junior Mike Vickhammer (215) advanced to the semis, but fell to Matt Coffelt of Mountain View. Coffelt won by pin in 3:29.
Local journalism is essential.
Give directly to The Spokesman-Review's Northwest Passages community forums series -- which helps to offset the costs of several reporter and editor positions at the newspaper -- by using the easy options below. Gifts processed in this system are not tax deductible, but are predominately used to help meet the local financial requirements needed to receive national matching-grant funds.
Subscribe to the sports newsletter
Get the day's top sports headlines and breaking news delivered to your inbox by subscribing here.
---